David Helpling's Cinematic IN is Echoes June CD of the Month.
By John Diliberto 6/4/2022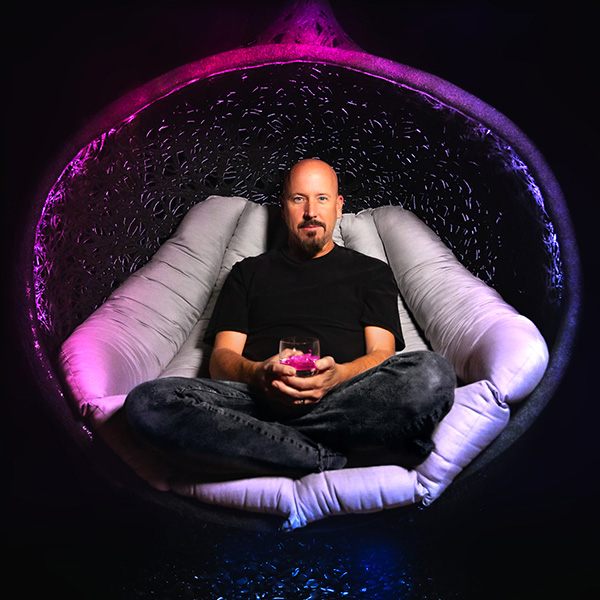 David Helpling seems to have packed everything and more into his latest album. Although he's a working musician, he is not the most prolific as a recording artist. He has five proper solo releases and three collaborations with Jon Jenkins all of which were Echoes CD of the Month picks. But he's obviously been saving up a lot of music because he's just put out a double CD and LP called IN with 90 minutes of music.
David Helpling has gone back to his roots and especially the digital keyboard sound of his 1999 album, Sleeping at the Edge of the World. It was a sound inspired by Patrick O'Hearn, something that's evident on tracks like "Only What's Been Taken" with a marimba-like synthesizer sequence that harkens back to O'Hearn albums like Ancient Beauty and Indigo.
It's a sound marked by lush synthesizers, tuned percussive timbres, driving rhythms and heroic melodies. David Helpling is a guitarist, an electronic musician and someone with a keen ear for sonic detail and musical arrangements and sound design in an electronic world. He has a cinematic sensibility, not in the soundtrack sense, but in the sense of creating visual images in your mind.

Helpling's music will instantly conjure up image in your mind, but having the gift of poet, he helps things along with evocative titles. He has stories and imagery that goes with each of these songs, but none of that would be self-evident in these all instrumental tracks. There are no lyrics to tell you his tales of alien love, psychedelia or apocalyptic heroism. But each song may direct you to these images on their own.
"Waves Dream of Breaking" sets the parameters of this double CD set. From its opening alap of deep, synthesizer choir-like timbres and percussion hits launched into deep reverb, it then goes on a journey through moments of suspended space and a guitar melodic refrain.
This sound continues on "This Burning Sky." It has a syncopated percussion groove matching a ratchet-like electronic rhythm that leads to a crescendo of trap drums. Singer Nidhi Bhatmuley does a vocal that sits between Sheila Chandra and Miriam Stockley. It's a wordless vocalese that calls out across the plains of Helpling's landscape.
Miriam Stockley herself appears on two tracks. She was the voice of the group Praise and of the Adiemus albums in the 1990s and is currently part of the world fusion project AOMusic. She sings angelic, elongated wordless phrases on "Slipping," a track that seems to move in and out of focus. On "I Too Am Coming Home," a lament with arcing sustained guitar lines and mournful synthesizers. Stockley sings in a faux language, like an African choir in space. She's initially submerged in the mix but that choir is joined by a very brief solo voice that marks a transition into the beyond.
While almost every note on In is played by Helpling, he does have a couple of other notable guests. World fusion musician Benjy Wertheimer lays down the soulful strains of the Indian esraj on "The Bliss You've Always Carried." Helpling goes for a different bowed string sound when looping master Matthew Schoening lays down cello refrains on "You Already Are."
There is a majesty to much of IN. A track like "The Cold Distance Between Us" sounds like a walk down marbled halls with its triumphal percussion accents and sweeping synthesizers. That's before it breaks the walls with another percussive burst, like canons firing into the breach.
Helpling is a deceptive musician in that you can never tell if a sound is coming from a guitar or synthesizer. "Here All Along" is centered around a gorgeous guitar arpeggio, or is it a synthesizer? It doesn't really matter so much in that Helpling has created a fantasy world of sound on IN. This is an inner journey, full of philosophical musings, sci-fi fantasies and surreal imagery, crafted on an electro-symphonic soundstage that begs you to play it loud for full immersion. That's the best way in to IN.
Hear David Helpling's 2022 Interview in Echoes Podcast
Hear David Helpling's 2020 Interview in Echoes Podcast
Read Review of David Helpling & Jon Jenkins Found
Read Review of David Helpling's Rune.

Join the Echoes CD of the Month Club and get great music like this every Month. Just click and Sign Up.