John Diliberto, Host and Producer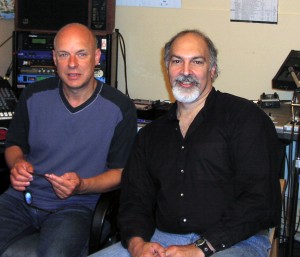 John Diliberto is a nationally published writer and award-winning radio producer who has been exploring and exposing new music on the radio, in print and on-line since 1974. He currently is the host and executive producer of Echoes , a nightly music soundscape on Public Radio International, and heard on public radio stations across the country.
John grew up in Tewksbury, Massachusetts. A child of the British invasion, the first music John embraced was by The Beatles, The Rolling Stones, The Animals, The Kinks and The Zombies. In junior high school, John had two passions: Marvel comics and "underground" rock. His first concert was the Jimi Hendrix Experience, The Soft Machine and The Eire Apparent at the Framingham Music Tent in Framingham, Massachusetts in 1968. The bar was set high.
Inspired by Jethro Tull and The Blues Project, John began playing flute in 9th grade, but he had to give up his lessons because the marching band conflicted with football. But he kept playing on his own.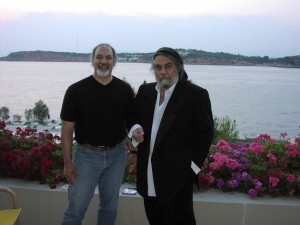 Football got him a scholarship at the University of Pennsylvania in Philadelphia where he double-majored in jockology. He played defensive tackle for the Penn Quakers and was a disc jockey on the campus radio station, WXPN. It wasn't long before he was hosting Diaspar, a high energy show that included space music, avant-garde, jazz, and new wave sounds.
In 1975 or '76 John created Star's End, a "journey to the outer limits of your aural universe." John gave up the captain's chair of Star's End in the mid 1980s, but the program is still on the air today, every Sunday morning 1-6 am on WXPN.
Upon leaving Penn in 1976, John worked in various record stores while starting to write for the local alternative paper The Drummer. His editor was David Fricke, who has written and edited for Rolling Stone. In 1979 he began writing reviews for Audio magazine. A sidetrack in 1980 brought him to Berkeley California where he was Program Director of KALX, the university station there.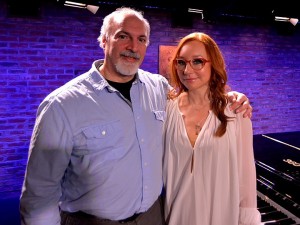 In 1981 he returned to Philadelphia where he continued hosting shows at WXPN. That same year, he and the station's music director Kimberly Haas began producing programs for national distribution. Their first was a five part series on the electronic underground called Electronic Minstrels. These half hour documentaries included David Borden, Helen Thorington, Woz (not THAT Woz), The Ghostwriters and Michael William Gilbert.
More documentaries followed: The Mythic Worlds of Sun Ra, Bird Flight: A Portrait of Charlie Parker, and Edgar Varese's Liberation of Sound. The latter was a runner-up for the Major Armstrong Award.
Then came Totally Wired, a weekly documentary focusing on artists working at the cutting edges of music. Some of the highlights included location interviews with John Cage, Brian Eno, Karlheinz Stockhausen, Tangerine Dream, Kate Bush, Klaus Schulze, Robert Fripp, Keith Jarrett, Vangelis, Wendy Carlos and Steve Roach.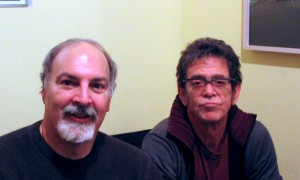 In all, 122 Totally Wired episodes were produced from 1982-1989. It won The Major Armstrong Award, The Ohio State Award, and the National Federation of Community Broadcasters Golden Reel Award. Totally Wired ended when Echoes began in October, 1989. On Echoes, John is the executive producer and host. He oversees the selection of music on the program, conducts, produces and writes most of the interview features.
Among too many highlights for Echoes, he'd have to mention the first Living Room Concert with Sheila Chandra in her Glastonbury cottage, interviews with Brian Eno, Yo-Yo Ma and the Silk Road Ensemble playing live, George Winston playing in John's living room, and the first-ever Living Room Concert with Mark Isham, in his Los Angeles home.
Many of John's interviews can also be found in magazine form. He's a nationally published music journalist whose reviews and features have appeared in Musician, Billboard, Downbeat, Jazziz, Pulse, Audio, CD Review, Music Technology, Electronic Musician, Mix, and other publications.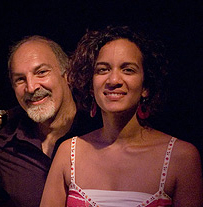 In the late 90s and into the new millennium John produced 12 documentaries for NPR's Jazz Profiles, including a two-part program on John Coltrane that was part of the Jazz Profiles Peabody Award Winning submission in 2001.
John has also worked on a several albums. Besides the Echoes Living Room Concerts CDs, he compiled and wrote liner notes for MBNT: A Recollection of Proto-ambient Music from Hearts of Space (Hearts of Space), wrote liner notes for A Quiet Revolution: 30 Years of Windham Hill, The Big Bang (Ellipsis Arts), Musique Mechanique (Celestial Harmonies), Shadows and Light (Deutsche Gramophone), Planet Soup (Ellipsis Arts), and Sun Ra's Lanquidity (Evidence) and Afro Celt Sound System's Capture: 1995-2010 (Realworld).
Jeff Towne, Co-Producer and Engineer
Echoes Producer Jeff Towne is that rare combination, a tech-head with aesthetic sensibilities. Jeff has been with Echoes from the beginning but John and Kim have worked with him since the early 1980s when he was a disc jockey at WXPN. He was also a DJ on the Diaspar show and he still sits in on Star's End occasionally.
Jeff grew up near Rochester, New York and worked at his high school radio station, WRHR-FM, playing progressive music. Jeff thought the "Electric Eclectics of Dick Hyman" was the zenith of electronic music until he heard the Vangelis album Albedo 0.39 and Tangerine Dream's Stratosfear while in junior high. Thus launched into space, he was fully prepared when he came to WXPN while a student at the University of Pennsylvania. Echoes saved him from a life of business conferences as the head of the audio-visual department in a Philadelphia hotel.
Jeff works behind the scenes, but is responsible for much of what goes in your ears on Echoes. Besides putting Echoes together and recording virtually all of our living room concerts, Jeff plans out most of the Echoes programs, does occasional interviews and feature productions and can occasionally be heard narrating a feature. Jeff has also become the Echoes webmaster, laying out the web pages and creating the graphics for the site.
Jeff is also the "Tools Editor" for Transom.org. a Peabody Award-winning website dedicated to channeling new work and voices to public radio. He also gives occasional workshops and lectures about audio production. Some of those skills have come into play in his role as recording engineer for various musical projects, including the CD "Pendulum" by the group One Alternative.