Big Ears Festival 2022: A Random Account.
Notes From Big Ears (Part 1)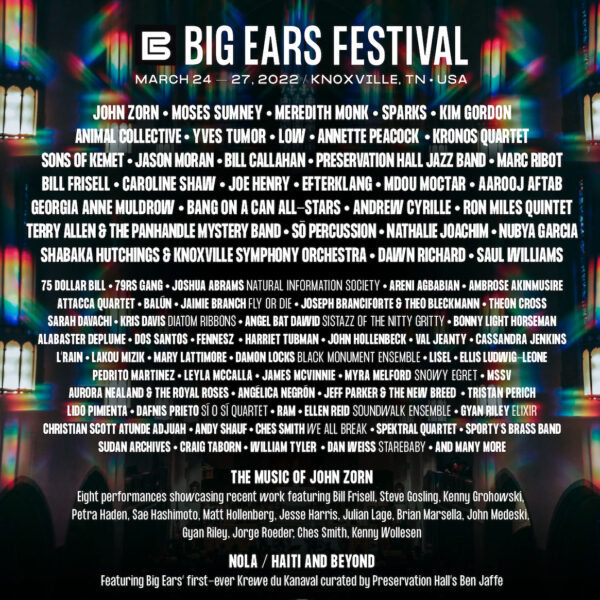 For various reasons, including the pandemic, I took a difficult pass on the Big Ears Festival this year. But Jon Andrews, who is on the Echoes Board of Directors, decided to go with his wife, Susie. He came back with this first of two overviews so i could regret what i missed. -John Diliberto
The Big Ears Festival 2022: A Rite of Spring
by Jon Andrews 4/7/2022
With the coming of Spring, the Big Ears Festival returned to its traditional home in Knoxville, Tennessee. This year seemed special after two years of deprivation and misery, suffering under the weight of Covid without the relief of live music. But undeterred and ready to have their ears altered, the faithful returned in droves, filled the seats in the major venues, or scrambled for the many alternatives. John Zorn was a big part of the Festival and we'll cover him in a separate posting.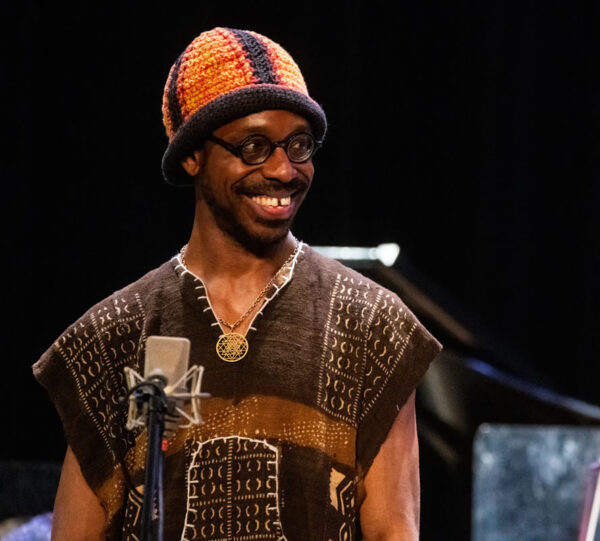 Shabaka Hutchings
On the first night of the festival, British avant-garde horn player, Shabaka Hutchings assumed a featured role on clarinet with the Knoxville Symphony Orchestra in a beautiful, tranquil performance of Aaron Copland's clarinet concerto as conducted by Aram Dermejian.
Going to the opposite end of the spectrum the next day, Hutchings led his group, the Sons of Kemet, for a fiery, combative return engagement, in which Hutchings (saxophone and clarinet) faced off against Theon Cross, on tuba. Fierce, relentless, heated but grooving drumming by Tom Skinner and Eddie Hicks set the stage. Unlike your typical avant-garde jazz show, a fully packed crowd danced and shouted encouragement until the exhausted combatants reached a final accommodation.
Craig Taborn
Craig Taborn is best known for his acoustic work at the piano, most recently in duet format, but electronics have long been part of his musical DNA, dating back to and beyond his early Junk Magic recording. Classical and ethic influences abound, as he has worked with multiple trios. Free playing is encouraged. This performance emphasized his electronics, which are evocative of a storm. while bassist Tomeka Reid and percussionist Ches Smith allow for extended, free musical explorations.
Music of Ron Miles
Trumpeter Ron Miles departed the planet on March 8th after complications from a rare blood disorder. As they do, Big Ears put together an all-star tribute comprised of pianist Jason Moran, guitarist Bill Frisell, bassist Thomas Morgan, and drummer Brian Blade. The ensemble performed Ron Miles' compositions well into the evening, culminating in a group embrace.
Myra Melford
Pianist Myra Melford also paid tribute to Ron Miles and opened her set to acknowledge the loss of her long-time trumpeter. Melford attacked the keys with an energy level reminiscent of Cecil Taylor. She gave the players freedom to improvise, and was joined by Stomu Takeshi, whose mastery of the bass guitar was evident. Trumpeter Cuong Vu joined the group, playing fiery or lyrical in turns.
Electric Appalachia (Music and Film) with William Tyler & Mary Lattimore
Electro-harpist Mary Lattimore and acoustic (mostly) guitarist William Tyler provide a live score for an archival film from Eric Dawson presenting images of the Appalachian Mountains from the earliest days of film. We see grainy images of untouched mountains in the mist and waterfalls, as accompanied by Lattimore and Tyler. Gradually, the images show farmers and workers populating and living in the tranquility of the mountains. The plaintive music of the mountains shifts dramatically with the coming of the Tennessee Valley Authority and the era of industry and modernism. Lattimore switches from harp to synth, while Tyler takes up the acoustic and electric guitars with the advent of modern country music.
Bill Frisell
The somewhat quirky guitarist seems to pop up everywhere on Big Ears stages, and he's always welcome. He was accompanied by his working trio, with Thomas Morgan, his long-time bassist, and Brian Blade on drums. Frisell seemed a little bit taken aback by the size of the roaring, welcoming crowd. He also added electronic enhancements to his repertoire for this show. Morgan and Blade He concluded the set with a plaintive rendition of "What the World Needs Now" which, given the current crisis in the Ukraine, not to mention American politics seemed to be intentionally timely.
Fennesz
Fennesz performed his set of electronic music in a cathedral, utilizing two laptops and an electric guitar. This was likely the loudest and strangest set of the festival, certainly meant for really big ears. Fennesz bombards the audience with electric beats and grinding layers of sound. The audience was captivated by sounds evoking underground metals and shifting waves of distortion. Despite the aggressive dissonance, his music is not without deep, dark melodies for the intrepid.
Annette Peacock
The rarely seen composer, pianist and vocalist was perhaps the most intriguing performer of the festival. Her performances have been selective and few during the years, and she has not recorded since "An Acrobat's Heart" in 2002. The lights were darkened and the anticipation was palpable as she approached her keyboards and set-up alone. Although the backing music sounded dated and clunky at times, her voice and range were unmistakable. She sang of love and loss and age. She concluded her set by completing her final song as she walked off the stage, again in the darkness, while the music played on, untended.
Jason Moran
Moran made the most of his time at Big Ears, sitting in with Joe Henry the first night, then sharing an interview with Henry the following morning. Moran welcomes his opportunities to share his extensive knowledge of music and the history of Black musicians in particular. Moran also played prominently in the tribute to Ron Miles.
Moran's extraordinary solo performance was a highlight of the Festival. He can be funny and playful, but he's also teaching us about his mentors, and influences such as Jaki Byard, and in particular the experiences of Black musicians and Black artists, including a reading from the works of Toni Morrison. But then, his music may take us to very dark and scary places, but he brings us back from the abyss. At least for now. He closed with a joyous finale engaging the audience.
Unfortunately, with over 150 artists playing in 13 different venues, all of them overlapping, you can't catch them all. But this is the path I threaded through Big Ears 2022.
Here our preview feature with Big Ears founder, Ashley Capps