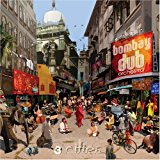 The Best of Echoes 2008 Listener Poll is over and the results are in. You can hear them tonight on Echoes and you can see them below.
Bombay Dub Orchestra's 3 Cities, the November Echoes CD of the Month topped the poll and it led a list of eclectic music from across the Echoes spectrum. I don't know that there were any surprises.
Six of the selections were CDs of the Month.  Fourteen of the artists appeared on the show with interviews, performances or both.
Echoes listeners were a bit ahead of the curve. Many year end lists will have Ludovico Einaudi's Divenire on their selections. But we had that in 2007. Instead, you selected his Live In Berlin CD, which isn't even out in the US yet.
Your love of Urlich Schnauss continues, voting in Stars, which is only an EP, with only one track played on Echoes. Will Ackerman made a surprise showing at #3 with his understated Meditations CD, which is only available at Target.
There were only 5 albums on the list from major labels. Sixteen CDs came from small independent labels ranging from Lotus Spike to Six Degrees. Four CDs were self-released.
Thanks for voting. If you're looking for CDs to add to you collection or iPod, you couldn't find a better place to start, except maybe the 25 Essential Echoes CDs of 2008  😉  You can also read more about this year's music with  25 Essential Echoes CDs for 2008
THE BEST OF ECHOES 2008 LISTENER POLL 
1

Bombay Dub Orchestra
3 Cities
(Six Degrees)
read a review

2

California Guitar Trio




Echoes


(

Inner Knot)

3

William Ackerman
Meditations
(Compass Productions)

4

Sumner McKane
What A Great Place to Be
(Don't Hit Your Sister Records)
read a review

5

Ottmar Liebert
The Scent of Light
(Spiral Subwave Records Int'l)
read a review

6

David Arkenstone
Echoes of Light and Shadow
(Gemini Sun Records)

7

R. Carlos Nakai
Talisman
(Canyon Records)

8

David Gilmour
Live in Gdansk
(Sony)

9

General Fuzz
Soulful Filling
(Self Released)

10

Ludovico Einaudi
Live in Berlin
(Ponderosa Italy)

11

Ahn Trio
Lullaby for My Favorite Insominac
(Sony BMG)

12

Fripp & Eno
Beyond Even (1992-2006)
(DGM)

13

Hammock


Maybe They Will Sing For Us Tomorrow
(Darla Records)

14

Biomusique
The 10,000 Steps
(Kosmic Music)
read a review

15

Ulrich Schnauss
Stars EP
(Domino)

16

Sigur Rós
With a Buzz in Our Ears We Play Endlessly
(XL Recordings)


17

Coyote Oldman
Under an Ancient Sky
(Hearts of Space

)

18

Alu


Lobotomy Sessions
(Alu Music)

19

Digitonal


Save Your Light for Darker Days
(Just Music)
read a review

20

Steve Roach
Arc of Passion


(Projekt)

21

Jami Sieber
Unspoken
(Out Front Music)
read a review

22

Bill Frisell
History, Mystery
(

Nonesuch

)

23

Kevin Bartlett
Glow in the Dark
(Aural Gratification)




24

Darshan Ambient
From Pale Hands to Weary Eyes(Lotuspike)

25

Kaki King
Dreaming of Revenge
(Velour Recordings)