Digitonal Tops the 25 Essential Echoes CDs of 2008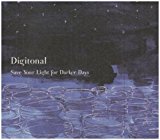 Here are the CDs we thought were essential for the year as judged by me (John Diliberto) and the Echoes staff. It's not based on the most played CD, CDs of the month or any other "objective" criteria. These are the CDs, out of the 2000+ we received, that consistently inspired us over the year. Some years, it's difficult to find 25 CDs that warrant being on the list, but this year, even more than a great year like 2007, the dividing line between the first and 25th choice has never been thinner. 2008 was just a great year for music.
I write more extensively about the 25 Essential Echoes CDs in an article on the Echoes website. It'll have lots of links to soundfiles, pics and features on these artists.
For now, let me say that Digitonal's Save Your Light for Darker Days floored me from the start and became deeper with each listening. It was the most sophisticated, intoxicating, inventive and emotive album of the year and defined that meeting of classical chamber and ambient music. It was nearly a toss-up between that and Sumner McKane's What a Great Place to Be. Like Digitonal, it was a CD of the Month and an album of deeply moving, but strangely nostalgic psychedelic Americana.
This was the soundscape of Echoes, 2008. The full list is below.
John Diliberto ((( echoes )))
25 ESSENTIAL ECHOES CDs FOR 2008
| | | | | |
| --- | --- | --- | --- | --- |
| 1. | Digitonal | Save Your Light for Darker Days | Just Music | |
| 2 | Sumner McKane | What A Great Place to Be | Don't Hit Your Sister Records | |
| 3 | Balmorhea | Rivers Arms | Western Vinyl | |
| 4 | Fernwood | Almeria | Self Released | |
| 5 | Saul Stokes | Villa Galaxia | Binary/Stokesmusic | |
| 6 | Jamshied Sharifi | One | Ceres Records | |
| 7 | Ahn Trio | Lullaby for My Favorite Insominac | Sony BMG | |
| 8 | Lights Out Asia | Eyes Like Brontide | N5md | |
| 9 | Jami Sieber | Unspoken | Out Front Music |   |
| 10 | Bombay Dub Orchestra | 3 Cities | Six Degrees Records | |
| 11 | Nik Bartsch's Ronin | Holon | ECM Records | |
| 12 | General Fuzz | Soulful Filling | Self Released | |
| 13 | Qntal | Qntal VI: Translucida | Noir (Big Daddy) | |
| 14 | Marconi Union | A Lost Connection | MU Transmissions | |
| 15 | Hammock | Maybe They Will Sing For Us Tomorrow | Darla Records | |
| 16 | John Gregorius | Heaven and Earth | Spotted Peccary | |
| 17 | Gerry O'Beirne | The Bog Bodies and Other Stories | Self Released | |
| 18 | Johann Johannsson | Fordlandia | 4AD/Touch | |
| 19 | Ronn McFarlane | Indigo Road | Dorian Recordings | |
| 20 | Biomusique | The 10,000 Steps | Kosmic Music | |
| 21 | Anja Lechner and Vasillis Tsabropoulos | Melos | ECM Records | |
| 22 | California Guitar Trio | Echoes | Inner Knot | |
| 23 | Darshan Ambient | From Pale Hands to Weary Eyes | Lotuspike | |
| 24 | Kevin Bartlett | Glow in the Dark | Aural Gratification | |
| 25 | Alu | Lobotomy Sessions | Alu Music | |