Big Ears Festival: John Zorn is God and other Great Music
by John Diliberto 4-6/2023
The Big Ears Festival is always a smorgasbord of sound, a pan-global, cross-genre array of music unlike any on the planet. Held annually in Knoxville, TN, the 2023 edition, their 10th festival outing, was no different from the previous nine in its expansive musical embrace. From the jazz avant-garde to African kora players to electronic pioneers, Big Ears had it. There were artists you probably know, like Rickie Lee Jones and Bela Fleck, and artists you never heard of, like Jake Xerxes Fussell and Sona Jobarteh. And then, there was John Zorn.
If you were to characterize Big Ears 2023 in two words it would be John Zorn. Celebrating his 70th birthday, (born 9/2/1953) the iconoclastic composer and saxophonist's name was all over the festival, even when he wasn't actually performing, which was most of the time. After four days, you realized why. He is one of the most brilliant, eclectic and wide-ranging composers of the 20th and 21st centuries. His name was attached to several performances because even when he wasn't on stage, his music or concepts were.
Because the festival had nearly 200 performances Tetrised into three and a half days, it was not possible to catch all that were Zorn related. Among the bounty was an exquisite guitar trio, Nova Cantici, with Julian Lage, Gyan Riley and Bill Frisell, playing Zorn compositions that had an intricacy and delicacy that was intoxicating. At times they sounded like the California Guitar Trio. At others they recalled the pyrotechnics of the John McLaughlin/Al Di Meola/Paco De Lucia trio of the 1970s. These trio compositions are among dozens of works that belie Zorn's overriding reputation as a noise artist. They wove complicated lines and, except for what seemed like a few moments of improvisation, were largely through-composed. No wonder Gyan Riley passed on an interview with me so he could rehearse. I would've as well.
Among the many Zorn-branded performances that were a contrast was Zorn's Bagatelles Part 3. This featured two ensembles. First up was the Brian Marsella Trio with Trevor Dunn on bass and drummer Kenny Wolleson. I've seen Wolleson in some of Bill Frisell's more subdued outings, but here he was cranked up in full free-jazz throttle while Brian Marsella pounded his piano like the love-child of Jerry Lee Lewis and Cecil Taylor. Wolleson and Roeder made sure the groove never slowed down. While these were Zorn-based compositions, the improvisations were ecstatic.
The acoustic Marsella trio was followed by the very electric John Medeski Trio with Medeski from Medeski, Martin and Wood on Hammond organ, David Fiuczynski on electric guitar and G. Calvin Weston on drums. This trio was Black Sabbath if they'd decided to play Free Jazz. One song actually sounded like a Sabbath track with a heavy riff as Medeski wove a squirrelly solo across Weston's crushing groove. Weston was a whirly-gig fury of rolling thunder on his double-bass drums while keeping the groove moving non-stop. Hearing John Medeski wrenching swirls of sound from his organ made me regret we don't hear this instrument as much as we did about 50 years ago.
Brian Marsella also featured on Zorn's "Suite for Piano." Despite the classical-sounding title, this was free jazz, with bassist Jorge Roeder and drummer Ches Smith ripping like jackhammers gone mad. You've heard of hard bop, but a lot of this was more like speed-bop, as Smith kept an almost non-stop frenetic pace on drums that drove the always ebullient Marsella into even more frenetic highs. At one point while throwing down Cecil Taylor-like clusters, he played so hard he knocked his glasses off. It was an exhilarating ride but the trio could also slow it down to what was almost an ethereal ballad. And although the music is inspired by Bach, I'm pretty sure I heard them quoting Dave Brubeck's "Blue Rondo a la Turk" in there.
As the festival is wont to do, they put out special "secret" performances that tend to mess up your schedule and/or your sleep. But the performance of John Zorn's Masada at midnight was worth it. Something of an ad hoc group, this configuration consisted of Slayer drummer Dave Lombardo and Trevor Dunn, subbing for Bill Laswell, on electric bass, with Zorn actually taking the stage on alto saxophone. This was a more directed take on free improvisation with Zorn cueing the other musicians on pieces that often had a stop-start-stop-start-go-crazy approach. It was a full-force blowout with Zorn deploying a spray of sound, occasionally dropping-in klezmer riffs and rhythms. Masada was initially inspired by Radical Jewish Culture. Zorn is such a good saxophonist, I wish we heard him more in that role. He fully enjoys the moment, smiling at his musicians, moonwalking backwards and pulling them in and out of the groove. He even got the audience clapping to the rhythm on one piece. That rarely happens in an avant-garde jazz performance.
Zorn ended the festival with "Cobra." This is one of his "game pieces" from his early days. Zorn directs the ensemble with flashcards and gestures, while the ensemble also directs each other into different combinations. On a 2022 panel at Big Ears, Zorn stated that "This is not entertainment." But in this case, it was, because "Cobra" is kind of a party piece that is more fun than profound. With fourteen musicians onstage, Zorn creates a series of staccato moments, bursts of energy, seemingly arbitrary combinations and people just blowing their brains out musically.
While this concluded the festival around midnight on Sunday, it's not the end of this review. Navigating Big Ears is difficult with multiple shows happening simultaneously. While many people flit about from one performance to the next, catching two or three songs here, a couple somewhere else, I try to stick with a show from beginning to end, unless it's truly terrible.
A performance that was the opposite of terrible was Ibeyi, the French duo of twin sisters Lisa-Kaindé Diaz and Naomi Diaz. Their father was the Cuban percussionist Anga Díaz, who was part of the Buena Vista Social Club and the Latin jazz band Irakere. Their mother is French-Venezuelan singer Maya Dagnino. Their music is joyful and deceptively deep. Bouyant melodies are underscored by darker Cuban and African based grooves. The sisters, especially Lisa, cavorted across the stage in seductive moves, Lisa tossing her long, curly mane into the air. On the song "Sister 2 Sister" about the relationship with her sister, she sings, "Dancing in front of the mirror, Singing along with Shakira." You can definitely tell she did that. Their songs were soulful, ferocious, and sometimes sentimental. They sang in French, English and Yoruba, borrowing from hip-hop, R&B, and a bit of art-pop, powered by two phenomenal musicians on drums and keyboards, while Naomi played her father's cajon and bata drums. They played music from across their career and almost all of their most recent album, Spell 31. They had the Tennessee Theatre audience dancing, clapping and singing along. Even me. Their cover of Black Flag's "Rise Above" would've been the climax for most bands, but they kept going after that with one peak after another.
The polar opposite of Ibeyi was Grouper, the stage name for Liz Harris. While Ibeyi wants to be seen and to see you, Grouper was shrouded in darkness, a person barely perceptible. There were projections on a screen above her that were pretty repetitive and mundane. On her albums, Harris's vocals are a perceptible, but ethereal wisp. But here they were completely buried in oppressive waves of distorted textural layers that permeated the Point Knox venue, a converted church. I felt like I was being tortured into submission in one of the most excruciating concerts I've ever attended.
Clearing my now foul mood, I walked the 1.3 miles to the completely opposite end of the festival's venues to the Bijou theatre to catch Tarbaby, the trio of pianist Orrin Evans, bassist Eric Revis and drummer Nasheet Waits, the son of the great jazz drummer Freddie Waits. They are a formidable trio in their own right, but for this performance they were joined by saxophonist David Murray. What a joyful contrast to Grouper. As soon as I walked in, Murray was wailing over a storming groove. The band assayed a mix of originals and covers. "Kush" was a slow blues written by Waits, but Murray's solo was a contrast as he spun on the chord changes and added upper trilling squeals. Now 68, Murray doesn't gyrate as much as he used to, but he still has a wiggle in his hips and a powerful, muscular tone.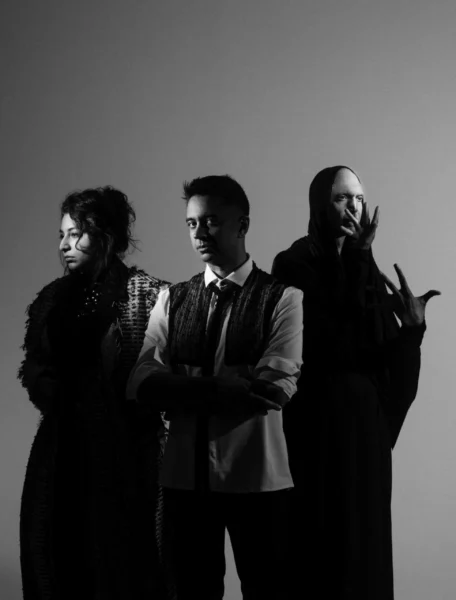 Big Ears can be a raucous and dissonant event at times, but centering that were a couple of performances, one by the ambient band SUSS and another by the trio of pianist Vijay Iyer who was born in America of Indian parents, bassist and electronic musician Shahzad Ismaily who was also born in America but of Pakistani parents, and singer Arooj Aftab from Pakistan. They've gotten together on an album of improvisations in ambient modes called Love in Exile and they entranced the audience with their spacious, largely improvised music that hovered on the edges of meditation and passion. Ismaily provided a bottom drone on electric bass while Iyer orchestrated a lot of the framing with sometimes quietly lyrical forays. Atop it all, Aftab seemed to be tapping some dark well of the soul as she sang couplets in Urdu. Her voice was deep and resonant as she sculptured a sound that didn't seem quite part of this world.
Iyer, Aftab and Ismaily created their world in the elegant space of the Tennessee Theatre, but the ambient group SUSS brought their quieting, dark mood to the event and did it in a fairly inappropriate venue, the Jig & Reel. It's a very cool club with a nice bar and a backroom performance area that was one of the smallest venues at the festival. SUSS could of filled it in their two shows 6 times over. They call themselves Ambient-Country, but despite the pedal steel of Jonathan Gregg, they are way more ambient these days, as slow motion melodies coursed out like searchlights wandering the skies. I wished I could've been sitting for this one.
Gyan Riley, who was part of many ensembles at the festival, did his own set at St. John's Cathedral. His pieces are also complex and delicate. Beginning with solo acoustic works, he deftly slid into looper mode and then added an exotic electric instrument called Sonica, a lute-shaped synthesizer that created glissando motifs by sliding up the fretboard. He then brought out an electric guitarist and bassist, Devendra Banhart and Shahzad Ismailly, and staying acoustic, sang some vocal songs that I hadn't heard him do before. They were pleasant tunes, but in need of a better singer to sell them. It made it an A-Side/B-Side performance.
There was a lot of on-the-edge electronic music at the festival. The first set of Big Ears that I caught was King Britt. Originally from Philadelphia, the now tenured professor from the University of California San Diego has always had a cerebral approach to electronics. Joined by cellist Seth Parker Woods and bassoonist Joy Guidry, Britt sat behind a table loaded with electronic devices that he manipulated into abstract sonic textures. This particular project is called Moksha Black. It was a purely improvised performance that was more free-jazz meets atonal classical music. For the last number he was joined by drummer Tyshawn Sorey, giving the music a bit of a free jazz pulse.
On the less abstract side was Caterina Barbieri, an Italian musician creating a minimalist brand of analog electronic music, equally inspired by Terry Riley (Gyan Riley's father btw) and EDM. It was one of the few shows that started late, 45 minutes, but it wasn't her fault and it was worth the wait. Hitting the stage wearing armory on her right shoulder and arm that made her look like a Borg, she cranked out interwoven cycles of electronic sound, with a beautifully warm, but still cutting, timbral palette. Themes continually evolved out of her spinning maze of sound as she waved her arms theatrically above her gear. That is, when I could see her. She had the most ineffective use of smoke and lights I've ever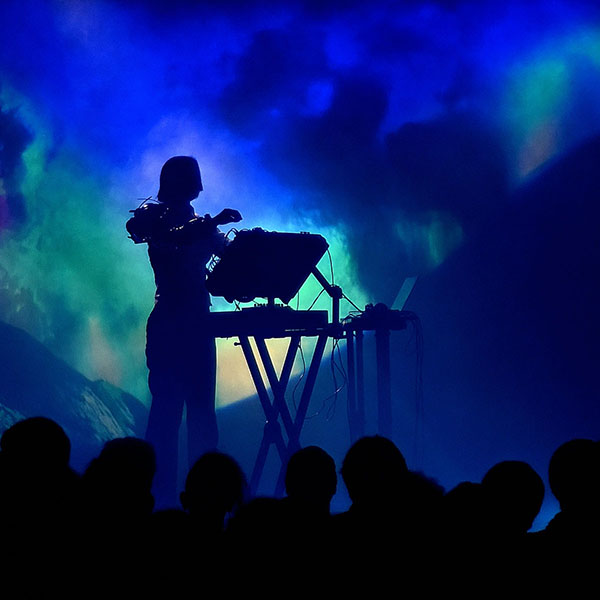 seen. White smoke would billow out, completely obscuring Barbieri from sight. Usually, lights would be continually projected through them, but the minimal moving headlights came on at arbitrarily sporadic points in the show then went away leaving white clouds blanketing the stage. No matter though. The music delivered. Her set was mesmerizing and ended with a banging version of "Terminal Clock."
Another woman in wires was Kate NV. I was surprised they placed her in the 2500 seat Civic Auditorium. She didn't fill it by a long-shot but she drew a crowd that would've been too-large for most other Big Ears venues.
How to describe the music of Russian born Kate Shilonosova? It's as if a J-Pop group met Morton Subotnick (whose two sets I regretfully missed). Her songs were like fractured pop, often sounding like a broken music box as she deployed a variety of sounds, including animal noises, bird songs and saxophones. She'd often dance in ecstatic, goofy, no-one-is-watching fashion. But everyone was, because she was so mesmerizing and dressed for the part. With thick blonde hair sporting a pink accent it was pulled atop her head like something Sandy Olsson would've sported in Grease, except for the pink accent. She wore a school girl's outfit with black blazer, knee-high black socks and a short skirt. The only thing that violated school regulations was the midriff-baring pink top. Her music was at times minimalistic, sequencer-driven or grooving on dance beats, with long instrumental stretches between songs that were like chants, her voice often triggering effects and sounds.
Oneohtrix Point Never was something of a surprise. I had expected a more splintered, angular sound from him, but this was a kinetic, driving set that often reached grandiose heights. I hesitate to call this one a performance, though, as Daniel Lopatin, who is OPN, stood behind what looked like a computer screen and didn't seem to be playing anything. But the music and psychedelic videos made up for it.
In my preview of Big Ears I said that to some, it might seem like a jazz festival, and I think I could have easily woven a path that would've been just that. Besides artists already mentioned, I caught Joe Lovano Trio Tapestry with pianist Marilyn Crispell and drummer Carmen Castaldi. They cut a somber mood as Lovano has mellowed out considerably over the years.
Christian McBride's New Jawn wasn't so new but they were a vibrant, if fairly standard, post-bop band. Trumpeter Wadada Leo Smith was in an angular mood for most of his set, with compositions that sounded more atonal classical than jazz much of the time. His pianist, Erika Dahl was resplendent in forays that were at times lyrical and others joyfully abstract as she pounded out clusters and waves of notes.
One of the few disappointments at Big Ears was the Exploding Star Orchestra. Led by trumpeter Rob Mazurek, they seemed to have everything going for them, with veteran musicians including pianist Craig Taborn, cellist Tomeka Reid and guitarist (and omnipresence at Big Ears) Mary Halvorson. Their music was born of electric Miles Davis with a tilt toward the British sound of post-Robert Wyatt Soft Machine, but they seemed to rarely rise up beyond endless noodling and vamping.
The Sun Ra Arkestra never disappoints. They descended once again on the festival calling out to the "People of planet Earth." Dressed in full regalia of spangled tunics and strange hats, they blew through free jazz workouts as well as Fletcher Henderson tunes. 98-year-old leader Marshall Allen can still whip out the pneumatic alto solos, and without a keyboard player, he also brought the space bleeps with his electronic wind instruments.
I skipped most of the rock acts including Ricky Lee Jones, Calexico and Iron & Wine, but did catch several songs of Los Lobos, who seemed to be going through the motions.
I missed so many potentially great acts at Big Ears, among them the live street performances of Robert Ashley's neo-beat opera, Perfect Lives, Private Parts. Performed by Varispeed, they played at different locations represented by the different sections of the opera so "The Supermarket" was performed at Mast General Store and "The Park" was staged at Krutch Park. I caught about 15 minutes of "The Bank," performed at the US Bank, and it was wild and exhilarating, especially with the somewhat Frank Zappa-like narration of Dave Ruder. I wish I'd seen more.
Unless you can navigate the multiverse, you'll never see even a fraction of what you'd like to see at Big Ears. But the 2023 edition was everything it says it is, and more.