Mark Shreeve - A Traveler Through Space and Time Rip 8/31/2022
by John Diliberto 9/1/2022
Mark Shreeve 1957-2022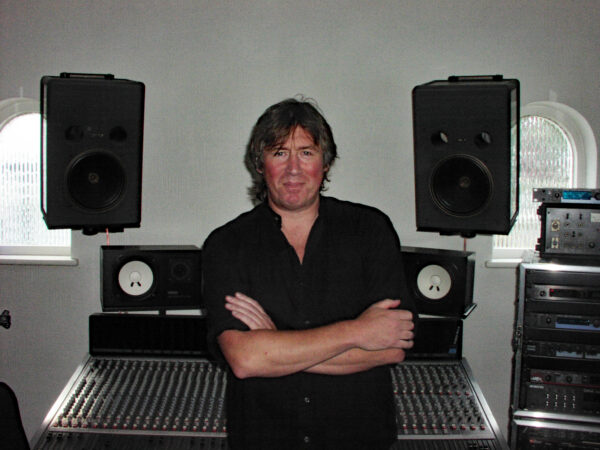 Synthesist Mark Shreeve has left the planet, departing on August 31, 2022. The British musician was in the first wave of DIY-Bedroom electronic musicians who were inspired by Tangerine Dream and Klaus Schulze. He released his first music, Phantom, on cassette on the Mirage label in 1980.
I remember in 1980 and 81 playing his Phantom, Embryo and Ursa Major cassettes on WXPN's Diaspar show in Philadelphia. I interviewed him for the first time in 1982 in London, as he sat in the bed of the truly crummy Royal Ascot Hotel we were staying at in Paddington. At the time, he was making his music in one end of his living room while his girlfriend watched TV at the other end.
I don't think much had changed except when I visited him in 2003 for a live session as ARC with Ian Boddy. I suspect his living room wasn't like most of his neighbors in the pleasant middle class borough of Southgate, London. They have couches, easy chairs, maybe a telly. But Shreeve's living room looks like a synthesizer museum. Along one wall was an Oberheim Expander, Arp 2600, VCS3 and the centerpiece of his music from the mid-1990s onward, a vintage Moog Modular Series 3 synthesizer. He was not a software synth kind of guy.
"I mean, it's a real pain to use," he groaned, referring to his Moog. "It's a pain to maintain, it's difficult to operate, it's always going out of tune, but in the end, nothing sounds like that big Moog. Nothing in the synthesizer world can put out bass like that machine can, not even a Mini-Moog can."
But the sound he gets was awe-inspiring. Giant thudding basslines that start somewhere around Jupiter and end at Mars trawl under his compositions as cyclical melodies and free-form solos emerge. You can hear that sound on all of Mark Shreeve's albums in this century, including his recordings with Ian Boddy as ARC. As his arms stretched across the width of his Moog synthesizer it seemed like he was trying to wrestle it down. It doesn't have a keyboard. Instead, Shreeve twisted knobs and moved patch cords to manipulate sound and patterns
Mark Shreeve was a burly man with longish, light brown hair. He always had a glum look in press photos but he had a great smile. Born in 1957, he was just the right age to be consumed with progressive rock. But the electronic switch was thrown when he heard Tangerine Dream's Phaedra album on John Peel's influential BBC radio show. I always love using Mark's description of that experience whenever I write something on that era of the Dream.
"It sounded unearthly to me," he told me in 1982. "I never pictured people there playing it. It sounded like it always existed somewhere in the universe, this music, and that we were just passing it. And it was there, and while we were passing it we could hear it."
Inspired by those sounds, he started crafting his own music. His early releases were constructed with simple machines. His 1980 Phantom album had just a Yamaha CS30 monophonic synthesizer, 2 effects pedals, a phase shifter and reverb and a two-track Revox tape-recorder. He essentially improvised an hour of music direct to tape.
He went on to several more recordings in this style, including Embryo and Ursa Major, all released on cassette on the Mirage label. He got to release actual vinyl albums with the Norwegian Uniton label where the albums Thoughts of War and Assassin found a home. Assassin marked a serious sonic expansion as he added Roland Juno 60, Sequential Circuits Pro-One and a Roland TR 808 Rhythm Composer. And instead of a two-track improvisation it was put together on an 8-track machine. That small arsenal played out to full effect on his cover of director/composer John Carpenter's theme to his film, "Assault on Precinct 13." Mark Shreeve reworked it as the title track to Assassin, an ominous, relentless march to oblivion with Mark really laying in to the threatening melody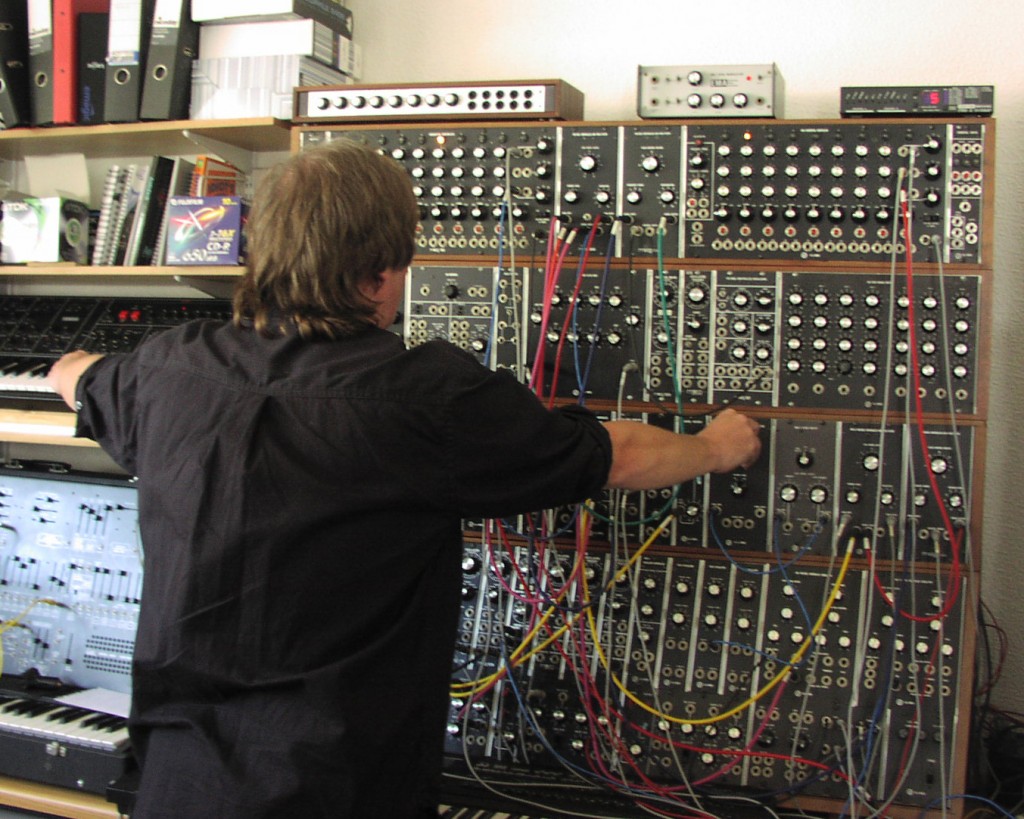 That was a sound that Mark carried into a couple of releases that sound somewhat anomalous in his catalog now. Legion and Crash Head came out in 1985 and 1988 respectively on the Jive Electro label where Tangerine Dream also recorded briefly. Legion was a dark album propelled by horror and sci-fi themes, especially the novels of Stephen King. Mark's song, "The Stand" directly references King's novel of the same name. These themes ran through all of Mark's music but were particularly present here. Legion's tracks clocked in between 3 and 8 minutes instead of his usual 30-minute expanses and the Jive studios gave him access to high end digital synthesizers and drum machines including the Fairlight and Linn Drum. So the rhythms shifted dramatically and the sonic field included all kinds of samples of conventional instruments and sound effects. It's Mark's most overtly melodic and dynamic music. One track on Legion, "Icon" was co-composed with Tangerine Dream's Christoph Franke, who also plays on it.
His stint at Jive provided his most bizarre credit. He wrote the music for "Touch Me (I Want Your Body)", sung by Samantha Fox, the Page 3 topless model turned singer. The music from her 1986 worldwide Top ten hit was created from a Mark Shreeve demo cassette that he'd actually partly recorded over as a reject. No one could accuse him of having a good pop sensibility or business acumen. Fox's video for the song was all over MTV at the time, but trust me, Mark wasn't in in it.
More albums followed including Nocturne in 1995, released on the American Sonic Images label and Collide in 1986 on Champagne Lake. These all had a heavy drum machine approach that was more New Wave than space music and were a departure from his original sequencer driven sound.
I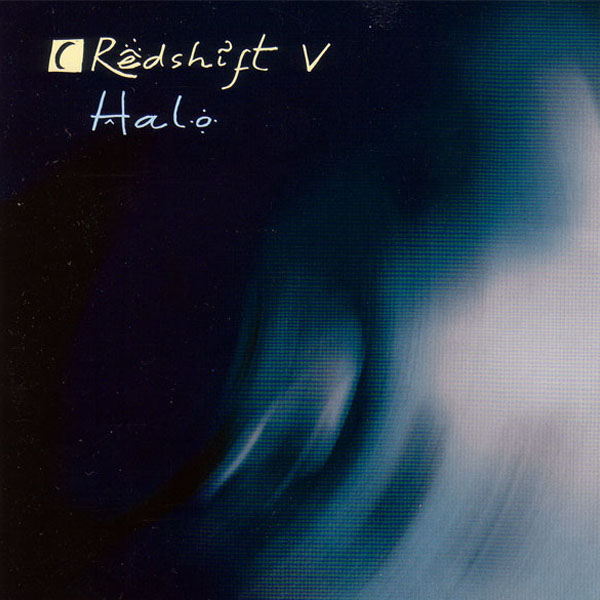 n 1996 he released the eponymous debut of his project, Redshift. I once joked that imagine it's 1974. In Shipton-on-Cherwell, England, Tangerine Dream have just closed the studio doors of The Manor after finishing their groundbreaking album, Phaedra. But unbeknown to the German synthesizer trio, another group of musicians have snuck into the studio, turned on the synthesizers and cranked out their own space music opus. That never happened but if it had, the music might have sounded like Redshift.
Redshift signaled Mark Shreeve's return to the classic Berlin school sound, only this time with a bevy of analog synthesizers. He released 15 Redshift albums from 1996 to 2015. They usually included collaborators including Ian Boddy and Shreeve's brother, Julian Shreeve, synthesist James Goddard and guitarist Rob Jenkins. They were almost all deep dives into vibrating space and sequencer overdrive, the best being the self-titled debut, Ether, Siren and Oblivion.
Redshift also marked his purchase of that vintage Moog Modular Series III synthesizer. Mark reveled in its maze of patch cords and knobs and all the extraordinary sounds and sequences he could produce.
Ian Boddy and Mark also had a side project called ARC. It was originally supposed to be a different sound from Berlin-school sequencer music and a few pieces got there like the title track to Blaze. They brought in drummer Carl Brooker and with an ominous bass line created a track like the "Peter Gunn Theme" in warp drive space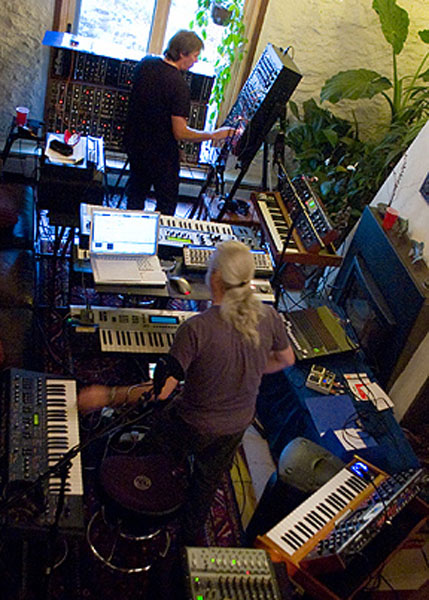 ARC created 10 incredible albums right up to 2017's Fleet. As I mentioned, I first interviewed Mark in 1982 and caught up with him again in 1985 at the Jive recording studios where we talked about Legion. In 1998 I gathered the members of Redshift at the time in Mark's home. I'd see him again in 2003 when ARC performed an Echoes Living Room Concert in Mark's living room, followed by a wickedly funny restaurant trip with the duo and Mark's wife, Sue. And I saw him one last time in 2009 when ARC played two of their only US concerts. One was at The Gatherings Concert Series in Philadelphia. The other was a live Echoes performance recorded in the grand room of the Alpenhof Bed & Breakfast in Media, PA. Whew! To be in the middle of that giant assemblage of synthesizers with two masters weaving the sounds of electronic space.
Mark also did some soundtrack work. His song "Legion" appeared in the film, The Jewel of the Nile and he scored the films Buy & Sell and Turnaround. He also cut a few library music production releases.
It was only a few years ago that Mark asked if I had original cassettes of his Phantom and Embryo albums and if I could digitize them for him. I did have them. Still do. We had just talked to Mark at the end of April when we were soliciting musician's remembrances of Klaus Schulze who passed on April 26. Mark Shreeve was one of the first people we thought of calling.
Many musicians are logging their memories of Mark Shreeve. From Facebook Details of Mark's passing have not been released, but he has been ill for a while. Our thoughts are with Mark's wife Sue, his brother and Redshift collaborator Julian and all the family, plus Mark's close friend and ARC partner Ian Boddy. It was Ian who gave us this sad news.
We will have a tribute to Mark Shreeve on Wednesday, September 7.