Michael Whalen Takes the A Train to Space: Imaginary Trains, Echoes May CD of the Month
by John Diliberto 5/2/2022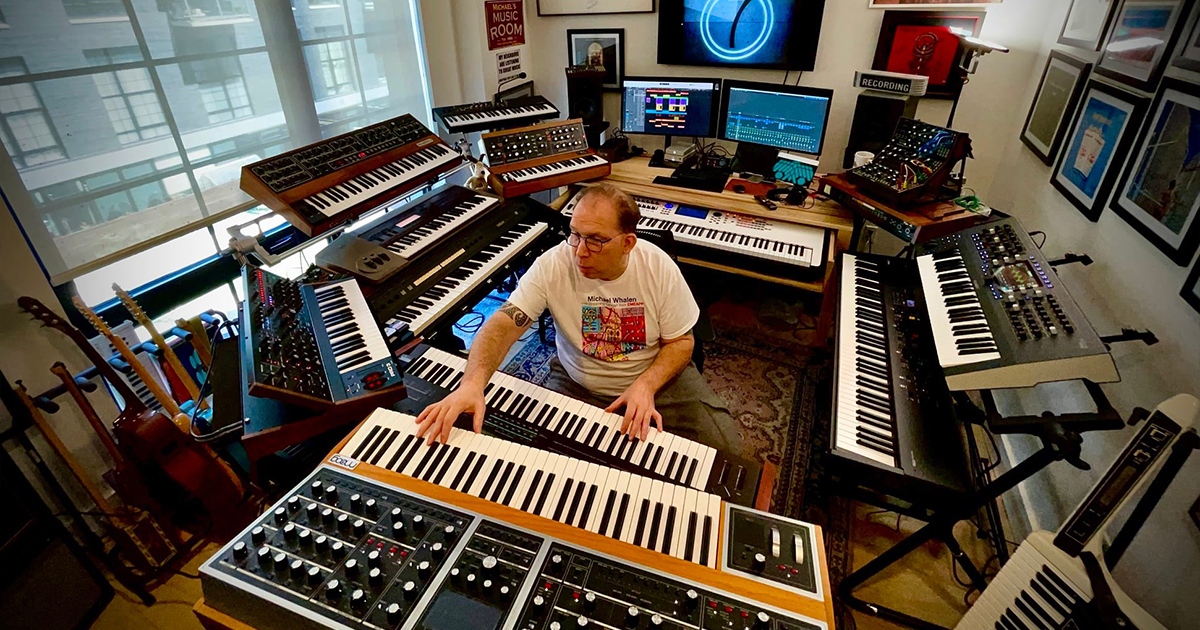 Remember Tangerine Dream's "Love on a Real Train" from the Risky Business soundtrack? That song gives you a cue to the inspirations behind Michael Whalen's Imaginary Trains album and title track. And there is more than locomotive imagery connecting these two songs. Whalen's new album was inspired by the pioneering age of electronic music of the 70s and 80s including artists like Tangerine Dream, Klaus Schulze and Vangelis.
Michael Whalen has a long and prolific history on electronic instruments. He  was trained on piano before switching to drums so he could rock out. But he switched back to the keyboard, only this time, in the form of synthesizers. That pivot has given him a career crafting film scores and commercial jingles numbering in the thousands. In the 90s he scored PBS historical and nature documentaries like Titanic: Anatomy of A Disaster, and Sea Power. For Disney, he composed music for Cargo, a documentary on human trafficking. These soundtracks took him through a range of music from African to Symphonic.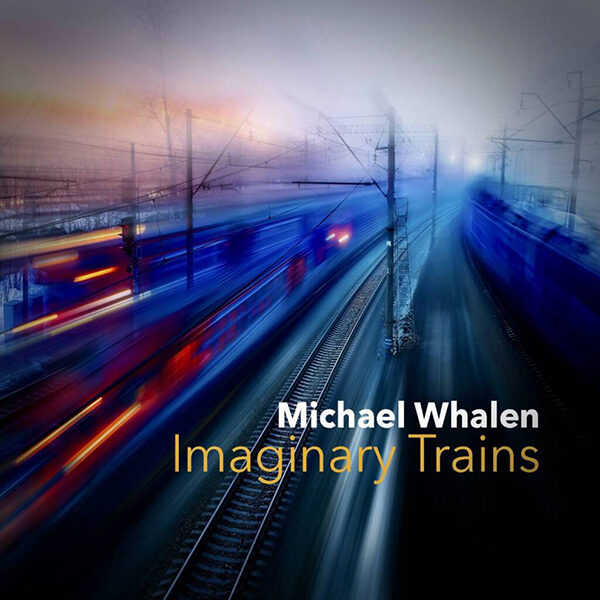 As a solo artist he's released albums of sentimental solo piano, fusion and new age, but I always felt like his heart lay in the vibrations of electronic music. These include his 2020 CD of the Month, Sacred Spaces and his 1996 release, Night Scenes.
Imaginary Trains is an homage and an expansion of his influences. Take the title piece. Right away you hear echoes of Tangerine Dream's "Love on a Real Train" from the cycling sequencer to the pinging vibraphone timbres that were lifted from Steve Reich's "Music for 18 Musicians." But Whalen takes it to another place, one that's more wild than erotic, with spinning sound effects, staccato keyboard stabs and a soaring melody using a timbre redolent of Vangelis circa Bladerunner. He does, however have the sound effects of a subway going into a tunnel at the end. He's definitely not trying to hide his influences.
You'll hear more echoes of Vangelis and the Dream on this album as well as Jean-Michel Jarre and less overtly, the recently late Klaus Schulze. Whalen pulls out his entire synth arsenal and some borrowed gear to attain this sound. He employs synthesizers from Moog modular systems to early versions of the Yamaha DX7, the vintage Prophet V and the Mini-Moog, which is responsible for a lot of the lead lines. He brings them all to bear in this explosive album of electronic orchestrations
One thing Whalen doesn't take from his influences is their penchant for album-side-long expositions. His works are tight, perfectly-formed compositions, most clocking in at under 5 minutes in length.
It's startling how many tracks are actually built around the rhythms of vocoded voices in the manner of Jarre's Zoolook album. It's a technique he also deployed on Sacred Spaces. Sometimes it's overt like "Vox Humana," which begins with some electro-be-bop-scatting from which Whalen constructs a stuttering glossolalia journey. You never know what voice will be meeting you around the rhythmic corners.
These vocalizations are also behind tracks like "Across the World to Be with You," but in a subtler fashion. It's a surging work that begins with a live, not sampled, Indian bansuri flute solo. It's joined in a duet by a lead synth line and sampled vocal syllables stabbed on a keyboard.
While acoustically-originated sounds are here, have no doubt, this is an album that revels in electronic expressions. "The Ribbon of Time" opens with a chiming sequencer line that takes you back to early modular synth days, and may in fact, be coming from a vintage Moog modular System that Whalen borrowed for the album. "The Journey to LightsEdge" is a heroic electro-journey in several movements, one building upon another.
The final instrumental on the album, "Until the Night is Over" finds Michael in his more sentimental mode, drifting a Moog melody across a fairly cheesy electronic drum track and percolating sequencers. But the expressiveness of his synth playing as he bends notes, is enough to carry you through.
But that's not the end. He tags on a dream-pop-in-space vocal track with singer Donna Lewis, that is surprisingly enchanting, with that bansuri flute returning.
Imaginary Trains was composed during pandemic and actually after Whalen had suffered a bad bout with Covid-19, including "long-haul" after effects. But this album sounds like an explosion of freedom, each track a new imaginary train into new, unquarantined vistas.