by John Diliberto 3/27/2020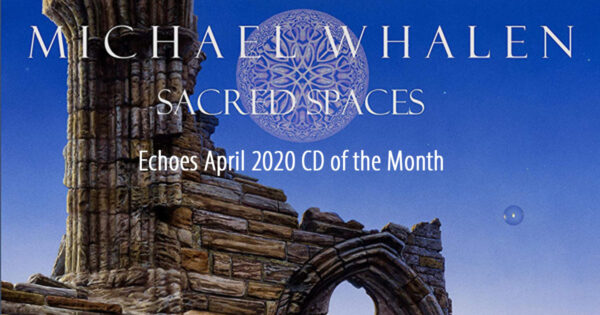 Hear Michael Whalen's Sacred Spaces on Echoes Monday 3/30/2020 and over the weekend of 4/3/2020
I know where you are. We're all in the same place. We've been trapped in our homes for weeks. You can go outside, but that just makes you realize how confined you are. But then you put on Michael Whalen's Sacred Spaces. A few electronic bird chirps and a wash of electronic wind and suddenly, you're in a virtual reality of unfolding vistas, psychedelic configurations and spiraling minarets of sound. It's the first track,  "A Metaphysical Morning." Your mind is alive, your senses are on fire, and it's not another quarantined morning in America.
I open up every Michael Whalen album with a bit of trepidation. You never know quite which direction he'll go except he'll go in that direction for the entire album. On recordings like Nightscenes in 1996, he explored deep, finely-tuned electronic ambiences. But then he'll release an album like last year's Cupid Blindfolded, that's pure romantic piano syrup. Despite a tendency toward heart-on-the-sleeve titles, he can transcend that excess with deep ambient piano, like he did on on My Secret Heart. But then he'll put out an album of generic jazz-funk fusion like Michael Whalen and the Fire Brigade.
With Sacred Spaces, Whalen has followed-up his most saccharine album with his most epic. Neither new age meditation nor space music opus, Sacred Spaces is an electronic symphony full of strikingly original timbres and sounds. Even the gothic choir on "The Pure and the Calm" is actually Whalen.
This is a case where more is better: there is so much to dive into on this album. The opening track weaves cyclical synth melodies, carrying you though a gallery of sound. Flutes flutter and evolve into pianos, all the while, sequences spiral left and right in syncopation.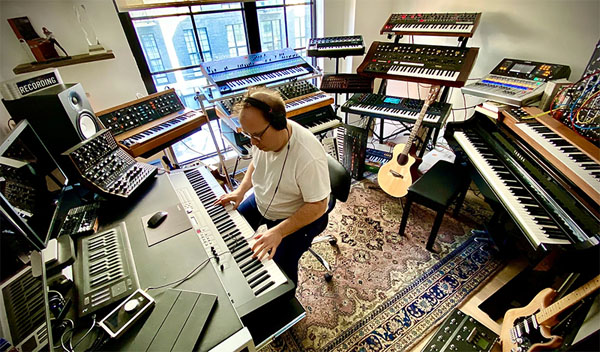 An overhead photo of his studio shows that Whalen has an insane number of synthesizers, and he must have used them all on Sacred Spaces. The timbral diversity is epic. Chattering electronic percussion cycles through "Ordinary Miracles" like insects. Breathy flutes create lyrical rivulets of sound. But these are fantasy instruments, not merely flute replications, but sounds that carry the essence of flutes into another universe of expression.
Whalen isn't averse to some contemporary fun either. Despite its pious title, "Devotion" is a joyful track of staccato vocal samples used as percussion, linked to electronic beats that beep-beep their way into a symphonic opus of spiraling synth strings. That segues into a tuned percussion loop with shuddering space sounds and an earnest two note male vocal loop. The longest track on the album is 6:20, but each piece feels like a full-on symphonic movement
Michel Whalen is working at a level of artisanal electronics. Every note is fine-tuned, every timbre honed for nuance. Although it doesn't sound like a classical work, you can hear that it actually began as an orchestral symphonic composition with complex and interrelated  themes and variations. But you can also hear a minimalist influence, as most of the compositions are built around looping cycles.
This isn't chill, meditation or background music. The only respite from Whalen's overdrive is "An Ocean of Candlelight." It's a serene and spare track that, without resorting to pentatonic scales or Eastern timbres, actually sounds more Asian than "1000 Paper Cranes," which does employ those motifs.
An obvious touchstone for the grandeur of Michael Whalen's Sacred Spaces is Vangelis, but really, you haven't heard anything quite like this since Richard Burmer passed away fourteen years ago. (If you don't know Richard Burmer, check out this Echoes Podcast.) Michael Whalen's Sacred Spaces is just the album you need right now in these Corona Virus times.