30 Icons of Echoes and Brian Eno, #1 Icon
Podcast: Play in new window | Download
Subscribe: RSS
Ruminations on 30 Icons of Echoes and Brian Eno, #1 Icon, Profiled in Echoes Podcast.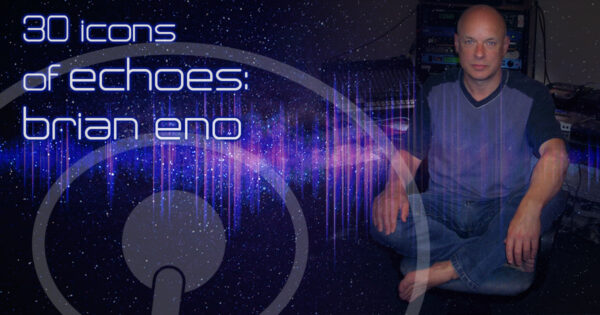 For our last celebration of Echoes' first 30 years, we've selected the 30 Icons of Echoes. These are the artists who have informed the show over our first 30 years. We started with the 25 Icons from our 25th Anniversary and, with listener votes, we've added five more and made some adjustments. New additions to the list include Olafur Arnalds, Agnes Obel, Mike Oldfield, Philip Glass, Steve Reich, Kraftwerk and Jean-Michel Jarre.  John Diliberto gives his thoughts on the list in the Echoes Podcast.

Brian Eno is number one of our 30 Icons of Echoes.  He has  influenced our sonic landscape for nearly a half-century. We'll hear an interview profile on Eno. See John Diliberto's list of 10 Essential Brian Eno Albums.
30 ICONS OF ECHOES
Brian Eno
Steve Roach
Dead Can Dance/Lisa Gerrard
Philip Glass
Vangelis
Klaus Schulze
Steve Reich
Robert Rich
Enya
Mike Oldfield
Moby
Loreena McKennitt
Robert Fripp
Jean-Michel Jarre
Michael Hedges
Kraftwerk
Peter Gabriel
Patrick O'Hearn
Erik Wollo
Harold Budd
Agnes Obel
Hammock
Will Ackerman
Kitaro
George Winston





Copyright 2020 Pennsylvania Public Radio Associates, Inc.
As an Amazon Associate, we earn from qualifying purchases.