Erik Wøllo & Michael Stearns Convergence: Echoes September CD of the Month
by John Diliberto 8/26/2020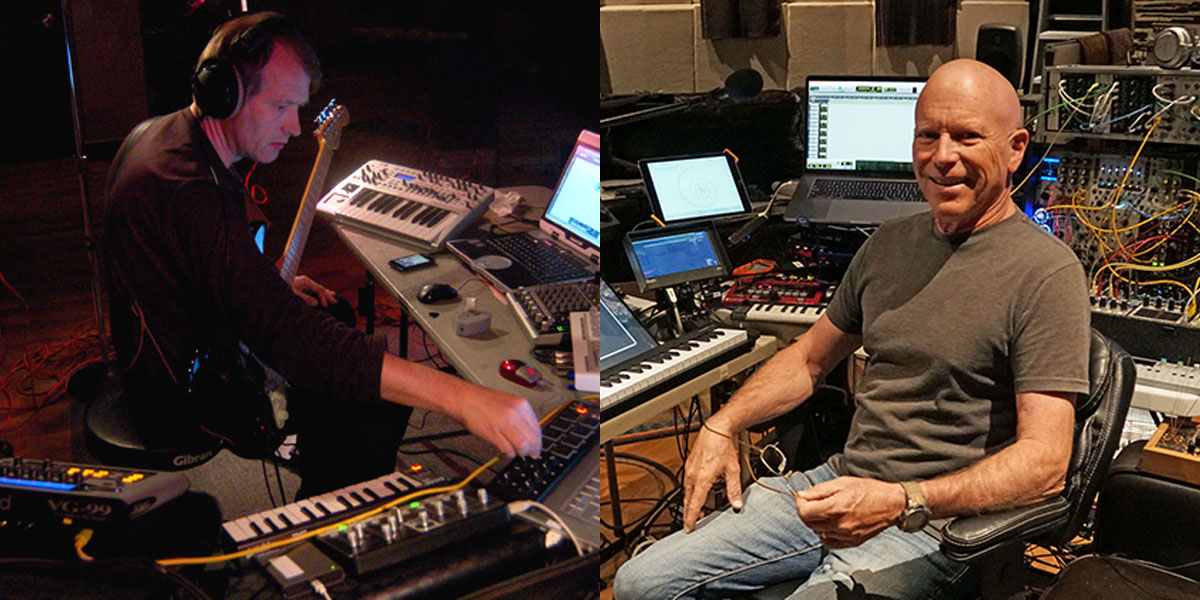 Michael Stearns and Erik Wøllo are a musical generation apart and live 5000 miles away from each other. They've only met in person once, at the B-Wave Electronic Music Festival in Belgium two-years ago. But they have convened to create the most epic and deep ambient album of the year, Convergence.
Michael Stearns is a legend of electronic music. He was at ground zero of the early 1980s California electronic music scene along with Steve Roach, Robert Rich, Richard Burmer and Kevin Braheny Fortune. His 1982 album, Planetary Unfolding is a classic of electronic and space music and his scores for Koyaanisqatsi cinematographer Ron Fricke include Chronos, Baraka and Samsara.
It was Planetary Unfolding that was among the albums that got Erik Wøllo, 12 years Stearns's junior, to move from fusion guitar to ambient electronics. Beginning with Traces in 1985 he's released a string of meticulously-crafted albums of electronic ambiences and searing electric guitar, including five previous Echoes CD of the Month picks.
Convergence is a journey, each track taking you through a landscape that Wøllo says came from a dream, but into which you can easily place your own visions.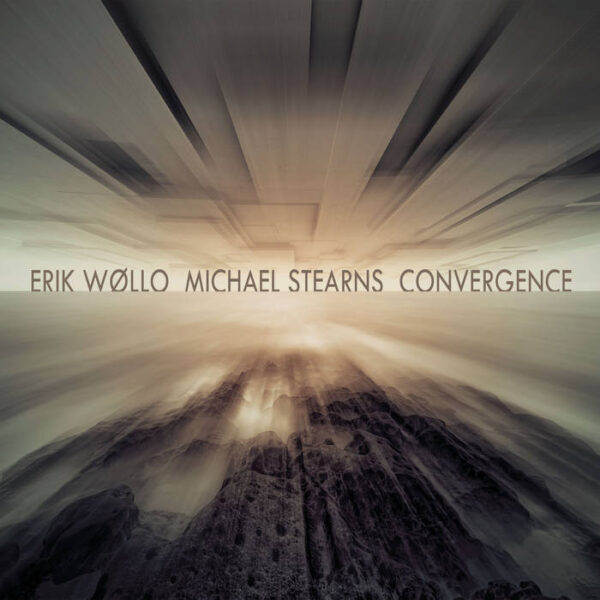 The opening track "Triptyk" is a foreshadowing of things to come, a voyage, moving seamlessly through shifting motifs, minimalist patterns, and fluttering synths spinning through the stereo field. A long, sustained guitar line from Wøllo opens the track like a call from the Nordic wilds. Loops phase in and out, synthesizers one moment, strums of the Finnish harp called the kantele the next. It shifts into a sequencer pulse and Moog-like melody that seems to propel a vast ship out of gravity's pull into space.
Organic sounds like kantele, hand percussion, acoustic 12-string guitar, cellos and more, merge and morph through electronic processes and synthesizers. Wøllo draws upon some of his 40 guitars, sometimes sounding acoustic, sometimes electric, and often processed beyond all recognition.
"The Way Ahead Parts 1 and 2," almost sound like they arrived out of a Middle Eastern desert, with a plucked guitar that could be a cümbüş. Its cyclical theme takes us into a deep ambient landscape that slowly evolves into a western classical sound, with sampled cellos played by Stearns.
Much of this album has the vast, awe-inspiring sweep of Stearns's Planetary Unfolding, but that sweep may be coming from Wøllo as much as Stearns. "Cirrus (Postlude)" opens on one of those epically arcing modes, but there's also a plaintive, acoustic-sounding guitar melody peaking through the veil.
"The Herald" is one of the most energized tracks on the album, fueled by throbbing acoustic percussion from India, synchronized to a sequencer and a searing E-Bow solo by Wøllo. It climaxes with the classic thunder of the Beam, Stearns's 12-foot long, metal fret board strung with 24 piano strings.
Another transformative and energized track is "The Nomad's Journey." Percolating electronic percussion turns into acoustic toms, surging forward, buffeted by swooping synthesizer like a storm crossing the desert, as Wøllo lays down kantele cycles.
This marks a welcome return for Michael Stearns who hasn't released a proper album since Sorcerer in 2000, collaborating with Ron Sunsinger. His last proper solo album was The Storm in 2001. For Erik Wøllo, this is another in an unbroken string of artisanally-crafted albums since his 1985 debut. He hasn't made a bad one yet.
Convergence is an album we need right now. Erik Wøllo and Michael Stearns launch you off the surface of the planet and into the vast expanse of space where Earth is a harmonious blue-glowing orb of promise, wonder and mystery. It is a true convergence of two 21st century master musicians.
THE END