Hans Christian's Top of the World Fusion Trek
It's hard to believe that Hans Christian used to play bass with artists like Sparks, Robbie Robertson, and Victoria Williams. Even though he was a classically trained cellist, he rocked out in Los Angeles when he first arrived in America from Germany in 1992.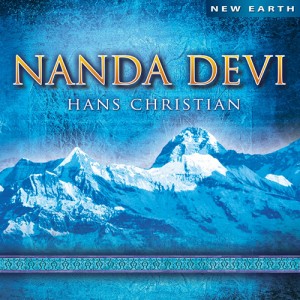 But that's not the Hans Christian we know. He had moved to the San Francisco Bay area when we first heard of him in 1994, when he released his debut CD, Phantoms. That recording of electro-ambient chamber music hinted at the east-west fusion he'd later create with the duo called Rasa, where he married luxurious orchestrations of sarangi, tablas, cello and electronics to singer Kim Waters' divine Hindi chants.
As a solo artist for the last eight years or so, Christian has been charting his own path, creating sensual, languid instrumental tracks that bring together an ensemble of cello, Swedish nyckelharpa, Indian sarangi and sitara, lap steel and electric guitar, bass, zithers, percussion and more. It's just that Hans Christian is the only member of this group.
"My Inner Ascent"

Christian has been living in Northern Wisconsin for many years now, but the cold climate hasn't altered the sultry heat of his music which is as eastern as ever. Following up on his last album, Hidden Treasures, also a CD of the Month, he takes another journey into mystery with Nanda Devi.
Christian is a master of space. He creates silken ambiences that waft around seductive loops of tabla, temple bells and shakers. With just percussion and ambiences this would be an enveloping sound, but Christian adds melodies that often alternate between instruments, like the cello and sarangi on "First Light." As one interwoven instrument creates a melodic arc, the other picks it up in mid-flight and continues in a Mobius strip of melody.
"Between Dusk and Dawn"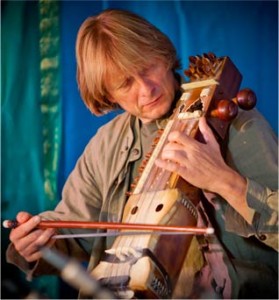 Christian's mix of East and West is among the most subtle and refined you'll hear. Listen to the way an acoustic guitar forms a folk basis for the languid refrain of sarangi and cello on "My Inner Ascent." It's ancient music from the future, especially a track like "Between Dusk and Dawn" which takes the lap steel guitar and sends it to the other side of the world, from Nashville to Mumbai in a duet with the sitara.
Nanda Devi is a bit more subdued even by Hans Christian's meditative standards. Tracks like "Sunanda" are steady-state mood pieces with rippling zithers and backwards chimes. On "Eternal Spring," an organ-like synthesizer sustain underpins a ruminating solo on the Swedish keyed fiddle called the Nyckelharpa. Christian improvises a forlorn melody made even more plaintive by the clacking action of the instrument's wooden keys. Its medieval tone sounds like a lament for the last battle at Game of Thrones' Castle Black.
Located in the Himalayas, Nanda Devi is the 23rd highest mountain in the world. A few of the titles, like "Sunanda" and "Valley of Gori Ganga" come from the region. But Hans Christian hasn't merely charted a geographical journey, he's created a travelogue for the soul.
"First Light"

~John Diliberto
For More on Hans Christian:
Echoes May 2014 CD of the Month: Hans Christian–Hidden Treasures.
Echoes October 2012 CD of teh Month: Hans Christian & Harry Manx–You Are the Music of My Silence