Cellist Hans Christian creates Global Serenity with Hidden Treasures
The Echoes May CD of the Month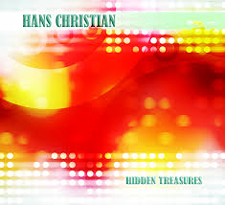 Hans Christian launches his new CD playing cello. It's the instrument he began with studying classical repertoire and he's done recordings with it from the purely Renaissance album, Light and Spirit, to pure solo improvisations on Sancta Camisia, and of course, looping cello on Undefended Heart. But it's when Christian taps into his global voice that he really sings. His isn't the classical cello of Yo-Yo Ma. With Christian, notes bend in searing arcs, fraying at the edges with resonant sound.
Together We Were
Hans Christian is less a classical musician and more a global musician. It's something he began on his solo albums, Surrender and Phantoms in the early 1990s and perfected with Rasa, the chanting duo he had throughout the first decade of the 21st century with singer Kim Waters. Christian created lush instrumental fusions behind Waters' serene voice, alchemy of cello with the sarangi, an Indian bowed instrument, the sitara, a mini-sitar, eastern percussion and lots of electronics.
That's the touchstone for Christian's new solo album, Hidden Treasures, although when I say solo, it's more in the "solo" tradition of Mike Oldfield's one-man orchestra than a cello recital. Christian's orchestrations are heavenly ascensions of throbbing rhythms from a mix of percussion loops and insistent bass lines from both electronic sources and bass guitar. He loves to set up dialogs between the instruments, with sarangi and sitara answering each other on "Light Headed" and swooping cello sitting in opposition to nattering sitara on "Tashina's Fire," a song written for an ill friend.
Tashina's Fire
Each track is a different landscape. On "Incessant Heart" a Tibetan chant seems to emerge out of electronica swamp music and he does it without one vocal chant or sample in sight, instead evoking that feeling with deep bass drones. Christian's cello is given full voice on "Cathedral of Tears," on which he solos in elegiac sadness over a bed of synthesizer pads and nature effects.
Cathedrals of Tears
With Hidden Treasures, Hans Christian creates yet another enveloping space, a new world that goes beyond the exotic, that takes you from the heart of darkness to the heart of serenity in a 21st century global symphony.
NOTE: Hans Christian's album with Harry Manx, You Are the Music of My Silence was also a CD of the Month Pick
John Diliberto (((echoes)))