Moby Scores Echoes CD of the Month Hat Trick with Innocents.
Hear Moby's Innocents Featured Tonight on Echoes.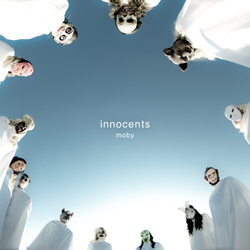 I don't know if Moby intended it this way, but Innocents sounds like the conclusion of a trilogy, joining Wait for Me and Destroyed, his two previous albums.  As on those recordings, Moby plays the ambient song-smith, crafting odes of haunting and poignant beauty, making a music that sounds like it's rooted in an earlier, more rustic time, except it's electronic. The songs in this trilogy are more personally reflective than those on albums like Play, and Moby has become less reliant on sampling and more engaged in building upon a lineage of songwriters that goes back to Joni Mitchell, Nick Drake and Neil Young.
In fact, "Almost Home" would not have sounded out of place on Young's After the Gold Rush, except of course, for the synthesizer accents and ambient effects.  Damien Jurado sings this lament in a falsetto that echoes Neil Young's pitch-challenged charm, and Moby's sonic landscape recalls the lonesome wails of Crazy Horse.

Jurado is among a cast of singers who appear on Innocents, many of whom wrote their own lyrics.  Cold Specks turns up on two tracks. With a  Norah Jones-like sultriness, she intones late-night reflections on "A Case for Shame."  Non sequiturs like "Cut off your nose to spite your face, slowly send your palms away," turned into a searing meditation on existence . Cold Specks gets a dark blues sound on "Tell Me" reinforced by Moby cutting and pasting an insistent refrain and layering her voice in this forlorn, but powerful piece.

Skylar Grey is a singer associated with Eminem and she has the ethereal, smoke-filled voice Moby favors, as evidenced by  previous singers like Kelli Scarr.  Over a slo-mo groove draped in synth pads, and against a gospel loop sample pleading to "look over yonder, the sun done gone," Grey sings "The Last Day," a hymn about death an a life lived without being. "You Only just discovered the sun, on the last day," she sings with resigned regret.  It's the only song where Moby also uses the found-vocal strategy of Play.

A life unfulfilled is a theme for many of Moby's songs. You'll find it in lyrics he wrote for longtime collaborator Inyang Bassey on "Don't Love Me," a mid-tempo electro-barrelhouse song about a woman mistreated by a lover.  It's also in yet another of Moby's cautionary tales about heroin, "The Perfect Life," sung with Wayne Coyne from The Flaming Lips. The album ends with a song as bleak as any Moby has ever written: "The Dogs."  He sings this one  himself, mourning the turns of life and what sounds like a failed relationship.
Moby could probably play a lot of these songs sitting at an acoustic piano or plucking a guitar, but that's not his way.  These songs are spun through ghost echoes, shadow delays, draped in synthesizer pads and punctuated with disembodied sounds.  Few can do more than Moby with some simple chords of  synthesizer strings.

Innocents includes the requisite moody Moby instrumentals too. "A Long Time" is one of the few songs that harkens back to his dance roots.  There is a vocal on it, but the words are indecipherable and buried in reverb and delays, making this sound more like an instrumental track that would sit well in the EDM rave of your mind.  He should have segued it into the syncopated groove of "Saints" with Steve Sidelnyk's march-to-Mordor drums and Inyang Bassey's anguished shouts.
Wait for Me, Destroyed and Innocents are trilogy of elegies for Moby, looking back on his life and the people he's lost.  A track on the deluxe edition CD is aptly called, "Everyone Is Gone." Sadness rarely sounds as beautiful as it does with Moby.

John Diliberto (((echoes)))