Moby's Destroyed is the Echoes May CD of the Month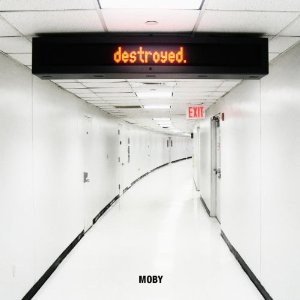 ***Hear interview with Moby tonight & tomorrow night on Echoes, June 13 & 14 and this weekend, June 18 & 20***
With Destroyed and his previous CD, Wait for Me, Moby has moved from an iconic electronic trendsetter to a singer-songwriter exploring personal stories with melancholy depth.  Even his instrumentals, of which there are many on Destroyed, have the feel of diary entries.  The opening track, "The Broken Pieces" sets the introspective mood of the album, playing like the soundtrack for a train moving through a rain-swept countryside.
Moby says that Destroyed was written while touring, during nights of insomnia in fluorescent-lit airports and luxurious hotel rooms.  That may account for the sometimes desolate, isolated and sealed-in feel that pervades many of the songs here, although the same could be said of much of Moby's oeuvre. He's not a complex lyric writer, in fact, many of his songs could almost be taken as haiku or mantras.   The sense of loss is powerful on the techno-driven, vocoder chant of oblivion on "Be the One."
I'll never see what you wanted …love
I was the hell that you needed…oh
I was the one when you needed love.
Moby  repeats that technique on "After," repeating the phrase "But my mind was low" in a hymn of insistent despair.
As he did on Wait for Me, Moby brings in several singers including Emily Zuzik who co-wrote "The Low Hum."  With the classic electronica voice, cool and a bit seductive, she contrasts with the world-weary vocals often favored by Moby.  That comes from  Inyang Bassey.  She was a soul-belter on his s 2009 tour, but she taps a more introspective side for another Moby mantra on "Rockets."  "The Right Thing,"  however,  presents her in more of a torch song mode.
Like "JLTF" from Wait for Me, Moby's songs are often about friends lost to drugs and disease.  "The Day" covers both angles as a bedside prayer to his mother who is heading toward the light that also doubles as a lament for friends struggling with addiction.  Although Moby's voice is as flat as the western plains, like Brian Eno, he's somehow able to make it work in these soulful, heart-rending songs of loss.  That song also has a sound design and rhythm machine groove that recalls Eno's "Cindy Tells Me." (Dig Heather Graham as an animated Valkyrie angel in the video.)
Moby doesn't break any new ground on Destroyed, but like seeds in a garden, his music sprouts in different ways with every growth cycle.  "Lie Down in Darkness" evokes the vocal sampling of his earlier recording Play: this time Moby deploys a gospel-like hymn sung by Joy Malcolm over a surging rhythm and symphonic synth strings.  He also still includes anthemic instrumentals like  "The Violent Bear It Away" which uses a repeated piano arpeggio to build tension amid a wave of synth strings and percussion. "Victoria Lucas," a pen name of Sylvia Plath, is a throwback to the more techno-driven sounds of "Go!"  His chilled electronics have the 1980s synth feel of Arp String Ensembles, drum machines and vocoders.
Much of Moby's music is about framing.  And you can see that in the companion photographic book.  He places a border around an object that would otherwise go unnoticed in the babble and clutter of the real world, drawing it out of the background, like the title in the cover shot of the album.   The word "Destroyed" is in the frame of an LED scroll at an airport, pulled out of the context of the warning that "Unattended luggage will be destroyed."
I was destroyed by Moby's latest, which is why Destroyed is the Echoes CD of the Month for May. You can hear it featured tonight, 5/2/11 on Echoes.
John Diliberto ((( echoes )))
[Hear
interview
with Moby tonight & tomorrow night, June 13 & 14 and this weekend, June 18 & 20]
Join the Echoes CD of the Month Club and you won't miss out on great CDs like  Destroyed by Moby