After their extremely chilled and ambient album, Valtari, Sigur Rós are apparently getting ready to channel Nine Inch Nails on a forthcoming album.   They have a short but tantalizing video out called "Breakout" that not only reveals a more dark and aggressive side, but provides more visual interest in 90 seconds than all of their Valtari videos combined.  Jónsi even looks like he's actually strumming his guitar once, but don't worry the bow is still there.   There's a 3-song EP coming and they've announced a North American tour beginning March 24 in D.C.
~© 2012 John Diliberto ((( echoes )))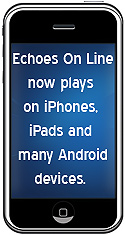 Sign up for Echoes CD of the Month Club.  With the Echoes CD of the Month Club, you get great CDs like The Ambient Zone – Just Music Café Volume 4 .  Sign up now and you'll also get February's CD of the Month, Ulrich Schnauss' A Long Way to Fall.  Follow the link to the Echoes CD of the Month Club  and see what you've been missing.
Now you can go Mobile with Echoes On-Line.  Find out how you can listen to Echoes 24/7 wherever you are on your iPhone, iPad or Droid.
Join us on Facebook where you'll get all the Echoes news so you won't be left behind when Dead Can Dance appear on the show, Tangerine Dream tours or Brian Eno drops a new iPad album.