The Ambient Zone – Just Music Café Volume 4 starts 2013 on a  serene note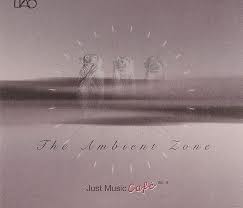 Within the electronic folds and acoustic shifts of The Ambient Zone – Just Music Café Volume 4, is a sound world that's both exploratory and serene. Just Music is the UK label whose impeccable roster ranges from deep ambient artists like Marconi Union, Jon Hopkins and Digitonal to singer songwriters such as  Loner and Dan Arborise.  They all appear on this CD with new music, compiled and sequenced by DJ Ben Mynott.
Marconi Union's "Weightless" is your gateway into the zone.  It's been dubbed "the most relaxing song ever" by British Academy for Sound Therapy and certified by Time Magazine.  There's no mistaking the deep sonic massage of this work which lolls about like a ship crossing an endless placid ocean.  This work  hangs like an umbrella over The Ambient Zone, embracing a world of classical elegance, electronic atmospheres and even Spanish guitar orchestrations from Andrea Terrano.
Digitonal's "Sense"
Digitonal, whose album, Save Your Light for Darker Days  (an Echoes CD of the Month in 2008), was a definitive work of ambient chamber music, bring us a tantalizing taste of their long-awaited follow-up with "Sense," a seductive, loungy walk with Andy Dobson's clarinets, not your usual ambient axe, blowing Satie-like breezes through a dark and smoky atmosphere.
Echaskech's "Little Rays"
Echaskech is a multi-media duo that has been bubbling under the ambient surface for a while.  Their "Little Rays" is a tense, slowly building work that's part Philip Glass and part Arvo Pärt with an ostinato sequencer pattern and slowly building chords that sweep out like a stingray's wings in slow motion.  It's startling how deep and emotionally resonant a few simple chords can be. And then the rhythm track clicks in, moving you through a cinematic landscape.
Honeyroot "Radiant"
Likewise Honeyroot, a slightly more dance oriented outfit with origins in the 1980s new wave bands ABC and Heaven 17, trades in pop facades for deeper ambient textures.  Their album and song, "Sound Echo Location" signaled their new downtempo electronic direction in 2003. "Radiant" is just that: a mid-tempo song of dappled acoustic guitars, breathy female voices and lysergic-laced melodies.
The shadow of Brian Eno hangs over The Ambient Zone.  His penchant for poignant melancholy and atmosphere informs every track here, none more so than those of of two Eno associates who appear on The Ambient Zone.  Jon Hopkins remixes his own song, "A Drifting Up" as "A Drifting Down."  He strips out the trance rhythm track of the former in favor of a suspended free fall of shimmering electronic strings.  Leo Abraham's pensive "Seeing Stars," one of the few previously released tracks here, is no less breathtaking than it was seven years ago on his debut album, Honeytrap.
Leo Abrahams "Under the Glow"
While I would've liked to have heard vocal tracks from singer-songwriters Dan Arborise and Loner, instead of the pleasant but relatively inconsequential instrumental tracks they contribute, The Ambient Zone works as both an artist showcase and an immersive excursion into ambient sound.  The Ambient Zone is an album that feels like the world is peeling away, layer by layer, into multi-colored panoramas, just for you.
~© 2012 John Diliberto ((( echoes )))
Further Reading:
Marconi Union "Distance" Echoes July CD of the Month
Marconi Union Channels Ambient Miles
Digitonal "Save Your Light for Darker Days Echoes September 2008 CD of the Month
Leo Abrahams "The Grape & The Grain" Echoes May 2009 CD of the Month
Loner Echoes Interview Podcast