Echoes on TV:
Friday Arts, a program on Philadelphia PBS station WHYY,  did a piece on Philly space music and interviewed Echoes John Diliberto & Jeff Towne as well as Chuck Van Zyl from Star's End and electronic musician Jason Sloan. The feature ran Friday, 1/4/2012, but you can see it online here: http://video.whyy.org/video/2323750666  The Echoes/Star's End Segment is the first on in the show.
~© 2012 John Diliberto ((( echoes )))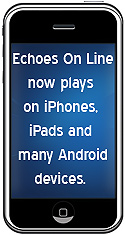 Sign up for Echoes CD of the Month Club.  With the Echoes CD of the Month Club, you get great CDs like The Ambient Zone – Just Music Café Volume 4 coming to you each month.  Follow the link to the Echoes CD of the Month Club  and see what you've been missing.
Now you can go Mobile with Echoes On-Line.  Find out how you can listen to Echoes 24/7 wherever you are on your iPhone, iPad or Droid.
Join us on Facebook where you'll get all the Echoes news so you won't be left behind when Dead Can Dance appear on the show, Tangerine Dream tours or Brian Eno drops a new iPad album.