Wendy Carlos' Four Electronic Masterworks
Echoes Picks the Four Best Wendy Carlos CDs
I know I said I'd pick 5 essential Wendy Carlos CDs but when I came down to it, four of her recordings stand out as pinnacles of her art.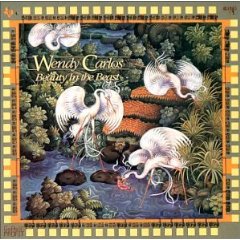 Beauty in the Beast
From the roar of Tibetan horns and the clangor of metal percussion that opens Beauty in the Beast, Wendy Carlos signaled a new direction in 1986.  Carlos is both profound and poignant, dissonant and disarming on Beauty as she fuses a global orchestra from her synthesizers.  "Poem for Bali" is the centerpiece of the album, an episodic, seventeen minute excursion as Carlos orchestrates the sounds and rhythms of a digital gamelan orchestra.  In addition to replicating the metallophones, gongs and flutes of the traditional gamelan, she creates her own hybrid sound designs, giving this work a surreal and sometimes harrowing tone, like a dream bent through funhouse mirrors.  But then there are pieces like "A Woman's Song," based on a Balkan melody.  The title track merges nightmare landscapes and a crazed carnival calliope with a haunting theme that sounds like a lament for the end of the world.  Beauty in the Beast, is an essential recording both of modern composition and synthesis and Wendy Carlos should plug into this circuit again.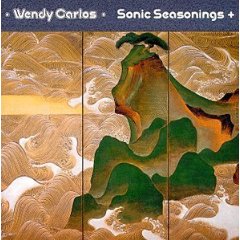 Sonic Seasonings
Before there was Ambient music, in a time before the New Age, there was Wendy Carlos's Sonic Seasonings, a double LP released in 1972.  Taking the form of Antonio Vivaldi's "Four Seasons," Carlos orchestrated four side-long soundscapes designed according to producer Rachel Elkind, to be "part of the decor." Using only her Moog synthesizer and environmental sounds, Carlos's music is prototypical ambient music, pre-dating Brian Eno's similar work by a few years.  She weaves gentle, often reedy synthesizer melodies through chirping birds on "Spring," phase-shifted church organ drones across crystalline bells and wind on "Winter," and she seems to simulate an alien space landing on "Summer," mimicking nature with her synthesizer.  An added treat to this special double CD addition is a 40 minute, unreleased, two part suite from 1986 called "Land of the Midnight Sun." Using her Synergy synthesizers, Carlos orchestrates slow motion melodies and over-lapping minimalist layers that recall Steve Roach's Structures from Silence.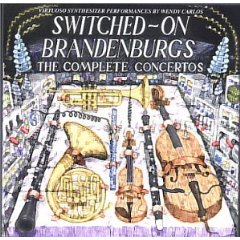 Switched-On Brandenburgs
Switched-On Bach would be an obvious choice, and the Switched-On Bach Box set would be the easy choice, but if we're talking best and quintessential, I go with The Switched-On Brandenburgs.  It includes her Brandenburgs 3, 4 and 5 from  earlier albums and fills out the complete set of Bach's six masterpieces.  Carlos's renditions remain the platinum standard of classical synthesis,  not because she replicated the sound of a baroque orchestra, but because her own orchestra was so unique.  Her "instruments" huffed, wheezed, and clanked like an intergalactic music box. Yet, with Carlos's performances, they illuminate the contrapuntal magic of Bach as if his intricate mazes were formed in mid-air.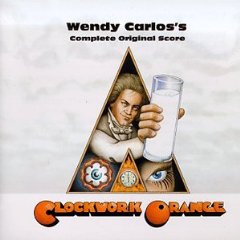 A Clockwork Orange
The first synthesized score for a major film and still one of the best.  That descending glissando of doom into the electronic timpani on "Title Music from A Clockwork Orange" alone is one of the signature moments of modern music.  And then she takes her own theme and turns it into a baroque work on "Theme from A Clockwork Orange." But there's more, including Carlo's underated composition, "Timesteps" and her reimaginings of Beethoven for a future dystopia.
John Diliberto ((( echoes )))