Podcast: Play in new window | Download
Subscribe: RSS
1980s Shoegaze Guitar Icon Unfolds an Instrumental Opus
You can hear an Audio version of this blog with Robin Guthrie's music.
You can read a complete review of Carousel here.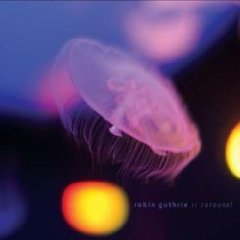 As a member of the legendary new wave band, the Cocteau Twins, Robin Guthrie established a guitar sound that is still being imitated today from bands like My Bloody Valentine to electronic artists like Ulrich Schnauss.  It sounds like it results from stacks of processors and computer programs, but sitting in his home in France, Guthrie says,  in his thick Scottish accent, that it's much simpler than that.
Robin Guthrie: Well, I know that I can pick up pretty much any old guitar and plug it into you know, an overdrive, a chorus, and a delay and I can make it sound like me.
Since the Cocteau Twins broke up in 1998, Robin Guthrie has released a string of instrumental albums propelled by his ringing, melancholy themes and deep atmospheres.  His music is at once modern and nostalgic with tracks like "Sparkle" calling up the sound of 60s guitar bands like The Shadows.
He's also been a busy collaborator. In the last two years, Robin Guthrie has put out albums with former Ultravox singer John Foxx and several works with keyboardist Harold Budd, including the acclaimed diptych, After the Night Falls and Before the Day Breaks (CD of the Month picks in June, 2007).  His new album, Carousel, is a bit different.
Robin Guthrie: I kind of thought that I've done a couple of down tempo things recently with Harold and stuff and I wanted to, you know,  put a little bit of bones into it and make it a little bit noisier than just having a real soft floaty thing.
Robin Guthrie is one of the significant guitar stylists of the last 30 years.  He's not a flash player, ripping pyrotechnic leads and guitar shredding distortion.  Instead, his sound is an electric orchestra, layering shadings, harmonies, and melodies within melodies that unfold across his compositions.
He can get a bit frustrated by the historical baggage of the Cocteau Twins.  There are even Cocteau Twins festivals that are like Star Trek conventions.  Guthrie doesn't go.
Robin Guthrie (unexpurgated): I'm 47 years old and I'm still living with this fucking ex-Cocteau Twins bracket fucking everywhere I look.  Quite honestly, it's starting to piss me off, you know?  It's so fucking disrespectful.  No, it's really quite rude of people to just continue to do that instead of actually paying a little attention to what I've actually been doing in the last 12 years or whatever.
If they were paying attention, they would've heard a string of often transformative recordings that alter the room around you,  painting a new world from the inside out, all of it colored in the translucent shades of Robin Guthrie's guitar.
Robin Guthrie's new CD is called Carousel.  It's out on Darla Records and it's the Echoes CD of the Month for November. I'll be featuring it on Monday's show 11/2/09.  This has been an Echo Location, Soundings for New Music.  You can read a complete review of Carousel here.   You can also hear an Audio version of this blog with Robin Guthrie's music

John Diliberto ((( echoes )))