Podcast: Play in new window | Download
Subscribe: RSS
FIVE CDS FOR AN ICON OF ECHOES: BRIAN ENO
Listeners recently voted for the 20 Icons of Echoes and topping the poll by a wide margin was Brian Eno.
A few years ago I did a blog called 3 Degrees of Separation from Brian Eno.  Actually, for most musicians, that's usually one or two degrees at most.  Brian Eno seems to have been everywhere, and if he's not, his immediate collaborators are.  Roxy Music, Fripp & Eno, Ambient music, Obscure Records, John Cale, David Bowie, Cluster & Eno, No New York, Harold Budd & Brian Eno, Jon Hassell & Brian Eno, U2, Coldplay, Paul Simon, Baaba Maal, Geoffrey Oryema, 801, and the list goes on.  They are all projects Eno has engaged in or artists he's recorded with, produced, and championed over the last four decades.  It seems that many of the most interesting music movements of the last 40 years have had a little of Brian Eno in them.   But he's also produced seminal works, which, years after their release, are still beloved.  That's why he was on top of my personal list and I suspect why he topped our 20 Anniversary Listener Poll for 20 Icons of Echoes.  For essential Eno reading, I suggest On Some Faraway Beach: The Life and Times fo Brian Eno by David Sheppard.  Or listen to our profile of Eno tonight 10/26 and this weekend on Echoes.
You can see the complete list of 20 Icons of Echoes here.
You can also download a podcast of our Brian Eno Profile/Interview.
To accompany our broadcast of Brian Eno: #1 Icon of Echoes tonight, here's a list to get you in that Eno state of mind.
5 Essential Brian Eno Albums.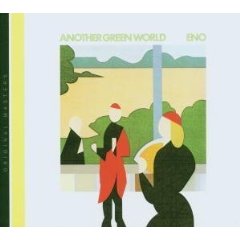 ONE
Another Green World
This is the album where Brian Eno began using his Oblique Strategy cards, conceived with artist Peter Schmidt.  When a creative impasse was reached, Eno would pull out a card and follow its instructions or philosophy, even if the card said "Emphasize the flaws" or "Do nothing for as long as possible." He relates a  story about Oblique Strategies and "Spirits Drifting" in the Eno interview that runs tonight.  But despite the John Cagian aspect of Oblique Strategies, Eno arrived at an album that brought the worlds of song and ambience together. Instrumental tracks like "Zawinul/Lava" (named for Weather Report keyboardist Joe Zawinul) and "Becalmed" are haunting mood pieces with slow-drip atmospheres.  His songs range from the raging crosscut guitar of "Skysaw" to another one of his oddly affecting exercises in unsentimental nostalgia, "Golden Hours."  If you have only one Eno album, Another Green World is it.  It has the seeds of virtually everything he's done since.
TWO
Music for Airports
The blueprint for ambient music, Music for Airports is built out of layered loops of melodic fragments played on acoustic and electric piano, synthesizer and voice.  Deceptively simple in concept, it yields incredible depths of sound with a surprising melancholy for such a "functional" concept.  When Bang on a Can recorded an acoustic version of this album in its entirety, they cast a light on the complex relationships and tantalizing sound design of Eno's original work.  Listening back to this, it also made me appreciate Discreet Music more, especially the title track.
TWO
Apollo-Atmospheres & Soundtracks
This is arguably the most perfect album that Brian Eno has made.  And since Eno isn't a musician who strives for perfection, it's a real rarity.  Written for a documentary about the Apollo space missions, Eno, along with his brother Roger and producer Daniel Lanois, crafted a set of melodically charged mood pieces, that weren't ambient, but had that yearning, never-ending melancholy of works like the Pachelbel "Canon."  Using synthesizers, piano and lap steel, each piece is a sublime gift that holds together better than any other Eno album besides Music for Airports, which, after all, only had four pieces.  In 12 tracks, Eno and company leave you breathless, from "An Ending (Ascent), the most haunting of Eno works to "Always Returning."  I hadn't thought of it until now, but in using Lanois playing lap steel guitar, Eno may also be responsible for creating the Ambient Americana subgenre.  "Deep Blue Day" was used in Trainspotting when Ewan MacGregor dives into the filthy toilet.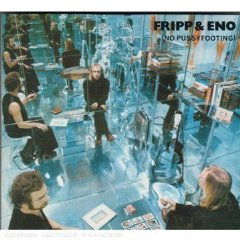 FOUR
Fripp & Eno-No Pussyfooting
We forget that this album actually preceded Eno's better known ambient works.  I could make an argument for the follow-up, Evening Star, as equally essential, but I'm going with No Pussyfooting for the innocence and purity of it's concept and the accent on Robert Fripp's endlessly undulating sustained guitar leads.  It's just two tracks, "The Heavenly Music Corporation" and "Swastika Girls," played live, the former just with guitar and the later with guitar and synthesizer.  Using a tape-loop system similar to Terry Riley's in "A Rainbow in Curved Air," Fripp and Eno would play, their signal recorded on one tape machine which then looped to a second machine which played those notes back into the first deck accompanied by further improvs from the musicians which proceeded to get layered up.  While Fripp has captured the magic of this technique, now updated to digital looping systems, on several albums and performances, subsequent Fripp & Eno recordings after Evening Star always sounded like sketches and outtakes.    Recently released, the new edition of No Pussyfooting contacts additional half-speed versions of "The Heavenly Music Corporation," and reverse versions of both tracks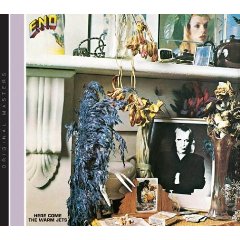 FIVE
Here Come the Warm Jets
Brian Eno's solo debut was somewhat calculated to play off the reputation he'd build with Roxy Music so it was based around songs with something like a pop structure.  But Eno was already bending and twisting those structures into new forms.  "Baby's On Fire" revealed his lacerating lyric sensibilities and one of Robert Fripp's most shredded guitar solos.  But Eno was also revealing a more introspective, almost nostalgic side with the affecting bittersweet "Some of Them Are Old" and the reverie of "Some Faraway Beach."  But then there's the hallucinogenic sprawl of "Driving Me Backwards" that puts the angst that's always in Eno's music smack in your face.
These are only five albums out of around 30 that Brian Eno has made, not including his productions.  But they are the ones that continue to resonate, many of them some 37 years after they were produced.
John Diliberto
((( echoes )))