12th Century Chants for the 21st Century: Kevin Keller's Evensong, Echoes November CD of the Month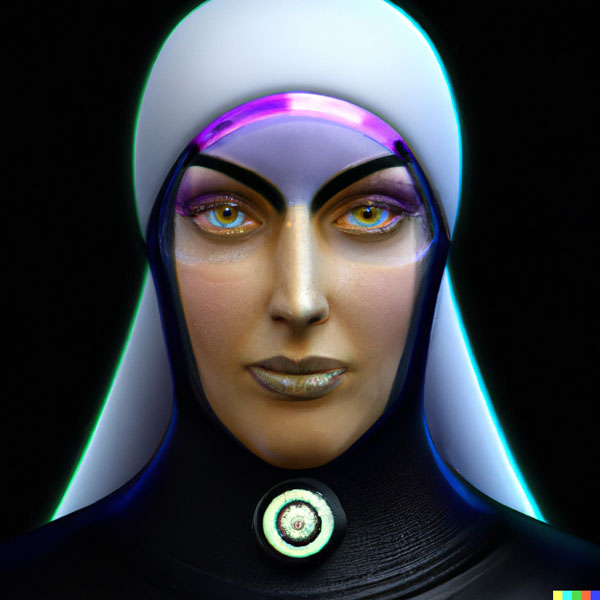 Contemplation is a key element in most religious practices and in Catholicism it can be especially serene. Evensong is known as Vespers in the Roman Catholic tradition, a time of prayers, hymns, scripture readings, and choral music. And that last part is where 12th century Abbess Hildegard von Bingen created some of the most heavenly music ever. It is meant to be serene and contemplative, an enveloping atmosphere for enlightened thought. Kevin Keller has taken this concept and created a perfect medieval practice for the 21st century on his album, Evensong. He combines original music and four adaptations of hymns Abbess Hildegard von Bingen in an ambient gothic space.
This is new terrain for Keller, but not exactly out of his wheelhouse. He's built a career on creating ambient chamber music, beginning with his third album in 1999, Pendulum, recorded with the godfather of the style, David Darling. That album combined synths and Darling's cello. La Strada, released in 2015, added electronic rhythms to bristling compositions. But he's also recorded fully acoustic releases like In Absentia, scored for strings, woodwinds, harp and acoustic piano. Then there are purely electronic releases like his space music journey, Ice Worlds, from 2019.
So, taking the hymns of Abbess Hildegard von Bingen, a 12th century nun, saint and composer of some of the most searingly spiritual music ever, isn't that big a leap. Keller is traversing previously-churned waters after the chant craze of the 1990s, but I suspect he's been listening to some of the more refined versions of Hildegard's chants, from artists like Sequentia, Anonymous 4 and Gothic Voices with Emily Van Evera and Emma Kirby.
The first hymn seems to emerge out of space, which might be where it properly resides anyway. Hildegard's "Favus Distillans" wafts down from the skies, joined by a sparely-played pipe organ and drone, then heads back into space as Keller washes it in synthesizers and a sequencer loop in a gently soothing expanse. Just when you think you'll be left adrift, acoustic strings come in with the choir again. Keller does some beautiful string arranging, redolent of Philip Glass, around these works, something that would never have been done in the 12th century.
Hildegard's "Columba Aspexit" provides the basis for the darkly trawling "Evensong 3" which seems to be channeling through the netherworld. Soloist Katherine Wessinger rides over this haunting landscape of an echoing pulse, less of an angel and more of a wraith surveying the carnage. The ping-ponging sequences pull you into an ecstatic vortex.
Sequences play as big a part as I've ever heard in Keller's music, even including his all-electronic Ice World release. They are usually spare and often interlocked with other sequences. That's the case with "Evensong 4", which employs von Bingen's "O Sucessores" sung by Danya Katok. "Evensong 7" floats on a delayed, flute-like pulse, joined by more crystalline sounds as Katok's voice reverberates through this virtual cathedral. Cellos add and earth cadence even when surrounded by shimmering vibraphone notes.
"Evensong 7", based on "O rubor sanguinis" is the most classical sounding work on the album, opening with mournful cellos and the chant sung by a choir echoing in the background. A low-bass-string sequence emerges, turning into glassine keyboards, twinkling synth loops, a space melody on piano, and Laura Metcalf's sternly stoic cello solo.
All of the tracks that Keller fully composed are of a piece with the Hildegard-based works; his own 21st century hymns. "Evensong 5" is an epic track that builds to a minimalist climax, again, recalling Philip Glass. "Evensong 2" sounds like a carillon melody as an insistent 3-note sequence rotates underneath. The track accelerates as a solo voice comes in wordlessly, joined by a whole choir and strings as the track changes pitch and pushes toward a dramatic crescendo. "Evensong 6", on the other hand, is a slow, pensive piano theme with string accents that sounds like a contemplation of loss.
Evensong ends like it began, with a deeply powerful call to the Heavens, over a spare organ swirl. It sounds like it could be a Hildegard piece, but it's all Kevin Keller. It's a perfect ending to an album that was born in the ancient perfection of Abbess Hildegard von Bingen. Kevin Keller's Evensong is a transcendent experience. Even if you are not religious, it will still take you to the heavens.