Five Best George Winston Albums, the 30th Icon of Echoes.
by John Diliberto 2009/7-14-2021
George Winston is the 30th of 30 Icons of Echoes. His impressionistic solo piano albums came to define the Windham Hill sound and he's among the first musicians most people think of when you say, New Age, much to his chagrin.  Praised with five and four star reviews from Downbeat and Rolling Stone for his Windham Hill debut album, Autumn, in 1980, he's since come to be synonymous with shlock for many critics.  But those critics are missing the point.   Winston took the lyricism and mood that made Keith Jarrett's music so popular and refined them into what he called "folk piano" on his that first Windham Hill album. It launched a million solo pianists, yet none of them has attained George Winston's almost transcendent marriage of melody and atmosphere.
Winston is an eclectic artist who cites The Doors and Tangerine Dream, Fats Waller and John Coltrane, Philip Aaberg and Steve Reich as influences.  He occasionally goes off and pays tribute to these artists, doing entire albums of Vince Guaraldi compositions, for instance.  With one exception, he's less successful playing their music, which often reveals his own limitations as a pianist. But when he plays inside those limitations, George Winston moves outside the box.
12 years ago, I put together a list of the Five Best George Winston albums.  He's made several wonderful recordings since then, but looking back, I would still stick with my original five which spans from 1980 to 2002.
FIVE BEST GEORGE WINSTON CDS.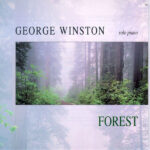 1 Forest
Forest is the CD that brought me into the Winston fold.  I liked his earlier albums, but on Forest, George Winston went deeper, extending his ringing, open-air, melodic sound, embracing the minimalist influences of Steve Reich on "Tamarack Pines," the jazz harmonies of the late-organist Larry Young's "The Cradle" and the slow ragtime of William Bolcom's "Graceful Ghost.  But whether playing the challenging inside-the-piano effects of his "Forbidden Forest" or the inviting themes of "Cloudy This Morning," George Winston's gifted lyricism remains true.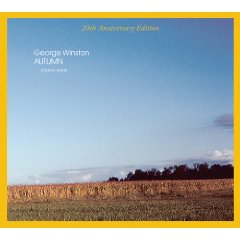 2 Autumn
This is the album that started it all, although it's technically his second album, it was his first on Windham Hill Records.  The opening "Colors/Dance" rings with the open clarity of the Montana plains where Winston grew up.  "Woods," with its quasi-classical arpeggios, seems to dance in the air.  And so it goes throughout Autumn as the pianist unfolds his melodies in what sounds like spontaneous reverie.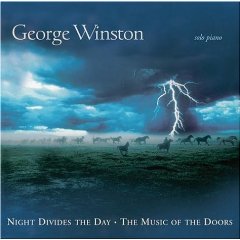 3 Night Divides the Day-The Music of the Doors
I think this may be the least well-received Winston album by his fans, but I thought there were a couple tracks on here that attained true interpretive brilliance and revealed the depth and breadth of George Winston's vision.  He reimagined "My Wild Love" from a drunken tribal stomp into a Zen piano koan and his take on "Bird of Prey," based on a Jim Morrison poem, aspires to the imagery Morrison wrote.  His shimmering rendition of "Crystal Ship" is magical and serene.   One of the thrills of Echoes was the Living room concert that The Doors' Ray Manzarek and George Winston played together, facing each other on twin grand pianos.
4 Winter Into Spring
Never a florid player, Winston's best music emerges from those spaces where the melody finds its own refractions, unimpeded by the pointless ornamentation and quasi-classical flourishes that tarnish so many pianists who followed in his wake.  Winter Into Spring was Winston's second album for Windham Hill Records and following up on the themes of Autumn, it continues down the seasonal road and includes several of Winston's signature compositions including "January Stars" and the extended ruminations of "Rain."
5 December
December is a Christmas album that transcends the season.  Mixing traditional carols, a couple of classical works and his own originals, Winston takes you into winter from the cover photo of a snow blanketed field to his final invocation, "Peace."  Winston's piano drops notes with icy clarity into a winter silence, rippling through "Carol of Bells" and coaxing dark introspective moods from his own suite, "Night," which includes Winston playing inside the piano like a harp. Who would've thought that the gentle melodies of "Peace" were inspired by the soundtrack to TV's The Outer Limits?
John Diliberto ((( echoes )))