Robert Rich's Travelers' Cloth: Echoes June 2023 CD of the Month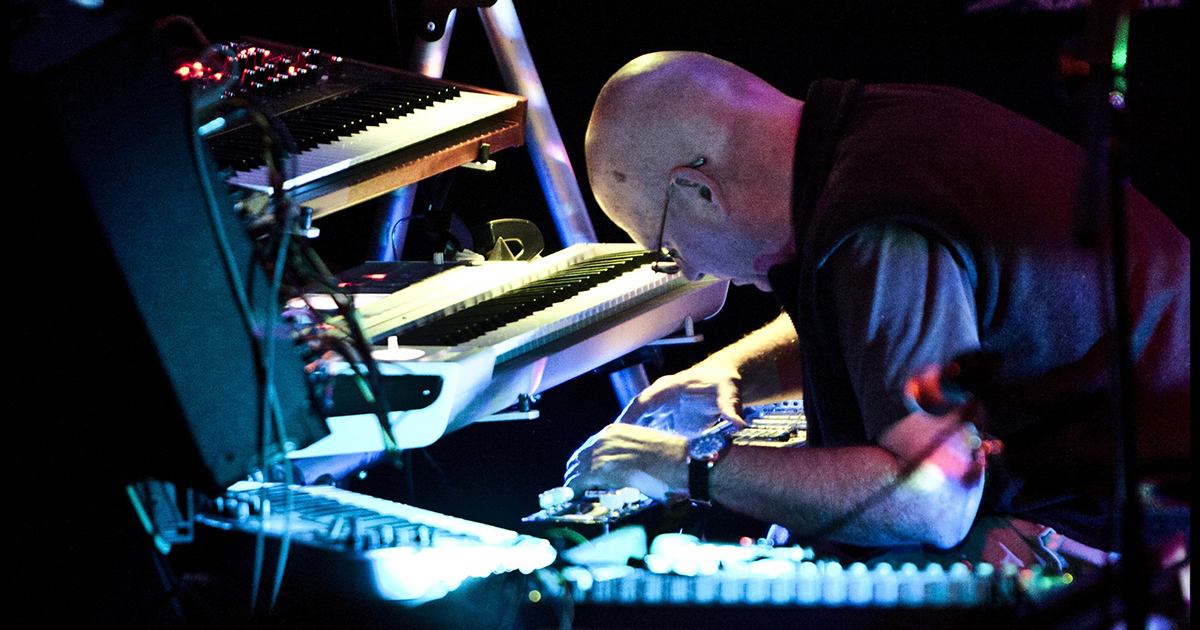 Hear Robert Rich's Travelers' Cloth Tonight, June 5, on Echoes
Robert Rich is the 11th of 30 Icons of Echoes and has been a fixture on the show from the first day. He's a polymath who is, honestly, so genius that it's intimidating sometimes. He's not only adept at many instruments but many other disciplines including audio recording and mastering, wine making and dream theory. He writes poetry, seriously, and he creates beautifully abstract, often primal paintings that you can buy on his website. He's an artist of questing intellectualism, which is what brought him to the poetry of Tu Fu from the Chinese Tang Dynasty. His Zen-like poems, translated by David Hinton,  compelled Rich to create the sensual, ethereal moods of Travelers' Cloth.
As cerebral as Rich is, his music is deeply sensual and personal. He's creating some of the most erotic sounds in electronic music without sounding sappy or smarmy. Instead, he accomplishes it with mood and mystery, creating new and exotic worlds. Sometimes the sounds are truly alien, sometimes they are familiar timbres but become illusory under Rich's sonic manipulations. He's known as an electronic musician, which makes sense if you've listened to Trances, Drones, Gaudi, Electric Ladder and Filaments. But much of his music for the last 40 years has actually been based in acoustic instruments including flutes, hand percussion, piano, and lap steel guitar. In fact, the first picture I remember seeing of Rich in the early 1980s he was sitting on the floor playing a wood flute. That is the sound of Travelers' Cloth.  He makes his own bansuri style flutes out of PVC pipe and you can hear the influence of Indian flute masters like Hariprasad Chaurasia.
With Travelers' Cloth, Rich resides in an enveloping world of verdant, humid forests and ethereal celestial navigations. Many of the titles come from Tu Fu's poetry, but many of them are also Robert's. Those sound equally poetic, like "Gaps in the Roof Show Sky" which actually references the condition of Rich's own roof at one point.
There is an ephemerality both intellectually and musically on the album, marked by the opening track, "Writing on Water."  Except for some swirling electronic textures, it  seems all acoustic with tongue drum, bass drum and deep, low PVC flutes echoing in canyon spaces. The low drums, which morph into a more electronic sound, beat in sparse arrhythmic patterns while small percussion instruments, shells and more, gurgle on the edges. His signature lap steel guitar slides in, carving out serene but unresolved melodies that kind of represent the title.
While a lot of electronic music makes you feel like you're in the same place from beginning to end, Rich's compositions usually evolve into a journey, taking you from familiar ground to new terrain. "Loom of Origins" opens with what sounds like children in a playground as an electric tambura oscillates in the background, giving way to a percolating sequencer pattern, shimmering glissando synths and a raga-like flute alap. The sequencer pattern seems like a reference to early Terry Riley works like Persian Surgery Dervishes.
"Footprints Fade in the Rain", sounds like San Francisco harbor deep at night, swathed in fog. Lap steel glissandos and Haken Continuum keyboard interweave like lovers in freefall over a rhythm-free textural expanse.
Although there is a heavy Asian influence on the album conceptually, Rich doesn't indulge in the usual Asian music clichés with Eastern instrument samples playing pentatonic melodies. But "Shadow Mist Beneath" does have that Asian sense of suspension with a violin-like line, again, the Haken Continuum keyboard, arching over what sound like tongue drums and water percussion.
I never think of Robert Rich as making program music but "High Mountain Shelter," a line from David Hinton's story of Tu Fu's journeys in China, does seem to capture that top-of-the-world feeling. Elliptical percussion, reminiscent of Rich's Propagation album, provides the slow motion hike up the mountainside against a chattering electronic shaker. Voice-like tones from the lap steel guitar soar overhead as more vistas open the higher you go.
Robert Rich's Travelers' Cloth, will leave you not so much breathless, but in awe at the vistas you've experienced. Calling it immersive would be a cliché, however true. It's actually mind-expanding, seducing you into a new universe of of surreal, but seductive sound. In Robert Rich's vast catalog Travelers's Cloth stands as one of his major works, which is something of an achievement for someone who has been recording since 1982.