Michael Whalen's Trippy Our April Tigers, Echoes May 2023 CD of the Month
by John Diliberto 5/1/2023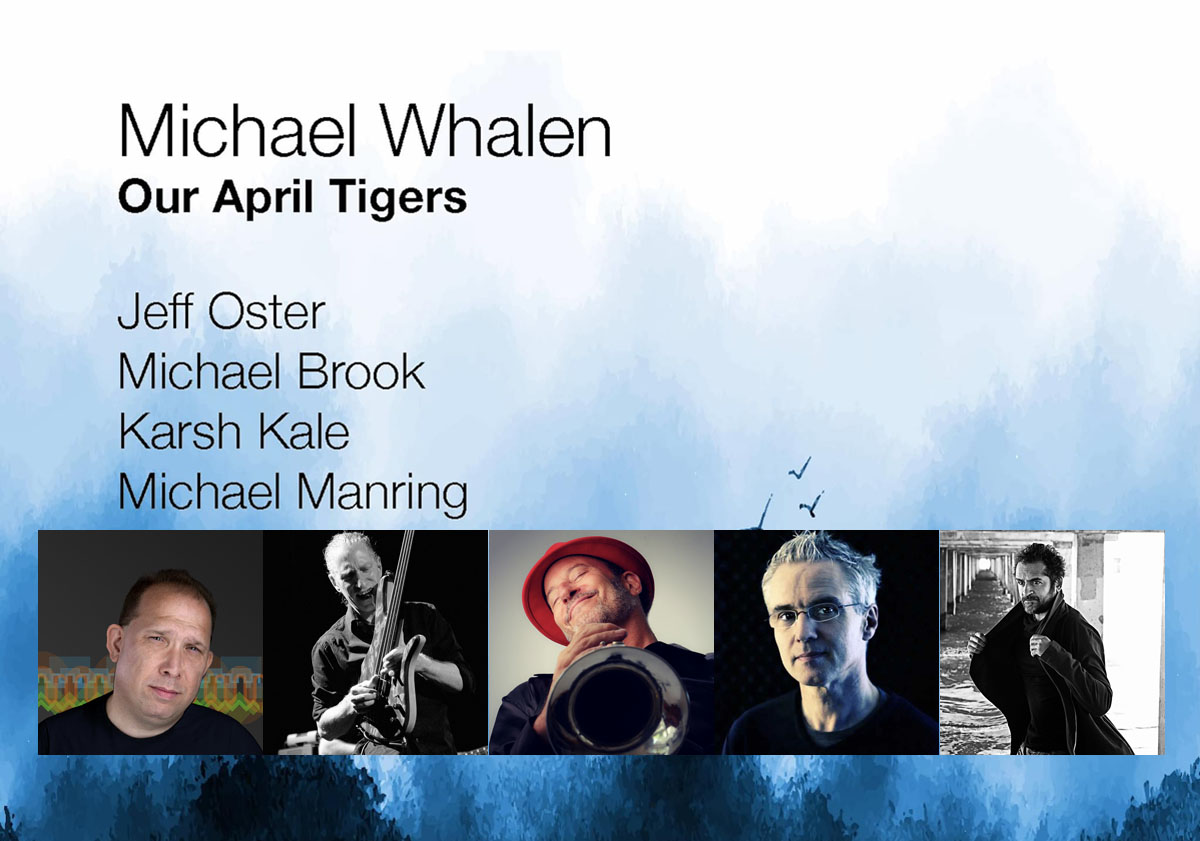 What do you do with a group of veteran musicians, any one of whom can carry a whole recording by themselves, and create an album that sounds like it's the most intuitive of ensembles? Michael Whalen's solution was to put blindfolds on them. The musicians never played together. Whalen created the keyboard tracks, and sent them to one musician, who laid down multiple ideas. Whalen edited those additions and sent them onto the next musician, who laid down more tracks which Whalen edited, and so on, until they got to the final artist. Then Whalen did his digital ju-jitsu and orchestrated this album. It's not an ensemble as we generally conceive it, but wouldn't it be wild if they were?
That process succeeded because the musicians on the album are creative artists in their own right. There's guitarist Michael Brook, who worked with Brian Eno and Jon Hassell, has made a string of inventive solo albums including Hybrid and Cobalt Blue, produced signature recordings for Djivan Gasparyan and Nusrat Fateh Ali Khan, and has scored films like An Inconvenient Truth, The Fighter and Into the Wild. Karsh Kale plays tablas and does audio processing. He's worked with Anoushka Shankar, Tabla Beat Science, Sting, Herbie Hancock and U2. Bassist Michael Manring was a founder of Montreux, was the house bassist for Windham Hill Records, and has recorded with Alex de Grassi, Will Ackerman, Wadada Leo Smith, Michael Hedges, and dozens of others, including trumpeter Jeff Oster. Oster plays on the album and is the "O" in group FLOW with Fiona Joy Hawkins, Lawrence Blatt and Windham Hill founder and guitarist, Will Ackerman. Oster and Manring are the only artists on the album who have actually played together in the past.
Then there is Michael Whalen himself. We've been hearing him since his nature documentary soundtracks on the Narada label in the 1990s, and his first ambient album, Night Scenes, released in 1996. Since then he's recorded scores of albums, ranging from solo piano to ambient piano, electronic orchestrations to jazz fusion. Last year, his album Imaginary Trains was an Echoes CD of the Month.
Each musician has a distinct identity, and on Our April Tigers, their individual sounds are evident, yet they merge into a sometimes surreal whole. It matters that each is an equal co-composer of every track, although Whalen did wield a digital scalpel to the proceedings in the end.
The album begins in the mystery of "Over Water." It's a haunting track with a delayed guitar riff from Brook, tablas echoing into space, and the fretless bass note-bending of Michael Manring. Whalen keeps his electronic palette relatively simple with sounds redolent of acoustic and electric Rhodes piano. The beat is even simpler, a couple of bass thuds and snare cracks, but Kale decorates that with lots of processed tabla, while Oster's fluegelhorn moans ethereally above it all, calling out from a smoky jazz bar in space.
"Disappear" takes a more propulsive tone, driven by Kale's tablas and a searing sustained lead from Brook that seems to take one note and stretch it into infinity. You can hear that Oster is playing his horn off Manring's deep bass licks and I'm not sure sometimes if the sustains are Manring or Brook or both. When Brook slides into a fuzz-tone lead, its heartbreakingly beautiful, like he's scoring a film that doesn't end well for the protagonist.
There's a hint of Jon Hassell on a lot of this, including the Indian percussion of Kale, the hazy textures, Jeff Oster's long legato lines, and some of the half-valve playing that was a signature of Hassell's. Michael Brook actually played and recorded with Hassell in the 1980s, and some of his textures have that fourth-world Brian Eno/Jon Hassell feel to them. But Oster's pure soulful fluegelhorn sound is best heard on "Morning Bell," where he takes the lead against a percolating sequencer pattern that morphs throughout the piece as Oster blows-out those soulful melodies that are his specialty.
"Hope Haunts" may be the most lyrically melodic and New Age track on the album. It glides on a sampled hammer dulcimer (or possibly santoor) with Oster playing a melody off of Whalen's long synth chords. When Manring enters, he carries the melody with that deep rubbery fretless tone.
While most of this album sits on languid ground, a couple of tracks get more aggressive, notably "Visceral Organ" and "Temporality." "Visceral Organ" is a fusion workout with Oster's trumpet in harmonized riffs, that is, when it's not hitting the highest note I've ever heard him play. It passes through swirling electric guitar feedback from Brook, while Manring pounds out a deep chunky groove.
"Temporality" is just a screaming track, literally. Manring is in pure Jaco Pastorius mode (although, for the record, Manring is a far superior artist) with trebly bass licks that then descend into bubbling fretless runs. Whalen tracks him on clavinet-like synth lines while Karsh Kale's tablas go manic, and I suspect double–speed. It all sounds like it could be off of Miles Davis's On the Corner. It's a frantic close to an album that has been more of a trippy dream. This track is the dream on speed.
One of the joys of Our April Tigers is hearing Michael Brook. Although he's worked steadily on film scores and library music, he hasn't made a solo release since RockPaperScissors in 2006. I've missed his delayed lines that echo with poignancy, and those sinewy leads that tear through your consciousness like tendrils.
Don't try finding the source of the album title. Whalen generated Our April Tigers it with Artificial Intelligence. But the album itself is pure human musicianship from five unique artists, drifting in a psychedelic free-fall.
Hear Michael Whalen, Michael Brook and Jeff Oster talk about the creation of Our April Tigers in the Echoes Podcast.
Read our review of Michael Whalen"s May 2022 CD of the Month, Imaginary Trains.