Simon Emmerson, founder of Afro Celt Sound System Passes.
Simon Emmerson March 12, 1956 – March 13, 2023.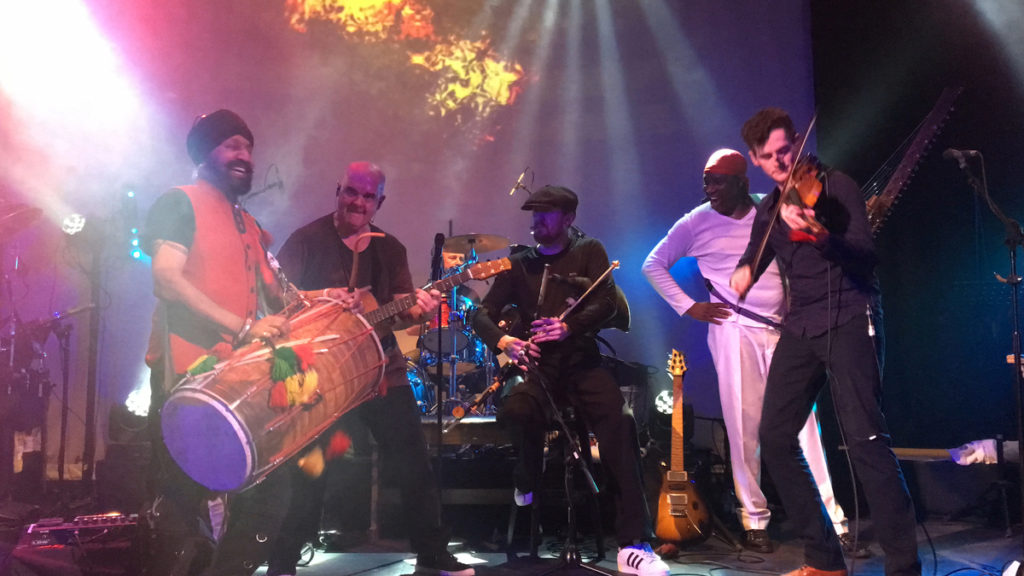 Simon Emmerson, the founder of Afro Celt Sound System, has left the planet. After a long illness he departed on March 13th just a day after his 67th birthday. Afro Celt Sound Stem was a core band on Echoes from their debut album Volume 1: Sound Magic in 1996 to what might be their final release, Flight in 2018. Helming it all, along with Martin Russell and James McNally, was Simon Emmerson. He was a joyous man, slightly round and bald and always enthusiastic. A truly visionary musician, he always sought the authentic in everything he did, even the CDs he recorded for the Lush cosmetic company. I interviewed Simon and the Afro Celts a lot on Echoes and they played live on the show twice, although my favorite performance is the last one with the Fresh Handmade Sound Collective.
In 2010 the Afro Celts asked me to write liner notes for their compilation, Capture. I wrote much more than they used and looking back, I created a pretty compelling argument for why they were such an important group and how much Simon Emmerson led them. With an addendum at the end, here are those notes and the story of Simon Emmerson and Afro Celt Sound System.
—————————————————————–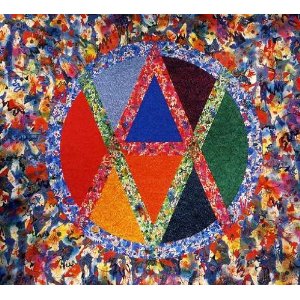 When historians and musicologists look back on this era, it might not be rock and roll and rap music that dominates their retrospective vision. It might be the burst of cross-cultural fertilization that took place as technology, global communication and easy trans-continental travel brought the sounds of the world together. Afro Celt Sound System may be the iconic manifestation of that development.
They weren't the first. Jazz reed player Tony Scott recorded with Japanese musicians on his album Music for Zen Meditation in 1964. Ravi Shankar improvised with classical violinists, The Beatles lifted his licks and jazz musicians jammed on his ragas. The Incredible String Band created their psychedelic folk out of a mélange of exotica from the Middle East, Morocco and India and John McLaughlin set the high-water mark with his Indian fusion group, Shakti. By the time Afro Celt Sound System formed in 1996, Grateful Dead drummer Mickey Hart had already circumnavigated Planet Drum a few times, Paul Simon had brought South Africans to Graceland and Banco de Gaia, Loop Guru and Transglobal Underground had dropped the electronic groove onto ethno-techno. Even the African-Celtic connection had been explored by Baka Beyond. (They later billed themselves as "the original Afro Celt music," chafing at being eclipsed by Afro Celt Sound System.)
So it had been done. Cross fertilization of musical worlds was already the musical vernacular of our era. But Afro Celt Sound System came from a profound realization of the connections between east and west, the seeds of one each planted in the fields of the other and then blown back in, transformed. All Afro Celt Sound System did was perform an electronic gene splice that gathered world music together in a fashion that was so organic, you couldn't understand why it wasn't always this way.
Afro Celt Sound System wasn't supposed to last beyond one recording, let alone five CDs, a remix album and this collection. They were an ad hoc group, one of many that got together in spontaneous jam sessions at Peter Gabriel's Real World Studios in the west of England. But the Afro Celts had something many of those assemblages didn't, a man with a vision: Simon Emmerson.
The English-born Emmerson got the African bug when he worked with Senegalese singer and songwriter Baaba Maal. He heard a relationship between the singer's often forlorn, African drenched melodies and traditional Irish aires. Emmerson returned to England and brought some of Baaba Maal's band with him to jam during a Real World Recording Week, joining traditional and electronic musicians together in the countryside near Bath. Irish whistle and bodhran player James McNally remembers those sessions.
"We had a week in a hut," he recalls incredulously. "Jamie Reed came up and put up all his wall hangings and paintings. And the musicians would flow in, they could be Armenian shepherds coming into the studio one day. And suddenly some Indian tabla players."
These sometimes chaotic sessions resulted in Volume 1: Sound Magic. Songs carved out of those sessions, like "Whirly-Reel 1 & 2," are high-energy global rave-ups that made the Afro Celts favorites on the festival circuit. It's also where they lived up to the Sound System part of their name. Although reggae grooves are few and far between in their music, they were playing homage to Jamaican sound systems, collectives of DJs, engineers and MCs who traveled with portable PAs and power generators to bring the gospel of Jah, and the party, to the people.
Afro Celt Sound System's DJs and engineers were programmers who had their own gospel, to push the music to another level and transport audiences to a higher ground. They tried to jettison the Sound System part of their name for a second, but quickly realized that losing the name deprived them of the metaphorical imagery that captured their high powered beats and electronic moods.
However, Afro Celt Sound System was never an electronic band. If you saw them live, you'd see musicians who start at joy which quickly morphs into rapture. In a celebration at the global village crossroads, N'Faly Kouyate struts the stage, wearing his massive kora as he dances a furious, but delicate trellis of cross-plucked melodies on the 26 strings emanating from its hide-covered calabash gourd. Just behind him, Simon Emmerson bops and weaves, grinning behind his guitar while fellow Englishman James McNally alternately trills on his Irish whistles and swaggers across the stage, beating rhythmic tattoos on his bodhran, a frame drum played with a stick. Moussa Sissokho from Senegal coaxes a responsive voice from his talking drum, creating a dialogue with Indian percussionist Johnny Kalsi, who stalks the floor with his shoulder-slung dhol drum. Out of the PA, electronic grooves thud and scutter while uilleann pipe melodies from Ireland's Emer Mayock weave a siren call, driving the audience to frenzy. That's about when vocalist Iarla O'Lionaird comes out and breaks your heart, drawing upon the Sean Nos traditions of Ireland which you hear to full effect when he opens up on the soul-searing "Lagan." Hearing Afro Celt Sound System made you think maybe we really all could just get along in the world.
By the time of their 4th album, Seed, the musicians of Afro Celt had been playing together for seven years and their sounds were beginning to merge. Harp, kora and guitar seamlessly trade lines. On a track like "Eíreann," Iarla O'Lionaird was sounding more like Guinean singer N'Faly Kouyate while N'Faly was finding a deeper, Irish melodicism in his voice. Percussionists from India and Ireland and Africa play each other's rhythms. Hell, on "Big Cat" there's even a call-and-response segment for electronics and dhol drum.
It's Martin Russell who stitches together the fabric of the Afro Celts for CD. In his studio, computers hum while he fashions together a groove from a percussion jam session one day, an N'Faly Kouyate kora solo the next and a James McNally and Simon Emmerson flute and guitar theme from a year ago. All of the rhythm tracks for Release, for instance, were taken from a single day-long percussion session.
Russell is joined by Simon Emmerson, Simon Massey and on Volume One, the late Jo Bruce, creating the electronic glue that held the Afro Celts' sound together. Sometimes it was with ethereal, shimmering synth pads on "Deep Channel" or the nasty, electronic snarl of "Cyberia." Celtic harp and kora arpeggios dance with sequencer arpeggios.
The Afro Celts pushed world music to the extremes, but they also challenged their own concepts, bringing in pop vocalists to spin their music in new directions. Sinead O'Connor appeared on Volume Two: Release and on Volume 3: Further in Time, both Peter Gabriel and Robert Plant sat in. Gabriel brought a breezy Afro-pop lightness to the band's "When You're Falling" that Simon Emmerson admitted "is pure pop. It was the one that stood out a bit, didn't fit in with the generic Afro Celt sound." Of course, "generic" is the last word that comes to mind with Afro Celt Sound System.
But the Afro Celt sound took a leap into another universe when Robert Plant stormed the ramparts of "Life Begin Again." With its heroic refrain, that pastoral English 12-string acoustic guitar and the additional voice of Welsh singer Julie Murphy, it echoes Led Zeppelin's "Battle of Evermore," only with a pounding African groove. Of course, the members of Afro Celt Sound System are no strangers to rock. McNally played in The Pogues and take note of the Johnny Marr-style tremolo guitar Emmerson deploys across "Seed."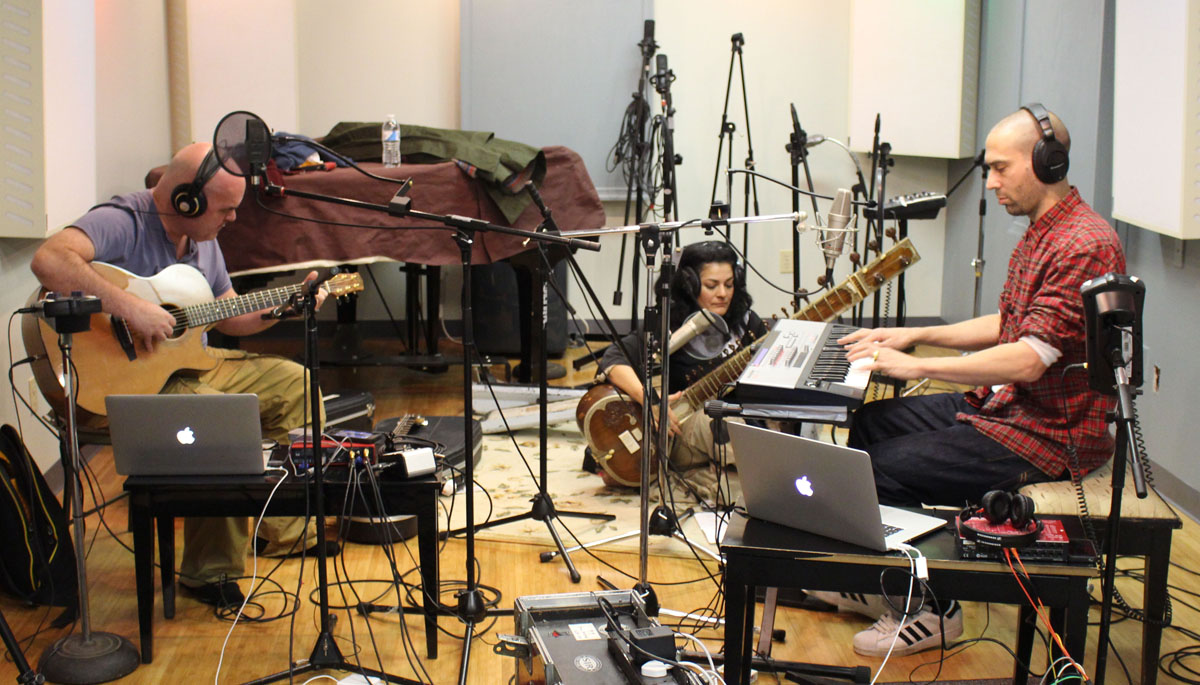 Instrumentally the Afro Celts wove their own stories that told us about adventures and spiritual searches in other lands. And their singers always worked as instrumental voices, taking us into meaning that went beyond the words, which was probably a good thing since so many of them were sung in Gaelic or Maninka anyway. But you didn't need to know what Iarla and N'Faly were singing about on "Eireann," when you could hear their song of the spirit in their voices. On the other hand, it's sometimes better not to know. On the title track of Seed, N'Faly Kouyate, who comes from a long line of African storytellers called griots, sounds like he's singing a heartfelt love song or perhaps a lament. But Simon Emmerson claims it translates as "you've got to save the small furry creatures of the forest from the dangers of fire."
Ultimately, Afro Celt Sound System is a music of connection. Iarla O'Lionaird tells this story of the Afro Celts traveling in their tour bus.  "We were sitting around talking, having a chat, some of us were in bed, and N'Faly started singing a song very quietly on the kora," he recalls. "And we just thought, what a lovely song. But then our names started being mentioned, and it was a song of praise. It was at that point that I really felt that we had truly connected with these guys, to the extend where they really trusted us, really understood how much we cared about them. And perhaps also understood the value of being in a band that can progress that sort of thinking."
Each element in Afro Celt Sound System is distinctive. There's no hiding that Iarla is Irish, N'Faly is Guinean and Johnny Kalsi Indian, but there's an organic communion such that one can't tell the boundaries between Africa, Ireland and the imagination. Unraveling their seams, trying to determine where the bodhran rhythm began, the djembe groove ended and the electronic beats plugged in was like trying to find the beginning of a Celtic knot. It's a euphoric, often hallucinatory whirl that hurtles in a roller-coaster of delirious rhythms, instrumental cross-cutting and vocal incantations that leaves you spinning.
Sadly, Afro Celt split into two factions with Martin Russell and James McNally going one way and Simon Emmerson. N'Faly Kouyate and Jonny Kalsi going another. For a while, Simon worked with his English folk project, The Imagined Village and then became music director of the cosmetics company, Lush, producing CDs for in-store sales. Normally, I'd be dismissive of these projects, but Simon created a string of the most inventive albums, many under the banner of the Fresh Handmade Collective that ranged from nature infused reveries to Beatles covers to interstellar dream pop. They played a lovely live set on Echoes.
But the call of the Celts returned and he reformed Afro Celt Sound System with original members N'Faly Kouyate and Johnny Kalsi as well as new member Gaelic rapper/singer/multi-instrumentalist Griogair Labhruidh and singer and flutist Rioghnach Connolly (who is also in the highly overlooked band, The Breath). They released two albums, The Source and Flight which took a funkier direction than previous Afro Celt releases. This version of Afro Celt Sound System toured extensively in Europe and seemed active until very recently.
But now, Simon Emmerson is gone, passing on March 13 at the age of only 67. We will miss him in so many ways.