Brian Eno's FOREVERANDEVERNOMORE, a Lament for the World.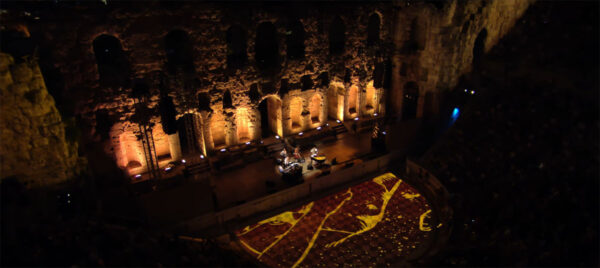 Brian Eno is releasing a vocal album in October.  It would be his first such release since Another Day on Earth in 2005.  I always thought that recording was one of Eno's most underrated works. It's called FOREVERANDEVERNOMORE and judging from the first single, "There Were Bells", it's going to be a very solemn affair. "There Were Bells" is a lovely, hymnal-like lament and is about as ambient as a song can be and still have coherent lyrics.  And those lyrics are pretty doomy and apocalyptic.  It starts out with a pastoral narrative of birds and skies before it descends into a mannered vocal performance that sounds like last call from the pulpit of doom as Eno summons up his longstanding fear of climate change, something in which he's been very proactive in stopping.

The video is drawn from Eno's performance with his brother Roger at the Acropolis in 2021. On the album, he's helped out by his crew from the past 20 years or so including The album is produced by Brian Eno with contributions from Leo Abrahams, Roger Eno, Peter Chilvers, Clodagh Simonds (the voice of Mike Oldfield's Ommadawn), Cecily Eno, Darla Eno and Jon Hopkins. The album releases on October 14.