Stick Men & Tim Motzer Bring Progressive Rock Past, Present and Out There to Sellersville Theater
by John Diliberto 5/2/2022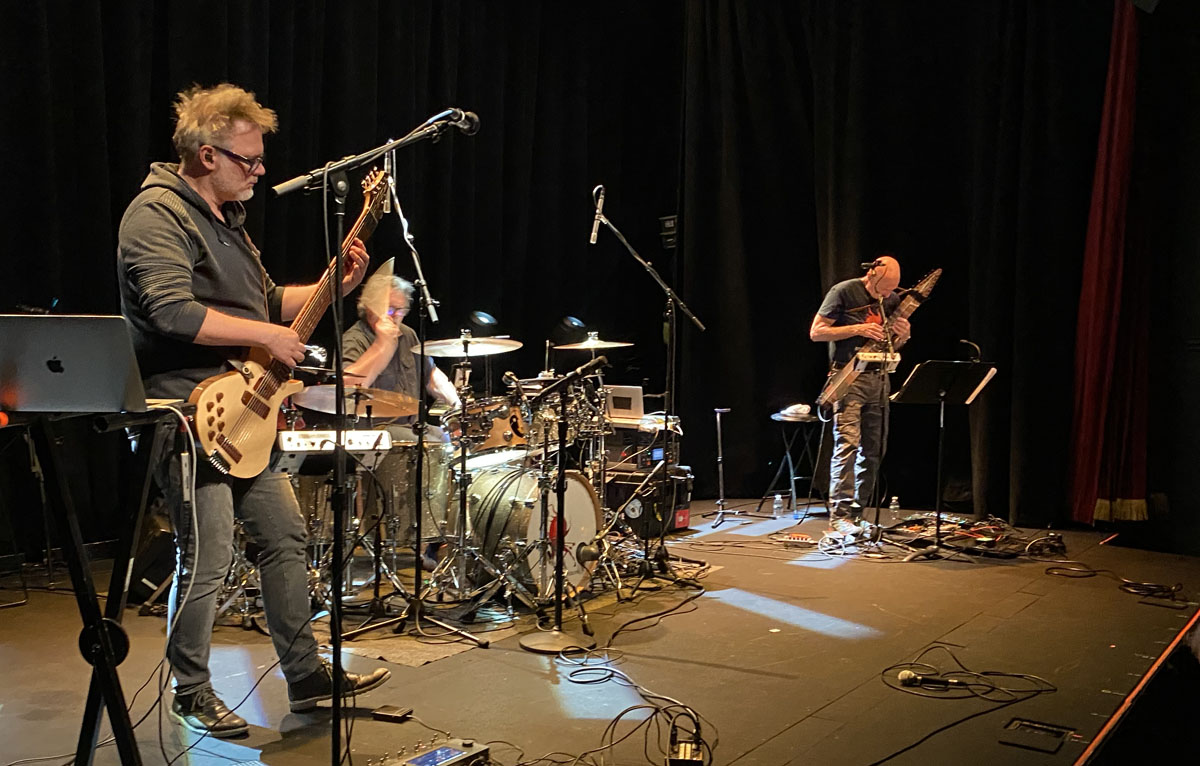 King Crimson may have taken their final tour, but their spirit lives on in Stick Men, a group comprised of two longtime Krimson members, Stick player/bassist Tony Levin and drummer Pat Mastelotto and a musician who grew up on their progressive rock sound, Markus Reuter. He plays his own adaptation of the Chapman stick which he calls the U8. But he's no newcomer.  In addition to numerous solo releases he has played with The Crimson ProjeKct, Europa String Choir, Robert Rich and Centrozoon.
After a solo soundscape of heavy metal strings created by Reuter, he was joined by the other two members who laid the groundwork for the evening with the track "Prog Noir." The three set the template for the evening with storming unison lines and intricate solos topped by a bit of tongue-in-cheek vocals from Levin that recalled the vocal tricks of Discipline-era King Crimson.
But vocals were fortunately a rarity in this set marked by the crushing rhythms and serrated soloing by both Reuter and Levin. In fact, it was often difficult to tell who was playing what since both use the two-handed touch technique on their U8 and Chapman Stick. On "Ringtone," pointillist arpeggios set a stage for snarling leads. Levin in particular was like a tiger stalking its prey. These arpeggios would give way to bruising caustic power chords with equally caustic solos as Mastelotto rolled across his toms.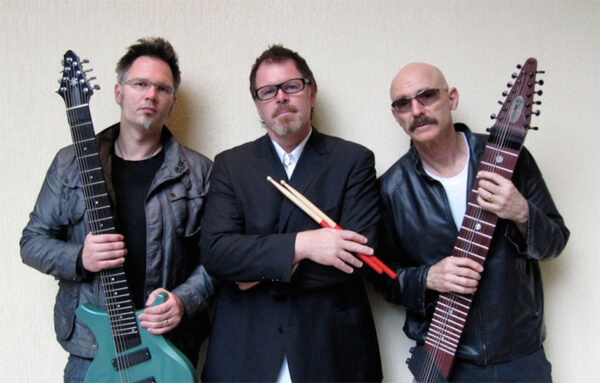 Underscoring their King Crimson pedigree, they played several covers from the venerable masters of Prog, beginning with "Red." I've heard better versions from King Crimson, but this nuclear power trio held their own with its tricky rhythms, whip-snap changes and furious guitar rigs. The same could be said for their covers of "Larks Tongues in Aspic Pt.2," "Level 5," and Crimson guitarist Robert Fripp's "Breathless," originally on his solo album, Exposure.
Levin and Reuter have very different demeanors on stage. Reuter cradles his more guitar-like U8 and seems like one of those people who can type and have a conversation at the same time, even when whipping off a sustained solo where melodic lines seemed to spin through each other, such as on the Reuter-penned "Shattenhaft." His placid presence was countered by Levin, embracing his Stick with its jumbo-wide fretboard, deploying the wide-legged stance and grimace he's mastered through years on big stages with King Crimson.
They encored with two more King Crimson covers, including one of Krimson's most immaculate songs, "Sheltering Sky." But the trio seemed to founder on the duel cross-picking (in this case, cross-touching) intersection.
While enjoying these King Crimson gems, I kind of wished they'd played more of their own compositions that didn't just carry on the Krimson legacy but expanded it. Their own "Tentacles." the title track of their new EP, picked up where "Red" left off, although it was undercut by Levin singing the title over and over again. Remember that Frank Zappa album, Shut Up 'n Play Yer Guitar? Good idea in this case. Another of their songs, "Danger in the Work Place," is their Prog Opus Grande. It's a multipart trek through blistering leads, an intricate, time-ticking atmosphere and a weird jungle segment of alien insects. Maybe if they played more of this music, they'd have fewer fans shouting out for "21st Century Schizoid Man," which they intentionally couldn't to hear.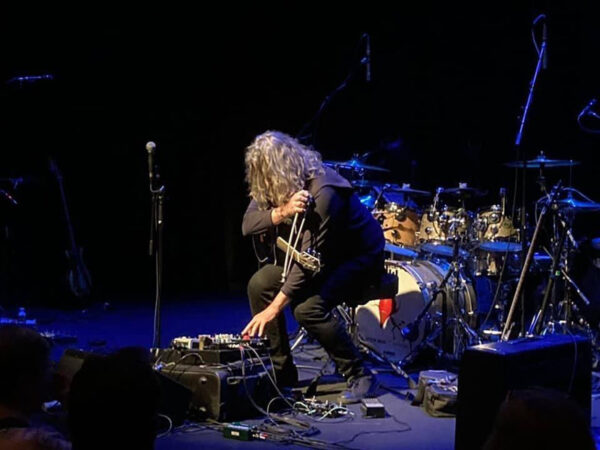 Opening the show was a solo set by Philadelphia guitarist Tim Motzer. He's a monster musician who can go from the dreamy trip-hop of his wonderful but short-lived group Nucultures to pure guitar mutilation. He's worked in a duo with Markus Reuter as well as collaborations with David Sylvian, Can's Jaki Liebezeit, King Britt, Jamaaladeen Tacuma, Vernon Reid, David Torn, and more.
Taking center stage in a chair, he tricked everybody by strumming an acoustic guitar, but it quickly became obvious that this wasn't going to be a solo, Windham Hill-style set when he started playing it with a violin bow. From there, he took off on a non-stop journey setting up finger-picking loops that sounded sometimes like Leo Kottke and others like Derek Bailey on speed. Psychedelic fuzz-guitar solos screamed out of this acoustic instrument one moment, then he beat it like a percussion instrument with twang.
Motzer is gifted with a melodic sensibility that he likes to shatter into shards and then bring back in another form. He created a totally free-form improvised ride, but one that had a magnetic center.
It was a night that felt good for the future of Prog in many of it's manifestations.
Hear Tim Motzer Live On Echoes.
Hear Echoes Tim Motzer Interview