Emancipator's Electronic Folk and Jade Warrior-World Fusion Innovators in Echoes Podcast
Podcast: Play in new window | Download
Subscribe: RSS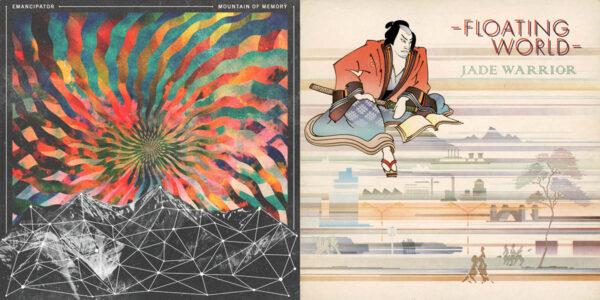 In the Echoes Podcast Emancipator and Jade Warrior
Emancipator is an electronic musician who mixes synthesizers, sampled sounds and folk instruments into a hallucinatory sound. John Diliberto talks to Emancipator's Douglas Appling about his father who made dulcimers and spun Orbital and how that shaped his unique sound which includes banjos and violin. His latest album is Mountain of Memory.
Then we go back to a seminal progressive rock group, Jade Warrior.
John Diliberto has recently been doing on of those list your 20 Most Influential albums, one each day, on Facebook things  His third selection was actually a quartet of albums by Jade Warrior which got a lot of response and prompted us to go back to a feature on this under-recognized band.
Before Peter Gabriel moved from drum machines to Senegalese drummers, and when Andreas Vollenweider was still doing music for poetry readings, Jade Warrior was orchestrating a world fusion built up from a host of exotic instruments and a frightening amount of overdubs.  Initially a power trio with arty pretensions, guitarist Tony Duhig and flutist/percussionist Jon Field reinvented themselves in 1974 with the first of a quartet of albums for island records: Floating World, Waves, Kites and Way of The Sun. Back in 1985 we talked to Jade Warrior for the radio series, Totally Wired and it remains one of our favorite and most memorable interviews.  Tony Duhig died five years later in 1990 and despite a few attempts by Field to keep the name going, Jade Warrior effectively stopped, gone and nearly forgotten. That is just wrong.  Find out why in our sound portrait in the Echoes Podcast.