AVAWaves' "Waves": Echoes May CD of the Month
by John Diliberto 5/1/2020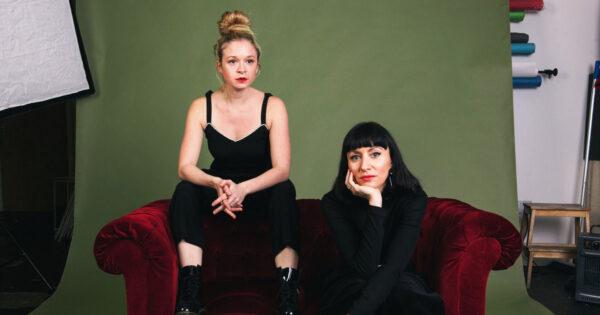 We are enjoying an abundance of ambient chamber music these days with signature albums from artists like Blue Landscapes, Naneum, Hans Christian, and Roger and Brian Eno. But one of the out-of-nowhere albums that has thrilled me most has been Waves by AVAWaves. They used to be just AVA after the names of the two members, pianist Aisling Brouwer and violinist Anna Phoebe. But in the Google age they needed something more searchable, so they combined AVA with the name of their debut, Waves .
Just calling the duo a pianist and violinist doesn't do justice to a sound that is deeply immersed in ambient sound design and electronics. Each musician has been around for a while. Aisling Brouwer is a film and commercial composer who has done work for Christian Dior among others. Anna Phoebe has been a little more visible, performing with Jethro Tull, Trans-Siberian Orchestra and Roxy Music. She also has a few solo albums in an orchestral progressive rock vein with fiery violin playing.
Both musicians come from classical backgrounds, but they grew up on electronic dance music. While Waves doesn't have the dance beats, it does have the electronic moods. On Aisling Brouwer's website she's described as an Ambient Classical composer, but with AVAWaves, the sound is more chamber than symphonic.
AVAWAves can drift in that kind of Enoesque melancholy on tracks like "To Be Alone," but their brand of ambient is often more energized. You can hear that on "Voyager," propelled by a throbbing electronic basso profundo groove.
There's a lot of water imagery on this album which stems from much of it being composed in the County of Kent on the English Channel coast.  "Ocean" captures their poetic take on this landscape with Phoebe's rhapsodic, sustained violin lines against staccato riffs. Underneath it all, Brouwer churns away on piano in a way that starts in an ostinato but gradually builds to drive the rapturous ascension of the work.
AVAWaves isn't just mellow, chill-out serenity. The duo get into some stormy territory on tracks like "In Motion" which centers around a ticking motif and slowly builds on Phoebe's mournful violin into a storm of multiple strings like lightning flashes and crashing surf over tom-tom like percussion although I think it may be a gallon water jug.
In a way, AVAWaves are post-John Cage in their ambient aesthetic by using sounds that aren't normally thought of as musical. These range from inside the piano techniques and extended violin effects as well as using a fan. It all creates a colorful swirl  of sound and melody that immerses you like, well, a wave.
Much of the album was inspired by England's Brexit, which both musicians, having parents from different European countries and having lived in many others, lament. "Resistance" is a call-to-arms anthem. It begins serenely enough with a distant choir-like sound in a slow motion cycle in the background while Brouwer turns a minimalist melody against Phoebe's slashing violin strokes. A bass drum thump accelerates the piece into a storm-the-barricades assault with distressed electronics, warbling into space.
AVAWaves' music is triumphal, tumultuous, ecstatic and sometimes, just heartbreakingly beautiful. "Deep Blue" is a track of such soul-searing poignancy that you'll just sit there breathless at its conclusion. In fact, that's the way you'll feel after most songs and certainly the entire album of AVAWaves impressive debut. AVAWaves Waves is a masterpiece of true Ambient Chamber Music.
Hear AVAWaves Echoes Interview in Echoes Podcast.