Jeff Johnson & Phil Keaggy's Cappadocia: Echoes February CD of the Month
By John Diliberto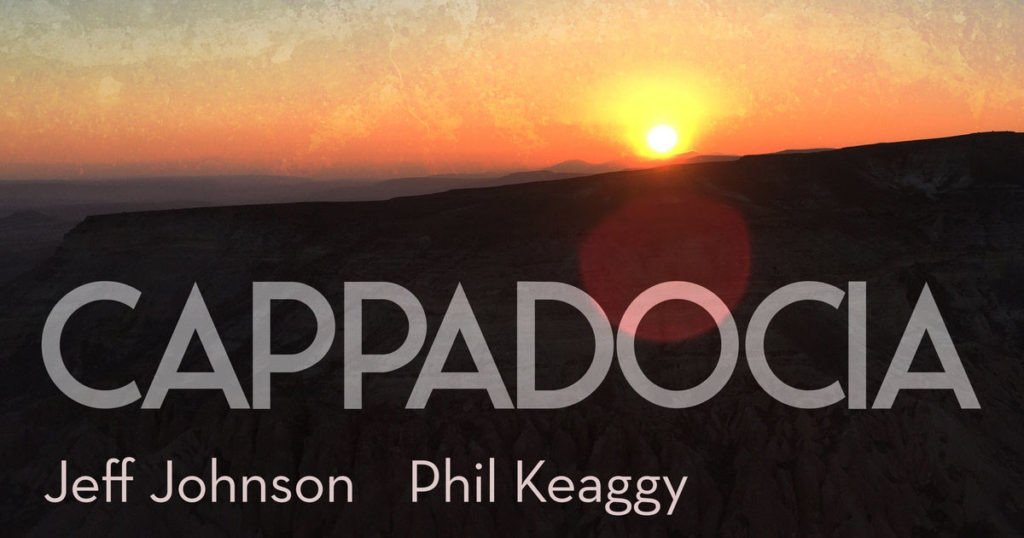 On their third collaboration together, Jeff Johnson and Phil Keaggy have created an exalted world of ancient atmospheres, gentle melodies and modern orchestrations. Cappadocia, like its namesake locale, leaves you breathless and in awe.
This is nothing new for the duo. Jeff Johnson has been creating impressionistic albums for a few decades now, many of them with Irish flutist Brian Dunning. Phil Keaggy is a legend among guitar players He came to renown with the 70s rock group, Glass Harp and then went into Christian music, releasing several albums including the influential instrumental recording, The Master and the Musician. Johnson also comes from the Christian music world and that informs much of the imagery of Cappadocia. Most of the titles are Christian references. However, the music they create transcends earthly spirituality and traverses its own magical world.
Of course, the inspiration was pretty magical to start with. Cappadocia is a section of Turkey whose history dates centuries back into the BCE era. It's a surreal site in Turkey of desert landscapes, twisted mountains, natural pillars and minarets, hidden valleys and underground cities. It was a refuge for Christians around the 4th century. Johnson visited it with his wife, Sue and was overwhelmed by the epic expanse as well as the natural reverb in the chambers of the underground cities. He got together with Phil Keaggy and they created this beautiful panoramic album.
The duo avoids the obvious middle eastern affectations that would usually populate an album like this. But there is a subtle world fusion aspect to Cappadocia, but one that evokes countries of the imagination more than any particular locale. The title track opens with Johnson playing African kalimba while Keaggy plays the cumbus, a long-necked Turkish lute.
Keaggy plays an assortment of guitars and draws upon his vast range of techniques. He rocks it out on one section of "Quo Vadis" draws on his country experience, cuts loose some flamenco chops and classical lines meet jazz soloing on "Chapel of Stone." There's also some of his psychedelic experience whenever he brings in the electric guitar, especially on "Valley of Swords and Roses" with his sustained, e-bow guitar soloing. On that same track, he also lays down mandolin tremolos which gives you an indication of the range of sound that the duo has created. "Parousia (A Presence)" is a Keaggy tour de force as he plays 5 or 6 acoustic guitars and mandolin.
Jeff Johnson has brought the full power of his arranging skills to bear in creating the ambient soundscapes that accent almost every song. From the sound of shells dragging across the speakers on the opening track like ancient chains to the machine noises on "Valley of Swords and Roses". His electronic pings on the darkly textured "Dove Visions" recalls Mark Snow's theme for The X-Files. It's the kind of sound that gives the album a beyond-this-world aura.
This album will be slotted into New Age, but in another time, this would've been a progressive rock album, sitting alongside instrumental passages of early Genesis and Yes. Jeff Johnson and Phil Keaggy's Cappadocia is a panoramic journey through the spirit and geography of one of the most exotic places on Earth.
Read a Review Of Johnson & Keaggy's Frio Suite
Read a Review of Johnson & Keaggy's WaterSky