Prequell's The Future Comes Before Echoes October CD of the Month.
by John Diliberto 10/1/2017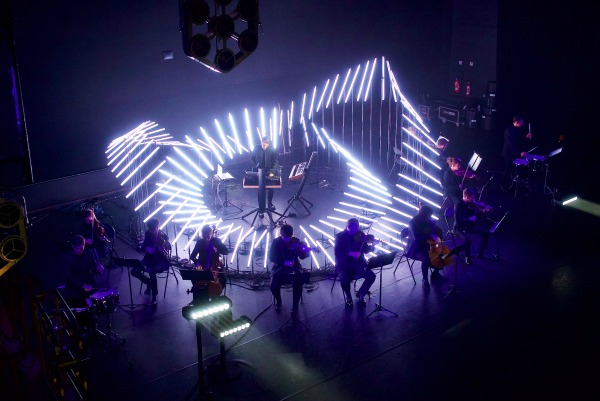 Fashion runway shows are not the places I usually look for music to play on Echoes. But if I had looked, I would've found the music of Prequell, the recording guise of French composer Thomas Roussel. He does shows for Pigalle, Michael Kors, Christian Dior and other high fashion designers. He treats these shows as if he was scoring a movie and the sound is nothing if not cinematic.
I had heard of Roussel before from a work he did with techno artist Jeff Mills in 2006, orchestrating around the electronics of Mills'  Blue Potential. He gave Mills' electronics a melodic dimension and in turn, made techno sound classical. Roussel isn't the first to do this: Craig Armstrong employed the technique on his 1998 album, The Space Between Us, where he merged orchestra and electronics, a sound he'd debuted on Massive Attack's Protection. Ludovico Einaudi also uses electronics, but usually for coloristic and textural moods.
With The Future Comes Before, Roussel combines The London Symphony Orchestra with analog synthesizers, digital beats and a few guest vocalists. The conceit of the album is that it begins in the future and ends in the past. The tracks run in reverse order, from the future of "Part XV" as track number 1, back in time to track number fifteen, which is "Part I." It seems like more of a philosophical construct than a musical one. There's also a NASA connection, which seems to be in the air these days. He use sounds from a NASA probe entering the magnetosphere of Jupiter on  "Part XIV", gravitational waves emitted by two merging black holes on "Part XIII" and the standing wave tone of Planet Earth on "Part IV" which you can hear whooshing at the beginning. It's surprisnly the gentlest piece on the album with cymbalom and electric guitar.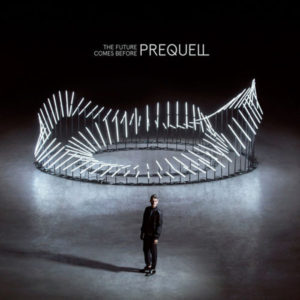 Prequell's sound isn't techno, but it does have driving beats and dynamic shifts. Roussel even uses bass drops, but with an orchestra, on "Part XV". It's a piece that moves from insistent strings to space passages with clattering percussion that sounds like typewriters wrought through the BT stutter edit. Many of the motifs come from Roussel's commercial work.
The album drives from massive climax to dynamic  crescendo, with the full emotional weight of the strings soaring over the electronic rhythms. "Part III" begins like it's going to be a pastoral respite, before launching into sequencer grooves that build and build toward an orgasmic finish. That's another thing: Prequell's compositions rarely fade or dissolve but drop you off at a peak into the silence before the next part.
"Part VI" is an elegiac electro-bolero with a "Pachelbel Canon"-like phrase soaring over it, before leading into the clangorous percussion of "Part IV," which sounds neither orchestral nor electronic, but constructed of found sounds, trash cans, and metal fragments. I don't know if those are the sources, but that's what it sounds like.
The album's 15 tracks are mostly instrumental, but there are also five powerful vocal performances, beginning with "Part XIV," featuring Rae Morris. It's is an electro-power ballad with Morris calling out across dark, serrated bass notes and spiraling symphonic strings. "Part VII" is a more romantic ballad with vocals from Teddy Sinclair of the band Cruel Youth and she delivers this emotional song with emotional clarity including some anguished vocalese toward the end. Claire Laffut, Fyfe and Shy Girls also over strong performances that move right into the orchestral flow of the album.
With The Future Comes Before, Prequell has created a 21st century symphony with the drive and melodic invention of cinematic orchestral music, and weds it to electronic aesthetics for a ride that is, like a great action film, never less than riveting.
Special Note for CD of the Month Club members:
There is no physical version of The Future Comes Before for sale, however, CD of the Month Club Members are receiving a very limited edition CD of which only a few hundred were pressed.