From New Wave to New Age with Hans Christian
Podcast: Play in new window | Download
Subscribe: RSS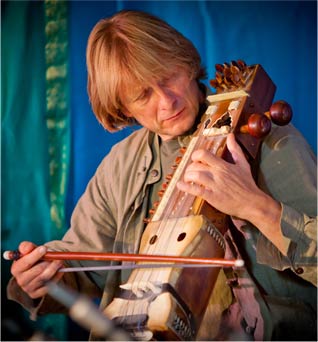 We've been following the music of Hans Christian since 1996 when he released the album Surrender and played live for Echoes in his Northern California living room. Since then he's formed the brilliant group, Rasa, who released several albums of exotic chant music and several solo albums ranging from east-west fusions to classical cello. His last album, Nanda Devi, was an Echoes CD of the Month in September of 2015. At the Zone Music Reporter Awards show in New Orleans this spring, I caught up with Hans for a wide-ranging interview that also revealed his rocker roots.
Hans Christian's music has always been touched by the spirit, possibly right from his day of birth.
"You know I grew up in a church environment," reveals Christian. My father was a minister in Germany, liberal Lutheran minister, but nevertheless, so I'm comfortable around being in temples, in sacred spaces. As a matter of fact, music for me, since I played in the church so often as a child, and also the acoustics, it all comes together.It is playing an instrument in a sacred setting with amazing acoustics."
Hans took a few side-trips before he returned to that kind of space. The classically trained cellist came to Los Angeles at the age of twenty-two and he wanted to rock.
"I came to L.A. in 1982 from Hanover, Germany." explains Hans. "I went to the Musicians Institute. I became a rocker, bass player. Was very ambitious. Worked my way up the ladder. I played every rat hole in Hollywood ten times with all kinds of bands, and some of them became very famous. It was a band called What Is This, right before the Chili Peppers became the Chili Peppers. I played bass in that band. We recorded good stuff."
When he says Chili Peppers he means the Red Hot Chili Peppers. Hans Christian went on to record with several rock artists in the 1980s.
"Victoria Williams, you know I recorded with her a lot," he says, beginning a litany of 80's rock artists. "I'd done some work with Billy Idol and people like that. I worked with Robbie Robertson on his first solo album in 1987. I played bass."  And he was a member of a new wave group, A Drop In The Gray who recorded one album on Geffen Records in 1984.
Ultimately, Hans Christian left the Flock of Seagulls haircuts and anthemic rock behind.
"I kind of got done experimenting with chemistry," he says coyloy.  "And I also, I wanted to be a better musician actually. And I realized man, I'm playing cello, how come I'm not developing my own music. So that's when I moved to San Francisco Bay area, eventually moved to Fairfax, California and then started that studio in Fairfax. And there were some really great stuff then. Krishna Das recorded there, Dave Stringer, Rasa was born there."
Now Hans Christian lives in Dor county Wisconsin, a scene very different from the one in San Francisco.
"You know, and I've built quite a facility there, quite a beautiful recording studio. It's an old 1860's house. And the grand parlor is now my personal studio for my own music."
Hans works as a facilitator, engineer and producer for other musicians, doing, whatever is necessary.
"And I'm now taking the role of senior musician and I help them, you know, whether it's nerves that get in the way, or I help them with technical things or with arrangement ideas or, frankly, with good engineering. So my hands are full with that."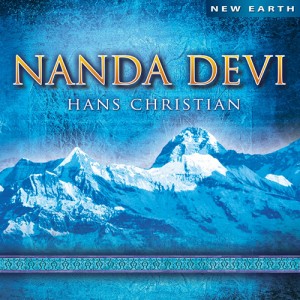 But he's also recording his own music. He's released nine solo albums since the demise of Rasa in 2007 that range from pure solo cello recorded at Chartres Cathedral in France to elaborate multi-layered productions like Nanda Devi released last year. His albums are often lush, sensual affairs, a bazaar of textures from classical to Indian, Swedish nyckleharpe to Electronica.
"I don't try to be sensual" Hans clarifies. "But I do have to feel something when I play it. Something has to click for me. And it cannot be mental. It cannot be conceptual. I won't do it for me. I have to feel it as my–I have to have some kind of a profound experience with each piece. The piece isn't done until I have some kind of experience like that. And you might call it sensuality, you know…yeah, it has to have some like that. Otherwise it's not done."
Hans Christian has found himself on the Kirtan chant scene playing for singers like Snantam Kaur and the Guru Ganeshesha Band who is inspired as much by the Grateful Dead as Sikh chants.
"First of all, Guru Ganesh is a Grateful Dead head, okay," laughs Christian.  "Jerry Garcia was his first guru, that's his line, and he really loved the instruments that I played, which was cello, sarangi, nyckelharpa and sitara. I played four pretty esoteric instruments in a rock band."  Well,  a rock band if that includes Sikh chants, tamboura drones, Indian modes and sarangi solos.
In recent years, Hans has returned to his cello roots recording and performing at the Chartres cathedral in France.
"There's nothing like sitting down and playing the cello, even un-amplified, like in a cathedral, in the crypt of the cathedral," he says with a touch of awe "I can't bring any equipment in and I don't want to. It's just you and god, my friend. People come from all over the world, go through profou
nd experiences, no doubt.  You know, they, they walk the labyrinth. And I sit there with my cello and what do you do with that moment? You cannot hide behind samplers, and loopers and keyboards and other musicians and sound systems. No gimmicks. It's a great challenge."
For all the spiritual settings in which Hans Christian finds himself, he says he doesn't follow any particular religion.
"Not like Guru Ganesh was a Sikh tradition, or other people might have in the Vedic tradition, but you know, I do have a spiritual path" he insists. "I do. I have a very strong conscience and I think that has something to do with spirituality. What I realize is I'm like a musical preacher of sorts. There is something about playing my own music that is intensely spiritual for me. It's almost like a prayer."
I'll go to Hans Christian's church anytime. His latest albums include an Echoes CD of the month "Nanda Devi" on New Earth Records and "Moments Of Grace", on Sounds True Records.