We Remember Forgotten Future in Echoes Podcast
Podcast: Play in new window | Download
Subscribe: RSS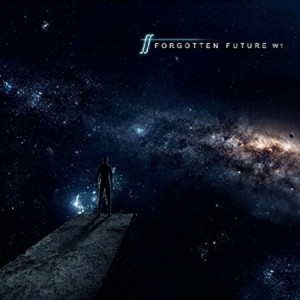 Electronic Music has often lent itself to contemplation of our place in the universe. That's one of the reasons, besides drugs, that German electronic sounds in the 70s were called cosmic music. Julius Dobos is a Hungarian composer living in America and he's steeped in those sounds. He's developing a concept called Forgotten Future that's meant to be a vehicle for his philosophical concepts. I remember the future or perhaps a parallel reality with Julius Dobos and Forgotten Future.
Julius Dobos doesn't write on a small scale. Last year he released Forgotten Future: w1. It's the first of a four volume series on which he attempts to explain life, the universe and everything. And unlike Douglas Adams' Hitchhiker's Guide to the Galaxy, his tongue is not in his cheek.
"The concept came about me searching for answers to some big questions that at one point in our life we all search for," he explained. "These questions actually in English, they start with a W and that's the reason for the series from w1 through w4 and so the questions being what, when, where and why. And just by looking at these questions you can imagine what the topics are. I could not find the answers to these in religion. I could not find the answer to these in science, so I kind of created my own concept around these."
For Dobos, the answers aren't necessarily in the music itself. "Forgotten Future is a musical environment that puts the listener into an emotional and kind of musical state in which they can find their own answers to these questions," he offers.
Julius Dobos has the kind of musical chops that can bring a concept like this to life. Born in 1976 in Hungary, he's a child of 70s space and electronic music even though he was an infant when much of that sound was happening.
"Yes, I wish I had been born a little bit earlier," he reveals. "I could have witnesses that electronic music revolution myself."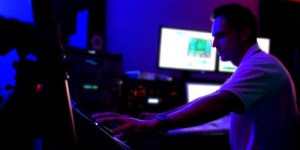 But his father was born earlier. "My dad actually introduced me to electronic music the likes of Jean-Michel Jarre, Vangelis, Mike Oldfield, Brian Eno," he recalls fondly, "Somehow it just really appealed to me that I couldn't see the musicians, but I could imagine the movie happening. So I actually remember going to sleep with headphones and cassette player, and listening to electronic music and imagining stories"
Even now, sitting in his Silicon Valley studio, Julius Dobos is surrounded by these influences.  "I have an original vinyl of Brian Eno's Ambient here. I have let's see, I have a Jean Michel Jarre Oxygene, first edition. I have a Switched-On Bach also first edition. I have a Mike Oldfield Incantations."
Classically trained, Dobos says he began writing his own music at nine. At 22 he released his first album, Connecting Images. Scored for orchestra and choir it was followed up by his 1999 album, Mountain Flying. The sweeping orchestrations and the kinetic movement of these compositions revealed the cinematic aspirations of Julius Dobos. And he began to fulfill those aspirations when he moved to Hollywood in 2000. He got music cues into all kinds of TV shows and movies, like the NCSI franchise, Paul Blart: Mall Cop and You Don't Mess with the Zohan. He also scored several seasons of Dragon Ball Z. Dobos never quite cut through to the upper echelon of composers and he grew frustrated.
"And seeing my name on the TV screen or in the movie theater, I didn't really satisfy my composer self," he laments. So he went into teaching music and electronic production and developed his Forgotten Future concept.
You might feel like you need a doctorate in philosophy and physics to understand Dobos' Forgotten Future. Many of the concepts find him questioning culture, religion and science, including Darwinism.
"I believe that evolution is a small part of the big truth, if you will," he proposes. I do think that there were some external events that kind of made evolution explode. And there are parts of evolution that when I talk to scientists, they do tell me that they don't have an answer for certain questions and they don't actually have a clue about certain things."
For Dobos, all of these concepts are revealed without any words, in completely instrumental electronic music. This is how he describes "Parallel Realities," a composition related to the concept of multiverses.
"I take the listener through a journey,' he explains. "That journey starts with well, actually, the listener's death. The question 'what' is what we're looking for. The listener goes through these different environments and different kind of stages, what happens. And when gets the point where there's no clear direction which way to go, just looks around , and you start seeing other realities. And with every one of these realities, completely different layers, very different musical layers come in, very different sonic and textural layers appear. And these all represent the huge diversity of life and other types of existence that that the listener suddenly starts seeing and understanding that our concept of life is extremely, extremely limited."
Forgotten Future is a detailed work. On his website, Dobos has the tracks broken down into components that viewers can remix. He also says he's dropped in many codes and hidden meanings.
"There are a lotof hidden details in it," he reveals, "both in the digital booklet, in the printed version and in the music itself…there are many, many little clues and hidden details that can take you to hidden pages on websites that can give you extra information about the production and also about the concept."
Julius Dobos expects listeners to immerse themselves in his environment to discover it's intricacies and meanings. I must confess, the clues and codes eluded me, but I guess I just need to keep listening.
"One of my main goals with musically with this project is that that listeners will keep listening to the music and every time they listen, they will discover a different layer," he explains,  "you know, that one of the many, many, many layers of textures and sounds, and sometimes these messages are in those layers."
The details may be revealed in the layers of Forgotten Future w1.
~John Diliberto