Enya Echoes Herself on New CD.
After a 7 year hiatus, Enya is about to grace us with her first album since 2008's And Winter Came.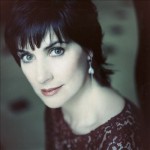 It's called Dark Sky Island and is slated for November 20 Release.  The album is conceptually based around the Isle of Sark in the English Channel. Lyrics come from a series of poems by Enya's longtime lyricist,  Roma Ryan. Judging from the early single, it's has all the hallmarks of most of Enya's work with pizzicato violins, spritely rhythms and Enya's layered vocals. It's called "Echoes in the Rain."  Did she name it after us? Here's the initial video.