The New Oldies: The Church & Psychedelic Furs Seek Relevance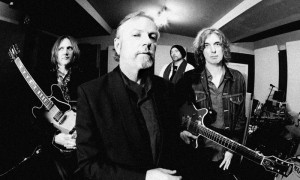 The Church and The Psychedelic Furs are both children of punk but shaped by the psychedelic sounds inherent in the Furs slightly ironic name. The Furs emerged at the tail end of punk and beginning of New Wave, reflecting elements of both in their sound. The Church gained notice at about the same time but had a sound that spanned psychedelic rock to punk, and even prefigured shoegaze.
The Psychedelic Furs recorded their last album of new material in 1991, but The Church have continued recording off and on, releasing their latest album, Further Deeper in 2014.
That album finds the group remaining true to their core sound of jangling guitars, mid-tempo grooves and the stentorian vocals of singer and principal songwriter, Steve Kilbey. They retain much of their classic line-up, sans Marty Wilson-Piper, with Kilbey, guitarist Peter Koppes, drummer Tim Powles and new member, guitarist Ian Haug.
Not content to be a new wave oldies band, The Church played several tracks from their latest album at the Keswick Theater outside Philadelphia on August 15. Their set included "Delirious," the ominous "Toy Head," and the epic album closer, "Miami." Scattered in were classic songs like "Under the Milky Way" and "Reptile."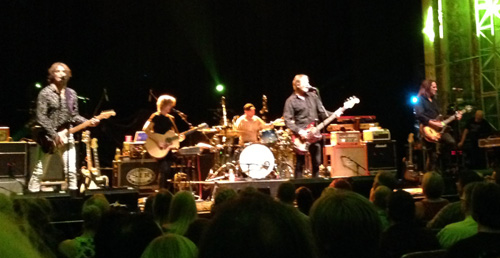 Their performance was marred by very muddy sound which turned the guitars into electric mush and vocal harmonies into nonexistence. That left Steve Kilbey carrying a lot of the load, which he did with dour conviction, diving into the drama of his songs.
Unlike The Church, Psychedelic Furs churned out the oldies because they don't have any newies. In their heyday, the Psychedelic Furs were a powerful band creating an immersive sound that framed singer Richard Butler's corrosive sand-paper dragged on pavement voice. He's lost little of his power but he's developed a performance style that undercuts his songs.
It reminded me of Eric Burdon in one of those PBS oldies concert shows, singing songs from The Animals' classic era and just goofing all over them, tossing them off like they never mattered to him at all. Butler had the same approach as he came out smiling like he'd just dropped a dozen Prozac, washed down with a few martinis. Wearing a tailored vest and matching pants and rectangular horn-rimmed glasses, he looked like Charles Nelson Riley as a nerdy law clerk, albeit much more handsome. Still with a full head of hair and as svelte as ever, he pranced across the stage, mugging for the audience, pantomiming the songs and adapting many of Mick Jagger's more fey moves and just having a great time. I wish I could say this served the songs. I looked back at some early 80s-era live performances by the band to see if my memories of them were accurate. While many of Butler's moves were there, they were understated, and Butler was more interested in delivering the song than giving a performance.
The current Furs lineup includes Butler's brother Tim Butler on bass, later member Rich Good on guitar, mid-period members saxophonist Mars Williams and drummer Paul Garisto, with Amanda Kramer on keyboards. Like so many greatest-hits bands, they played all of their smashes: "Love My Way" "Pretty in Pink" "Heartbeat" etc. To my mind, those were always the weaker songs compared against such epics as "India," "Forever Now" and "Sister Europe," the latter which they played. The musicianship was competent, but other than some off-the-charts guitar solos from Good and howling saxophone from Williams, they were played by rote.
The Furs were also hampered by an ambiguous sound mix.
It's sad to see the New Wave as the new oldies. The Church are winning the fight against that, and the audience seemed as enthusiastic about their new songs as their old. But the Psychedelic Furs are content to be the "Garden Party" oldies act of their day. This did not bother the audience at all, as they danced up the aisles to the front of the stage.  It was clear the band is giving people what they want, I just wish they would just do it with more conviction and less of a wink.
.~John Diliberto