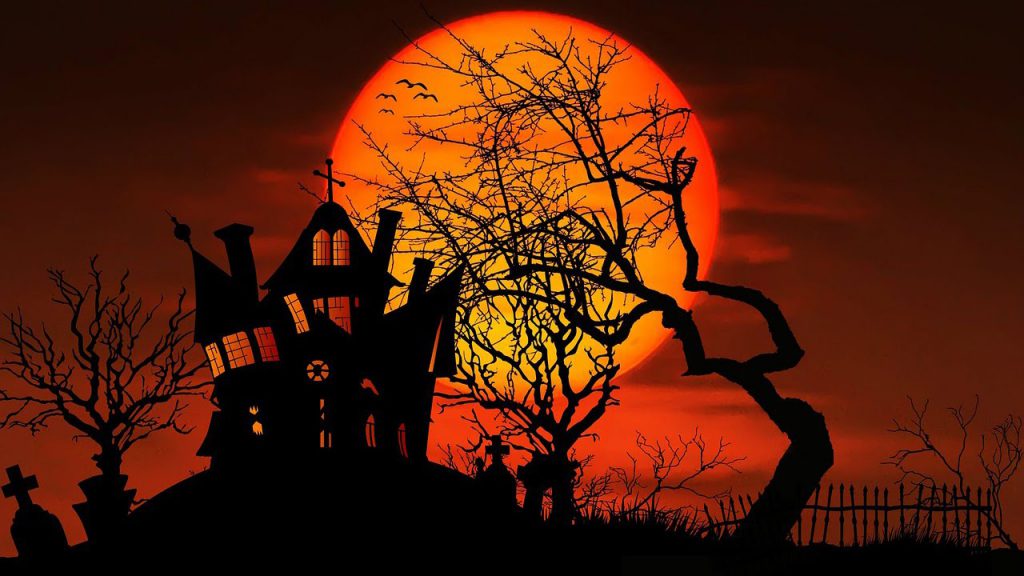 The annual Echoes Halloween show is one of the easiest thematic programs to put together every year. There is just so much great music based around themes of horror, mysticism and alien adventures. The only problem is fitting new tracks in when there are so many great perennial tracks we like to play.  A few got in this year and I've added them to some Echoes classic Halloween themes.  Tonight you can hear an Echoes Halloween with these songs and more.  For an immersive Echoes Halloween Experience, there is a 6 hour stream of Halloween sounds at Echoes On-Line. So when you get tired of "The Monster Mash" and "Thriller," here's 10 songs for your Halloween soundtrack
1 White Noise "The Visitations"
This is from a 1969 album called An Electric Storm. White Noise was a collaboration of David Vorhaus, Delia Derbyshire and Brian Hodgson, all from the BBC Radiophonic Workshop.  Like a sonic Doctor Frankenstein, they cobbled together psychedelic musique concrete electronic nightmare of whispered voices, wind-swept electronics and screams. The entire album is a horror soundscape, but this track is signature work.

2 Alu "Circus Cosmos"
A track that is haunting, funny and surprisingly touching. It's the story of love in a funeral bedroom nightmare with "Vampires in the closet" and the realization that "I've been living in a mortuary my whole life long." It's Alice in Maliceland, but sung in Alu's alluring voice with a circus melody, it's also entrancing.  There's more songs like it on her wonderful album,    Lobotomy Sessions.
3 Witchcraft  "We Rest"
This is a very obscure British band who released the album, As I Hide in 1996. "We Rest" is about a fall from grace sung in a robot processed voice (the vocal effect used before auto-tuning) over a slow pulsing electronic groove. What does she mean when she sings "I've fallen far, but I'm nearer to you?" Back in the 90s, a listener complained that this was a satanic song, but it's actually a song of redemption. Still spooky though.

4 Mark Shreeve "The Stand"
Mark Shreeve is a devotee of horror films and literature and this song takes its name from the Stephen King novel. It's from the album Legion, which is a bit of an anomaly in the Shreeve sequencers-on-stun canon. This album actually features tunes and sampled instruments. There are several other tracks from Legion could be on this list, but I picked the slow-doom majesty of "The Stand" with its crying baby and maniacal laugh at the end.
5 Mark Snow "The X-Files Main Theme"
What can you say about the theme to one of the greatest TV shows ever, The X-Files. I miss Mulder and Scully, but this theme from Mark Snow off of The Truth and the Light: Music from the X-Files, always takes me back with its whooping theremin-meets whistle melody and delayed drum hits.

6 LoungeClash "Ghost Ship"
The album is called Dread Time Story which says it all in this trip-hop Halloween dream, or nightmare as the case may be. An offshoot project from Loop Guru, they create a space age bachelor pad of horror, like Martin Denny in a fever dream. Dig the titles: "Brother Voodoo vs The Wolfman" "Ghost Ship" and "Tiki Dreams". I was super-surprised to stumble on this live video of the piece.

7 Ultimate Spinach "The Ballad of the Hip Death Goddess"
Taking you back to 1968, this psychedelic dirge featured a trippy ice witch vocal from Barbara Hudson and a theremin over a long acid-fueled jam. What else do you need?
"Kiss my lips because they are very nice.
Kiss my lips and you'll turn to ice.
Look at me and I'll turn you on.
Don't try to think because your mind is gone."
From their debut album, Ultimate Spinach. When I originally posted this I had a cool video with images form "Les Vampyros Lesbos" but that has been deleted.

8 Richard Bone "Bridge of Temporal Stone"
Hanton Village is a real abandoned village in Rhode Island whose inhabitants mysteriously disappeared. It's right around the corner from Richard Bone's home and the synthesist used this as the basis for his beautifully haunting album, The Ghosts of Hanton Village, an electronic excursion into mystery.
9 Loreena McKennitt "All Soul's Night"
A lot of Loreena McKennitt's music is concerned with pagan rituals and mysticism, like "Mummer's Dance.  "All Souls Night" takes an Indian approach to Celtic music from her album, The Visit, on a song that celebrates the dead. Her lyrics set a scene of a pagan celebration mysterious and scary.

10 Philip Selway "Ghosts"
This is the music of dreams haunted by memories and voices from the past. Over a plaintive acoustic guitar, roiling percussion and ethereal synths Selway intones his tales of being guided back from the other side with "ghosts crowding my windows and doors."  It's from his new album, Weatherhouse.

Bonus cut: If you want to scare the shit out of Halloween trick-or-treaters, throw on Diamanda Galas' "The Litanies of Satan" or "Wild Women with Steak Knives."