Ambient Music from Greece and Dreampop from North Jersey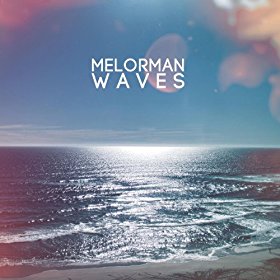 Melorman,  Mree and Marconi Union hold the one , two and three positions for most played albums in August on Echoes.  Melorman's Waves was the Echoes August CD of the Month.  Mree's Winterwell is the impressive sophomore album from the 19-year old Taiwanese-Bulgarian-American singer from northern New Jersey.   Her ethereal songs have stacked vocals that recall Enya and plaintive melodies that never fail to enchant.  Mree leads a pack of vocal albums on the list, 12, which is the most ever in the Echoes Top 25.
But ambient music abounds including the third M in our list, Marconi Union & Jah Wobble with their CD Anomic, which gets better with every listen.  Then there's the beautiful ambient chamber music Jeff Greinke.  He's a longtime favorite on Echoes and his new album Scenes from a Train is a beautiful work of acoustic chamber music that further reveals the composer in this experimental artist.  And dig his label name: Infectious Music.  Anyway you take it, it's true.  Here's the Top 25 for August
ECHOES TOP 25 for August 2013
Melorman – Waves (Sun Sea Sky Productions)
Mree – Winterwell (Mree Music)
Jah Wobble & Marconi Union – Anomic (30 Hertz)
Northcape – Exploration and Ascent (Sun Sea Sky Productions)
Ludovico Einaudi – In a Time Lapse (Ponderosa Music)
Una – The Laughing Man (Una)
Allison Moyet – The Minutes (Metropolis Records)
Tricky – False Idols (False Idols)
Hem – Departure and Farewell (Redeye Label)
Jeff Greinke – Scenes From A Train (Infectious Music)
Olivier Libaux – Uncovered Queens of the Stone Age (Music for Music Lovers)
Tom Caufield – Nature and the Constant Illusion (Bohemian Embassy)
Washed Out – Paracosm (Sub Pop)
Hooverphonic – The Night Before (Columbia Europe)
Delerium – Music Box Opera (Nettwerk Records)
Sankt Otten – Messias Maschine (Denovali Records)
Glenn Jones – My Garden State (Thrill Jockey)
William Tyler – Impossible Truth (Merge Records)
Karl Hyde – Edgeland (Deluxe Version) (UMe)
Dido – Girl Who Got Away (RCA)
George Wallace – Soul Ascending
Sigur Ros – Kveikur (XL Recordings)
Rachel Zeffira – The Deserters (Paper Bag)
Laki Mera – Turn all Memory to White Noise (Just Music)
John Parish – Screenplay (Thrill Jockey)
John Diliberto (((echoes)))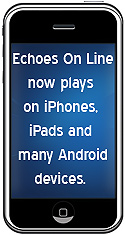 Sign up for Echoes CD of the Month Club and you'llget great CDs like Melorman's Waves. Follow the link to the Echoes CD of the Month Club and see what you've been missing.
Now you can go Mobile with Echoes On-Line. Find out how you can listen to Echoes 24/7 wherever you are on your iPhone, iPad or Droid.
Join us on Facebook where you'll get all the Echoes news so you won't be left behind when Dead Can Dance appear on the show, Tangerine Dream tours or Brian Eno drops a new iPad album. Or Follow us on Twitter@echoesradio