Rachel Zeffira's The Deserters Echoes June CD of the Month

Hear Rachel Zeffira's The Deserters tonight on Echoes.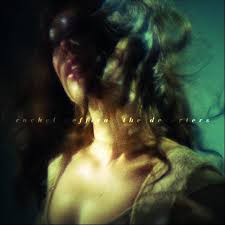 She turns her opera-trained soprano into a caressing hush;  mixes circus organ with a song about suicide; and uses oboe arrangements that sound like the The Left Banke's "Pretty Ballerina." That's only part of the allure in Rachel Zeffira's debut album, The Deserters.
Zeffira was born and raised in Canada but comes to us via England where she moved to study classical opera singing. There,  she fell-in with Faris Badwan, front man for the post-punk band The Horrors.  He turned her on to modern rock and psychedelic music.  They formed an aggressive duo called Cat's Eyes, but on her own, Zeffira takes a more contemplative approach with songs that yearn like gothic angels in tears.

Most of The Deserters hovers in that melancholy zone.  The title track's classical piano motif and chorus of oboes frame  Zeffira's lyrics of lost connections sung in a breathy voice that belies her operatic training; more lullaby than aria.  Even on a relatively buoyant song like "Here On In," Zeffira's voice hangs suspended like a ghostly projection.
Zeffira is not afraid of the darkness.  "Letters from Tokyo (Sayonara)" is a song about suicide whose heartbreaking lyrics reveal a tortured mind waffling between anguish and cruel spite.
You won't hear from me anymore
I told many lies and hid many more
And now you'll never know what they were for
She intones those words in distant, dispassionate voice, layered  over a circus organ, before dropping into a swooning chorus that shudders on the shoals of heartbreak.  For all its sorrow, "Letters from Tokyo" is the most devastating and beautiful song on an album full of them.

Zeffira ups the rhythm on "Break the Spell," starting out as another classically-themed piece with a string quartet, before launching the driving drum loops and sequencers.  But even here, melancholy reigns because:
She always knows the sad songs best
So she'll think of things she'd rather forget
Sixties references abound on The Deserters like a viewing of "Hullabaloo – a 60's Flashback" on PBS.  On "Front Door," she evokes "Johnny Angel," a 1962 hit song for Shelley Fabares from The Donna Reed Show.  While her other lyrics are draped in hidden meanings and shaded nuance, this is an unabashed love song without a trace of irony, except possibly that it exudes the pre-Beatles naiveté of the early sixties. It serves as a bas-relief for her cover of My Bloody Valentine's "To Here Knows When." In a song that was originally a cacophony of distorted guitars, she locates the one pretty element buried in the noise: a minimalist fugue that she brings to the fore in her restrained and nuanced rendition of this shoegaze haiku.

Rachel Zeffira's The Deserters is an album that Brian Wilson might have played "In My Room." It's a CD for when it's dark and you're alone, but you won't be afraid because Rachel Zeffira is there to soothe you, in your room.
John Diliberto (((echoes)))