Four recent CD of the month selections are in the Top Ten of the Echoes Top 25 for August, including our number one CD, Sebastian Plano's The Arrhythmical Part of Hearts, an album that is sure to be in our Top 25 year end list.
ECHOES TOP 25 FOR AUGUST
~© 2012 John Diliberto ((( echoes )))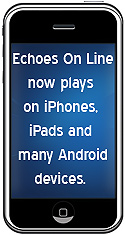 You get great CDs like theseby becoming a member of the Echoes CD of the Month Club.  Follo

w the link and see what you've been missing.
Now you can go Mobile with Echoes On-Line.  Find out how you can listen to Echoes 24/7 wherever you are on your iPhone, iPad or Droid.
Join us on Facebook where you'll get all the Echoes news so you won't be left behind Dead Can Dance appear on the show, Tangerine Dream tours, or Brian Eno releases a new CD.