Podcast: Play in new window | Download
Subscribe: RSS
The Electronic Duo Arc Make Space Music the Old FashionedWway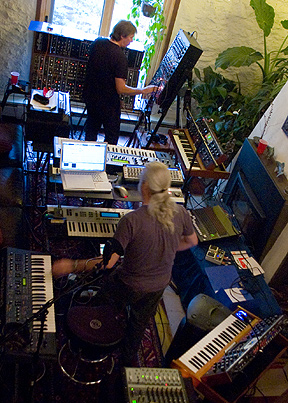 In the large two story great room of Alpenhof Bed & Breakfast in Media, Pennsylvania, you'd normally be admiring the antique  chandeliers and wood carved images or relaxing in front of the  white stucco fireplace and grand piano. But on the day I came to Alpenhof, the first thing you'd notice is a mass of keyboards and synthesizers.
In a pair of back to-back cockpits of gear are the members of Arc with English electronic artists Mark Shreeve and Ian Boddy. They specialize in a sound that has roots in German space music from the 1970s like Tangerine Dream.
Mark Shreeve: It is but we use modern elements to, like drum loops, digital synths and samplers, but along with the sequencer based materiel to, so yeah it harkens back to the old stuff but we think we put a new tint on it.
Mark Shreeve and Ian Boddy have been recording separately since the early 1980s when they released their first recordings on cassette tapes.  Shreeve can usually be heard with his band, Redshift, and Ian usually records solo or in duos, releasing much of his music on his DiN Records label.  As Arc, they represent the state of the art in retro-space music, creating trance-like sequencer journeys with bass lines that twang like cosmic rubber bands and atmospheres that reach for the sky.
In modern electronic music, solos are a rarity since no one actually plays a keyboard, but both Shreeve and Boddy can still whip out soaring monophonic lead lines like the one on a new song they debuted on Echoes called "Trans-Marine."
Mark Shreeve: Yeah it's a bit of a wild sound, it's basically out of tune.  That's why it sounds like that.  The oscillators are split out of tune so it sounds quite wild.
In these days when most live electronic music consists of a guy staring into the light of a laptop screen, it's a joy to watch Mark Shreeve bounding about his Switched-On Bach style synthesizer throwing switches moving patch chords and twisting knobs as he shapes and shifts his interlocking cycles of sound.
Ian Boddy: Its great fun to play because you can just sculpt the who thing and once Mark gets going it just flies.
In 2009, Arc played their first US concert ever in Philadelphia and they've released a digital album called Rise that's drawn from one of those performances on WXPN's Star's End show.  Another CD from their live show at The Gatherings is forthcoming.  We'll hear Arc playing live on Echoes this Monday in a performance recorded at Alpenhof Bed & Breakfast.   This has been an Echo Location, Soundings for New Music.
You can also hear an Audio Version of this blog with Arc's music.
John Diliberto ((( echoes )))