Podcast: Play in new window | Download
Subscribe: RSS
Polish musicians find freedom in American Jazz
You can hear an audio version of this blog with music.
The Marcin Wasilewski Trio is one of those young bands like The Bad Plus that isn't afraid to cover rock tunes in a modern jazz context. On their two ECM records they've created ethereal arrangements of songs by Bjork and Prince's "Diamonds and Pearls."
You would think that three Polish musicians in their early 30s would just be playing straight up Rock 'n' Roll like most of the world, but that's not the case with the Marcin Wasilewski Trio. Wasilewski is the pianist in the group and when he was just 13, he was hearing another sound.


Marcin Wasilewski: I remember I was listening to the Doors, Jimi Hendrix it was such a big power, but then when I was listening to Coltrane Live at the Village Vanguard or Sunship, it was much stronger energy than in rock.


Jazz also had a message for kids living under communist rule.  Drummer Michel Miskiewicz.
Michael Miskiewicz: This jazz music which gives big freedom. When we were young it was still communist time, so this freedom was important for everybody.
The Marcin Wasilewski Trio has been expressing that freedom, albeit in a much more subdued mode,  on a quartet of albums, including two for the ECM record label . The band has been playing together since they were teenagers. When they were just between 16 and 18 years old, they were tapped by legendary Polish trumpeter Tomasz Stanko to be in his band. Stanko was already a jazz star, playing a melodic brand of free improvisation, and had been recording for ECM since the 1970s.
ECM producer Manfred Eicher heard the group in the studio with Stanko and offered them their own recording. Their music is a study in intuitive improvisation and chamber jazz. They're in a lineage with early cerebral ECM artists like pianists Paul Bley, Bobo Stenson and especially Keith Jarrett. They all cite members of Jarrett's bands as inspirations.
Slawomir Kurkiewisz: I was influenced by [bassists] Charlie Haden and Gary Peacock.

Michael Miskiewicz: I think Jack DeJohnette is one of the greatest drummers that I really like.

Marcin Wasilewski: There was a video tape of Keith Jarrett in Tokyo Live. I was listening to this tape every day for one and a half year.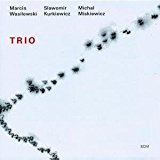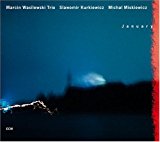 On their new album, January, you can hear that influence, and how they transform it.  You can hear a full interview with the Marcin Wasilewski Trio on Echoes,  Thursday night, November 20 and look for a live Echoes performance in December. This has been an Echo Location, soundings for new music.
John Diliberto ((( echoes )))