by John Diliberto 7/29/2023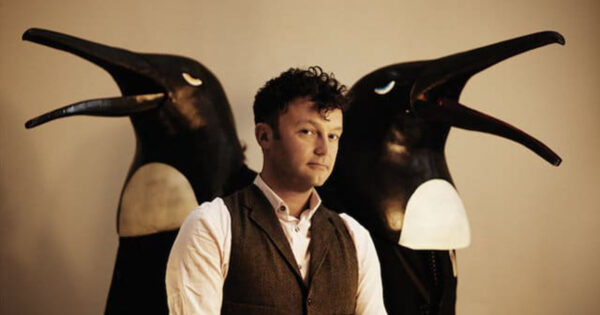 It's really hard to pick up the baton of a project that was definitive in its artistry. But Arthur Jeffes has done that with Penguin Cafe. A little history.
Penguin Cafe Orchestra was an ad hoc assemblage of British musicians headed up by Simon Jeffes from 1973 until his untimely death 24 years later. They recorded their first album for music auteur Brian Eno's Obscure Records in 1976 on a roster that included John Adams, Harold Budd and Michael Nyman. But more than any of them, the Penguin Cafe Orchestra was unclassifiable. Playing ukuleles and cuatros, with earnest string arrangements, it was so unhip that it was ultra-hip.
PCO was one of those bands you may not have known, but you've heard them. Their music has appeared on NPR shows, IBM commercials and the Napoleon Dynamite soundtrack. They turned up recently in A Handmaid's Tale. PCO were an influence on modern chamber rock, and Trey Anastasio of Phish was looking to the Penguin Cafe Orchestra when he composed his instrumental album, Seis De Mayo.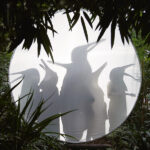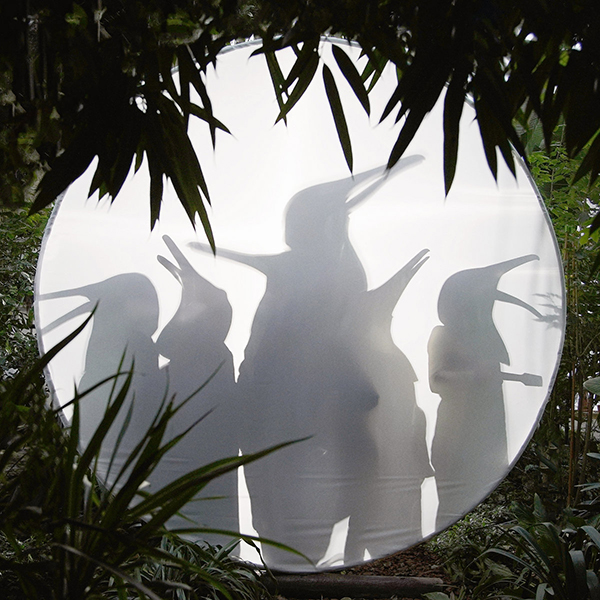 In 2009, 12 years after his father's death, Arthur Jeffes put together a new Penguin Cafe Orchestra. He dropped the "Orchestra" part of the name and enlisted all new members who have since toured extensively and released six albums. Live, they play a mix of new and old PCO material, but on their albums, it's all new music. Their latest, Rain Before Seven, is released on the prestigious avant-garde label, Erased Tapes.
Rain Before Seven is something of a pandemic album. The opening track, "Welcome to London," got its name as England came out of lockdown. The track is a marriage of tango and John Barry film score strings. The tango groove drives with relentless forward motion underneath strings that swirl like a boil of hawks, circling the groove and looking for something to feast on. I love the way the piano fades in and out, rising up whenever the track wants to drive forward. When an electric guitar comes in at the end, signaling a new push, I wish the song had gone on longer.
If there is a difference between the original Penguin Cafe Orchestra and Arthur Jeffes' Penguin Cafe, it would be the type of energy and dynamism present in this track, co-written with Penguin violinist and string arranger, Oli Langford. PCO was quaint, quirky and somewhat comforting. You might even call it soothing. Penguin Cafe has more aggression, as if the band was taken over by punks, albeit sensitive punks.
But the new Penguin Cafe can also be light-hearted, as heard on songs like "In RE: Budd." It's dedicated to ambient chamber music pioneer, Harold Budd, who died of Covid in the very early days of the pandemic. It's a south of the border vamp with an African balafon keeping the upbeat groove, against ukulele and cuatro. While I think Budd was probably an influence on Jeffes and a contemporary of his father's, it sounds like no music I've heard Budd play, but I'm sure he would've loved unconventionality of it. It's certainly more light-hearted than any of Budd's music, as is "Find Your Feet." The strings play an arpeggio over a percolating percussion groove. Among the eleven instruments that he plays on the album, Jeffes' use of percussion is very idiosyncratic and one of the distinguishing characteristics of Penguin Cafe. His use of the balafon, a West African xylophone, is new to this album, and he uses it on many other tracks including "Temporary Shelter from the Storm," but in ways that don't sound African.
Penguin Cafe can also dip into deep poignancy as they do with "Second Variety." A pensive melodic piano motif is played against a distant lap steel from Alessandro "Asso" Stefana. In counterpoint to this serene mood, the balafon clatters somewhat randomly but in sync with the piano's end phrases. A melodica, sounding more like a harmonica, adds some prairie lonesomeness.
Some compositions could have been earlier PCO pieces, like "Galahad." It's a buoyant, yet driving track of rapidly sawing violins that soar, recalling classic PCO tracks like "Rosasolis." "No One Really Leaves" is a title that could be a tribute to Simon Jeffes' spirit, or to others who were lost. It's a requiem that opens with the doom-laden portent of reverb-ghosted piano before the strings come in a build to a song of joy.
And speaking of joy, that's how the album ends, in a hoedown called "Goldfinch Yodel." Because even in their moments of unalloyed beauty onRain Before Seven, Penguin Cafe leaves you smiling. Penguin Cafe remains out of time and out of place, but perfectly in their own time and place.