Echoes Programmed by AI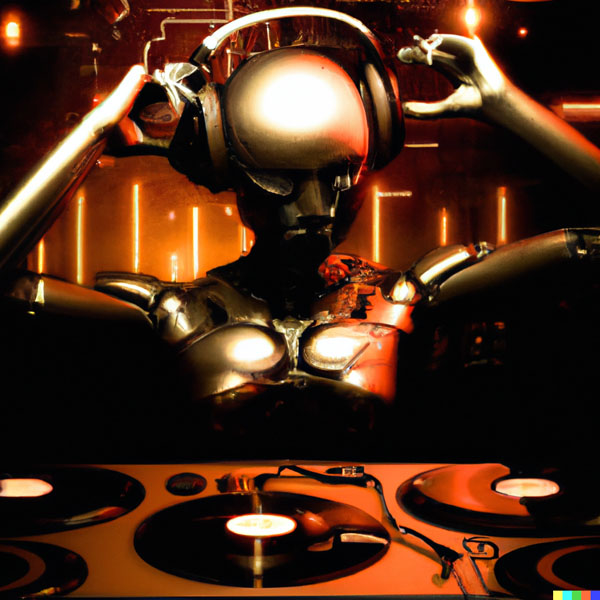 I asked ChaptGPT to create a playlist for the Echoes radio show.
Echoes Playlist from ChatGPT Take One
Hammock – "Maybe They Will Sing for Us Tomorrow"
Marconi Union – "Weightless"
Agnes Obel – "Familiar"
Ludovico Einaudi – "Nuvole Bianche"
Ólafur Arnalds – "Eulogy for Evolution"
Max Richter – "On the Nature of Daylight"
A Winged Victory for the Sullen – "Requiem for the Static King Part One"
Brian Eno – "An Ending (Ascent)"
Sigur Rós – "Svefn-g-englar"
Steve Roach – "Structures from Silence"
Jónsi & Alex – "Happiness"
Lisa Gerrard & Patrick Cassidy – "Elegy"
Michael Stearns – "Planetary Unfolding"
Harold Budd – "The Pearl"
Ólafur Arnalds & Nils Frahm – "a2"
Arvo Pärt – "Spiegel im Spiegel"
Carbon Based Lifeforms – "Photosynthesis"
Stars of the Lid – "Don't Bother They're Here"
Goldmund – "Threnody"
Thomas Newman – "Any Other Name"
Zoe Keating – "Escape Artist"
Jon Hopkins – "Immunity"
Eluvium – "Prelude for Time Feelers"
Amethystium – "Shadow to Light"
David Darling – "Darkwood IV"
ChaptGPT concluded with this description: These tracks encompass a wide range of ambient, modern classical, and atmospheric music that you'd often hear on the radio program Echoes. Enjoy the journey!
Not a bad playlist. Almost every track on their we play and every artist we do play. But it is strangely lacking almost any real acoustic music. Except for Agnes Obel there are no singers. The tone is also  definitely down and dark. But the other thing is, with a couple of exceptions, the artists selected could have been on a playlist from 20 years ago. There is nothing new and Echoes is always about 80% new music released in the last few months.
So I asked it to create a playlist as Echoes sounds in 2023. And this was the result.
Echoes Playlist from ChatGPT Take Two
Kiasmos – "Swayed"
Rival Consoles – "Persona"
All India Radio – "Sunburst"
Bluetech – "Phoenix Rising"
Hugar – "Saga"
Mary Lattimore – "Never Saw Him Again"
Hammock – "Scattering Light"
Slow Meadow – "Screensaver Prelude"
Jon Durant – "Departure"
Phaeleh – "A World Without"
The American Dollar – "Everything Will Disappear"
Chad Lawson – "She Dreams of Time"
North Atlantic Drift – "Departure"
Chris Coco – "Albatross"
SineRider – "Sleep Sound"
Steve Hauschildt – "Phantox"
Tycho – "Glider"
Rhian Sheehan – "Soma Dreams"
KMRU – "Well"
Michael Price – "To Notice Such Things"
Rhucle – "Birch"
Jonsi – "Exhale"
Rafael Anton Irisarri – "Displacement"
Lowercase Noises – "Migratory Patterns"
Juta Takahashi – "Moonlit Flowers"
This playlist is more contemporary, but again lacking almost any real acoustic music, there are no singers, no dream pop, and the tone is again, down and dark. I also did not know six of the artists on the list. They were all pretty good, especially Phaeleh, and we would play at least three of them. That's interesting that it ran out of "Echoes" artists so quickly while simultaneously ignoring more than 50% of the other styles of music we play. Neither list has any solo guitarists like Will Ackerman or Tom Caufield, there are no vocalists like London Grammar, Heather Woods Broderick, Kate Bush or Hybrid. There's not even any New Age music ala Michael Whalen, Jeff Johnson, Steve Roach or Robert Rich.  And when you get down to it, no downtempo music either like Thievery Corporation, Tycho or Rufus do Sol.
I guess that presents a couple of questions.
1- Is this what Echoes really looks like out there?
2-Is the AI simply lazy?
I guess I won't be replaced anytime soon. By the way, I created all the images on OpenAI's Dall-E
That's why you need to support Echoes now, because if the machines take over . . . . .
You can Donate right here.