PAKT Packs a Punch of Free Improvisation Groove Fury
By John Diliberto 02/20/2023
I knew the show was going to be good when I walked into Solar Myth (formerly Boot & Saddle) in Philadelphia and they were playing Miles Davis's Agharta at the bar. And Miles certainly permeated this live performance by PAKT, but more than Miles was the spirit of Larks' Tongues in Aspic-era King Crimson.
PAKT is something of a power quartet fronted by two notable guitarists. Their name comes from the first initials of their first names, Percy-Alex-Kenny-Tim. Alex Skolnick came to renown with the heavy metal band Testament and spent most of this century's first decade shredding on classics and Christmas carols with the Trans-Siberian Orchestra. Tim Motzer has led a more avant-garde career, collaborating with David Sylvian, Burnt Friedman, Jaki Liebezeit, King Britt, Vernon Reid, David Torn, Markus Reuter, and Pat Mastelotto. Motzer's career has moved from the dreamy trip-hop of his short-lived group Nucultures to pure guitar mutilation. On bass is the legendary Percy Jones, who came to renown with Brand X and went on to work with Soft Machine, Kate Bush, David Sylvian, Brian Eno and many others. Kenny Grohowski comes from metal bands like Imperial Triumphant and Kilter.
They took the stage with heavy metal hair, except for the ever-dapper, perfectly coifed Percy Jones. Motzer in particular looked like Cousin It when he leaned forward, his face completely shrouded by his long, unruly locks. There's always a bit of incongruity for me when Motzer plays his acoustic guitar, because it sounds electric, wired-up and running through the whole electric guitar array of distortion pedals and sounds like the electric guitar he switched to early in the set.
Their set opened tentatively and searchingly, as sounds were plucked in musical non sequiturs and rhythms were hard to find. But slowly, almost deceptively, groove and melody emerged. Grohowski evolved from percussive colorist to rhythm monster. Jones let out chunky bass riffs and the two guitarists locked in to some ferocious soloing. And then it dissipated into more free floating sounds looking for a mooring, until another theme emerged and then another blistering solo run. Then that dissolved until a conclusion. And that's how the show ran.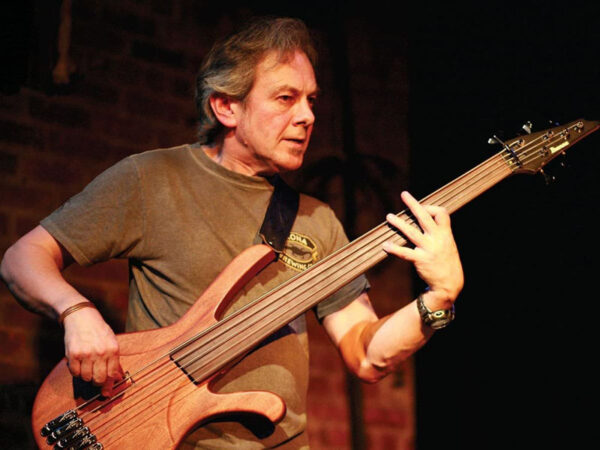 PAKT is a purely improvisational band and reminded me heavily of Fripp-Wetton-Bruford-Cross-(Muir) edition of King Crimson. In King Crimson's music, there was much that was purely improvisational with four (five in the beginning) virtuoso musicians sounding the universe until a current emerged that they could ride on. All the instrumental tracks on their album, Starless and Bible Black, came from the improvisations of live concerts.
That's how PAKT operates, except there are no lyric songs or ballads to anchor you. PAKT simply channels the spirit of the moment with the goal, usually, of finding a theme that they can circle around on. And like Crimson, once they emerge out of the vaporous ether, it sounds composed, at least in its structure, but even that is obtained through deep listening, not charts or set riffs.
Motzer and Skolnick are perfect complements to each other, to the point that sometimes it was hard to figure out who was doing what. But Skolnick often gave himself away with his timbral choices which included alien crickets, an organ-like sound that grooved like Jimmy Smith on acid, and a quacking trumpet. That last one was a little annoying, although it evolved into a fierce, more timbrally conventional solo.
You could hear the influences in this band from the aforementioned King Crimson and Miles Davis from his electric period. Although Grohowski's background is metal, he brought a storming polyrhythmic jazz sensibility to his playing, and did it with a fairly small kit. Percy Jones was ever the virtuoso, shifting tone and playing with meter, rarely, except for one ostinato section, slipping into a simple motif.
PAKT was a delirious ride in concert. The quartet keeps you guessing where it's all going to go because they don't know as well. But PAKTed house at Solar Myth was taken on a journey.