Loreena McKennitt's Seasonal Hymn: Under a Winter's Moon, Echoes December CD of the Month
by John Diliberto 11/28/2022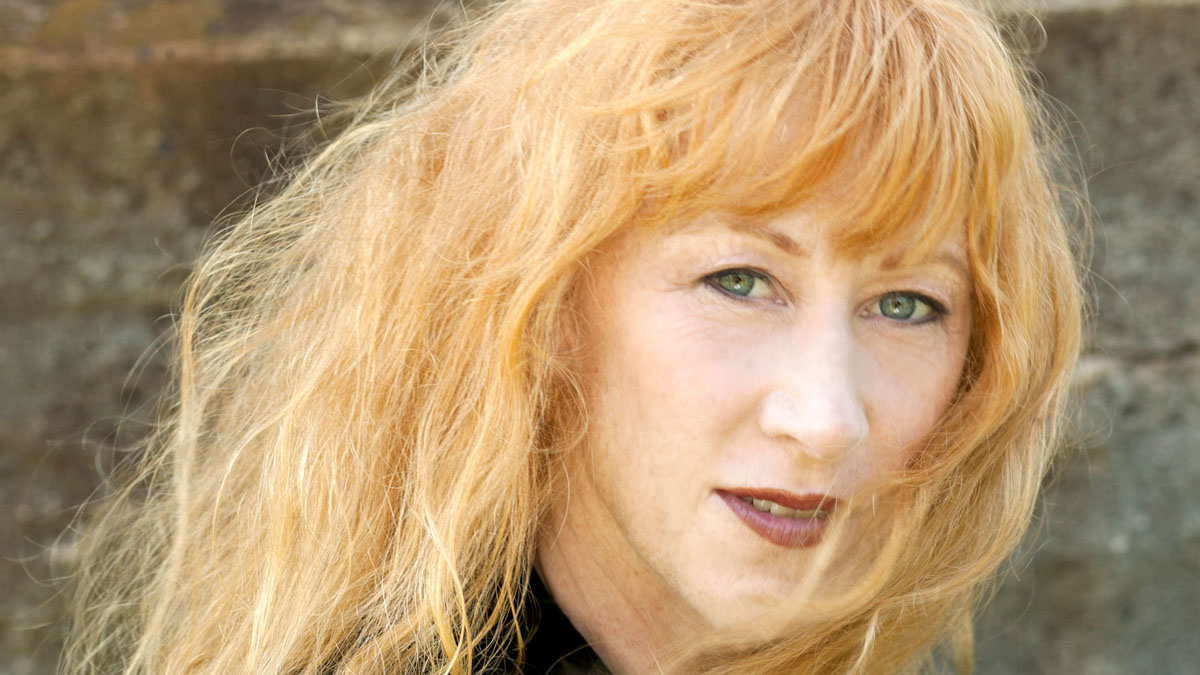 Loreena McKennitt is a musician who exults in the ancient. Celtic songs, English hymns, Indian drones, and Middle Eastern dervishes: this is the ground on which her music is laid. So it makes sense that she'd draw upon ancient seasonal songs for her holiday albums. It's something she's done on four releases, beginning with her 1987 album, To Drive the Cold Winter Away, through to 1995's A Winter Garden: Five Songs for the Season, and A Midwinter's Night Dream in 2008.  Most of the songs on her new double CD Under a Winter's Moon have appeared on those releases, but these are all new renditions, recorded live in what Loreena calls "A Concert of Carols and Tales."
Loreena McKennitt is setting a mood here, from the instrumentation, which could have been heard back in the 17th century, to the setting in a church, and the selection of songs mostly from the 17th-19th centuries, alongside some McKennitt originals. There are definitely no "White Christmas" or "Silent Night" tunes here.
The two discs are very different in mood. The first is solemn and hymnal, with McKennitt's clarion soprano voice echoing into the stained glass expanses of the Knox Church in Stratford, Ontario. A solemn, reverential tone shrouds it all. The second disc, by comparison, is joyful, no doubt influenced by Cedric Smith's exuberant reading of Dylan Thomas's A Child's Christmas in Wales.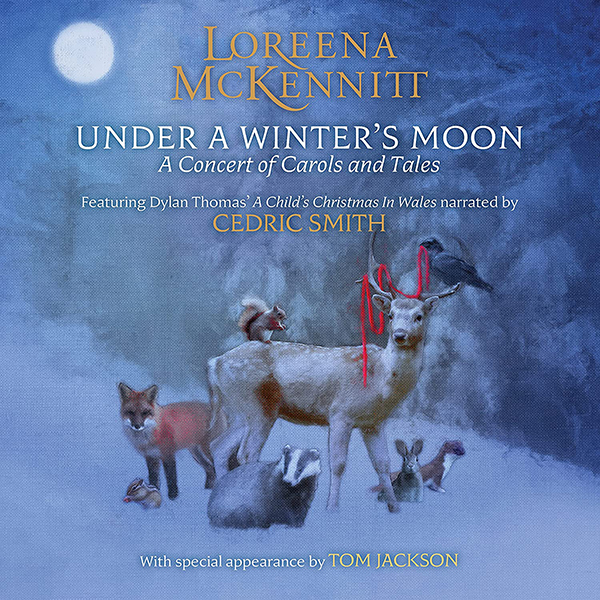 Disc one opens with a recorded reading by actor and First Nations activist Tom Jackson, reciting the native creation myth of the Sky Woman and the formation of the earth. Then it's on to the meat of the album, the songs, with Loreena McKennitt behind her harp. 
"Balulalow," a 16th century carol sung acapella by McKennitt, starts it off. She lets her voice soar out in the echoes of the church.  She's joined by Caroline Lavelle as the song reaches a crescendo, Lavelle's voice tracking McKennitt's like a glassine echo.
From here McKennitt unfurls a suite of songs, including the traditional "Let Us the Infant Greet" and "The Wexford Carol" and a pair of McKennitt originals: the instrumental "Banquet's Hall" and "Dickens' Dublin."  "Dickens' Dublin" originally appeared on her third album, Parallel Dreams in 1989. She hews to the original arrangement of the song, including a child on tape reciting the Nativity story, sounding like a radio transmission from the past. 
The mood of the album hovers on the border between somber and serene as she's selected songs that tend to contemplate mystery, mysticism and nostalgia. But all are gorgeous melodies, including the "Huron Carol," a song that dates back to the earliest colonial days of Canada. This is probably why McKennitt chose it to lead out of another reading, this time by Jeffrey George of the Chippewa of the Kettle and Stony Point First Nation. He starts with a solo on Native flute and then relates a seasonal tale, "Winter Diamonds," in a halting, but charming voice. 
"Un Flambeau Jeanette, Isabella/I Saw Three Ships Medley" is the only piece that breaks the contemplative mood, as McKennitt goes full-traditional on these songs, playing accordion with her full ensemble. 
The first disc concludes with a tolling bell, introducing "Let All That Are to Mirth Inclined," an 18th century carol telling the nativity story. Despite its title, it is a hymnal work, McKennitt's voice calling out in the dark, slowly joined by a droning keyboard and then Caroline Lavelle's cello line that harmonizes on the vocal.  It ends with the tolling bell again before the audience claps in.
The second disc opens on a lighter note with "Snow," another original McKennitt song that she's recorded a few times now,  going back to To Drive the Cold Winter Away. With music by Loreena and lyrics from 19th century poet, Archibald Lampman, this is one of the most arranged songs on the album, with McKennitt's harp and voice joined by fiddle from Errol Fischer, glockenspiel from Graham Hargrove and recorder and cello from Caroline Lavelle.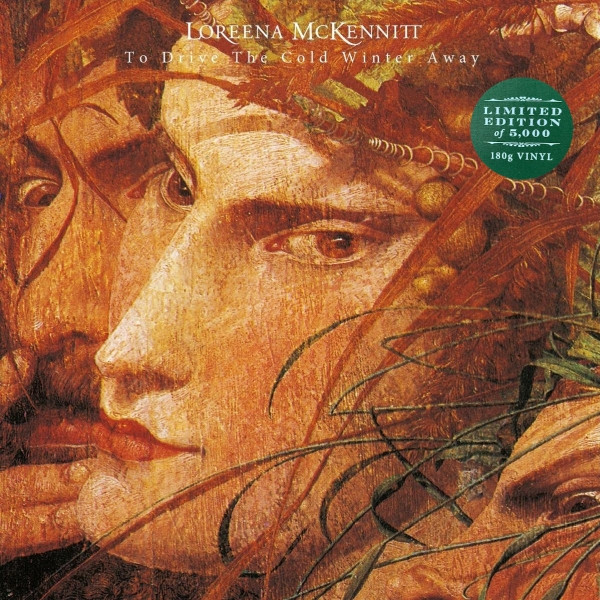 While the first disc was mostly music, this second disc intersperses a reading of Dylan Thomas's A Child's Christmas in Wales in six parts. It's narrated by actor Cedric Smith, who specializes in voice work. Among his many credits, he was the voice of Professor X in X-Men – The Animated Series for TV. He brings his full force to Thomas's prose, acting out all the characters in a work that is bathed in nostalgia for an earlier, simpler time. 
McKennitt skillfully weaves her songs into his readings including "God Rest Ye Merry Gentleman." It's the only song that taps her fondness for middle eastern grooves, helped by percussionist Graham Hargrove. It's one of her best and most original treatments of a song that has been roasted over too many chestnut fires. 
In many ways, Under a Winter's Moon returns Loreena McKennitt returns to the sound of her earlier albums, mostly dropping the Middle Eastern and Indian influences that suffued her recordings, from The Visit up though An Ancient Muse. It's even more spare than her live Troubadours on the Rhine album, which featured just a trio, with Caroline Lavelle and Brian Hughes. But that austerity allows you to hear McKennitt digging deep into these songs and creating her definitive seasonal album.