Julee Cruise Floats Into the Night at 65
by John Diliberto 6/14/2022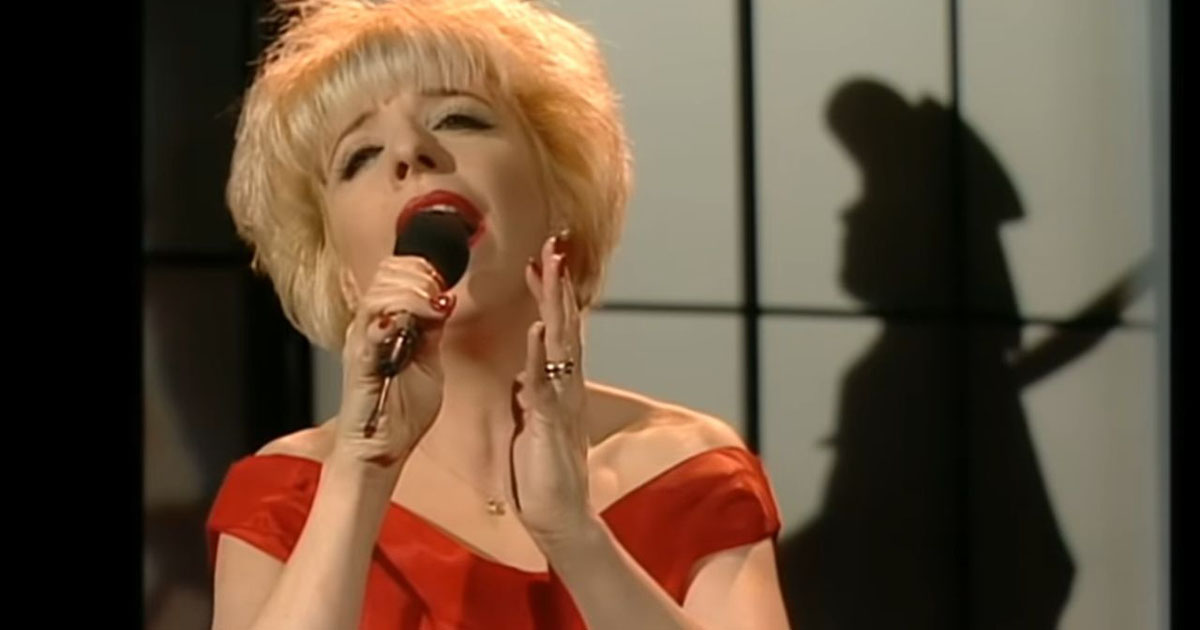 We Remember Julee Cruise tonight on Echoes 6/14/2022
Julee Cruise floated into our lives on wreathes of cigarette smoke and downbeat moods. In another era, she would've been Julie London, singing torch songs, but Julee Cruise came on in the early 1980s not the 1950s. And while she could apparently belt it out, as she must have in Beehive, a revue show where she played Janis Joplin, Cruise settled into a helium filled vocal sound that was a fragile as a pussy willow in the wind. It was an airy voice that seemed to float out of the atmosphere, distant, like she was winessing the emotional turmoil around her from an observer's remove. Her most famous music like "Floating" and "Falling" were like templates for dream pop.
We first heard Julee when she sang a song on the David Lynch film, Blue Velvet. That led to composer Angelo Badalamenti and Lynch writing songs and producing her 1989 debut album, Floating into the Night. Songs from that album appear across both editions of the Twin Peaks television series and the Twin Peaks movie, Fire Walk with Me. She also appeared in the series as a singer at a roadhouse bar. Her look, wearing a red party dress with a blonde beehive that framed her doll-like face was straight out of the 50s, along with the tremolo guitar and saxophones. But the nostalgia was purely ironic.
She was a featured performer and singer in David Lynch's stage work, Industrial Symphony No.1: The Dream of the Broken Hearted which in addition to Cruise, starred Nicholas Cage, Laura Dern and  Michael J. Anderson (the creepy miniscule dancer who talked backwards on Twin Peaks). It was only performed four times, twice at the Brooklyn Academy of Music where I was fortunate to see it's surreal presentation. Most of Cruise's songs were drawn from Floating into the Night album and a track "Up in Flames" appears on her second solo album, The Voice of Love.  The soundtrack itself was never released and a video was only available on VHS and Laserdisc.
She only released two more albums after that. The Art of Being a Girl in 2010 was her first work without Lynch and Badalamenti and found her in a more jagged jazz rapping and electronic vein with a lot of witty ironic songs. She went even more electronic on 2011's My Secret Life. She teamed up with DJ Dmitry from the group, Deee-Lite ("Groove Is In the Heart").
Her music was always bathed in atmosphere and electronics and she appeared as a guest singer on albums by Hybrid, Delerium and Pharrell Williams. Although her last new music was released in 2011, her songs were always turning up on soundtracks including, Scream, An American Nightmare, The Company, House and CSI Miami.  In 1991 she teamed up with Lynch and Badalamenti for a cover of the Elvis Presley song "Summer Kisses, Winter Tears" for the soundtrack of Wim Wenders's Until the End of the World. In the early 90s, her look and sound made her the perfect replacement when Cindy Wilson took a break from touring with The B-52s.
Sadly,  Julee Cruise's albums are out of print, but you can find them all on streaming platforms.
After a long period of suffering from Lupus and its partner, depression, Julee Cruise committed suicide on June 9th. She was 65 years old. Now, instead of Falling, Julee Cruise is Floating.