Echoes of the Season: Holiday Programming for 2021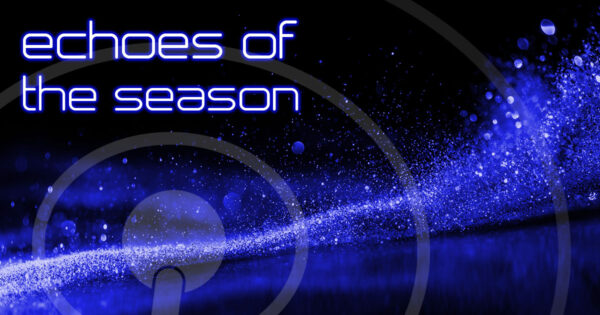 Dial up Echoes for
10 hours of seasonal programming
the December. Echoes brings you some of their classic seasonal concerts, including performances by
Moya Brennan
of
Clannad
, Norwegian guitarist
Erik Wøllo
and the English dream-pop duo, S
moke Fairies
. These concert performances are contained within all-new seasonal music programs.
Your Christmas gift is waiting to be unwrapped, but you don't have to shake it. We'll tell you what's inside!
The following list indicates the dates when your public radio station is most likely to air each program during the week of December 20-24, and when they'll become
available to online subscribers.
  Subscribers also have access to online-only programs, including extended  soundscapes of seasonal sounds.
Please note that your local station may choose to air these shows on different dates during the holiday season, or potentially at different times than you regularly hear Echoes broadcast, If you listen to Echoes on a weekend, your station may choose to air any of these programs on December 17-19, and 24-26.
Click on a show's title to see a playlist, with links to sources where you can purchase CDs or downloads of the music played on the show.
Monday, December 20th

Smoke Fairies

call up the nostalgic side of Christmas, but one after too many eggnogs. On an all-original "seasonal" album called

Wild Winter

,

Katherine Blamire

and

Jessica Davies

sing about the beauty and conflicts of Christmas, with intricate guitar melodies and beautiful vocal harmonies.

Tuesday, December 21st

An Echoes Winter Solstice is a different kind of seasonal show. Inspired by the first Windham Hill Winter Solstice

albums and

Paul Winter

's

Winter Solstice Celebration

, we play music inspired by the season in all its quiet majesty and interior warmth. With mostly original music, we'll hear sounds that evoke the longest night of the year, from artists like

Agnes Obel

,

Kate Bush,

 Olafur Arnalds, and many more. We weave these sounds into seamless sets of music perfect for contemplating this celestial and seasonal event. It's the calm before the Christmas storm. 

Wednesday, December 22nd

Clannad

singer

Moya Brennan brings Celtic carols to the Echoes Living Room. Moya has been the siren of Celtic music for more than four decades. She is the singer with the Irish band Clannad, and has a large number of solo albums. She comes in with harpist/singer Cormach DeBarra, and guitarist/singer Aisling Jarvis, to play music from her album,

An Irish Christmas,

live.

Thursday, December 23rd

Erik Wøllo

is a Norwegian ambient guitarist who has released dozens of albums of ambient guitar and electronic soundscapes over the last 30 years. His latest is 

Winter Tides

. Wøllo has an uncanny gift for marrying gorgeous melodies to evocative atmospheres. He composed a special suite of music that evokes his childhood home in the Norwegian mountains and those winters that only Norway has. It is a magical performance.

Friday, December 24th

In

an Echoes Christmas

, we create a soundscape for that long winter's nap; or for wrapping presents and putting together those last-minute toys. It's a soundscape of carols that depart from the shopping mall repetition, to send you into that long winter's night. 

We'll bring you music from

Sarah McLachlan, Will Ackerman, Loreena McKennitt

and the new

Winter Tales

album with music from Brian and Roger Eno,

 and more. It's a Christmas of the imagination with an Echoes Christmas.

Friday, December 31st

Echoes Downtempo New Year's Eve

Stomp on 2021 and blow it out of your mind when we dance-in 2022 with a Downtempo New Year's Eve Soundscape. All systems are plugged in, and the chill is turned up to 11 as we swing in on electronic sounds old, new, and beyond time and space. We'll be spinning electronic, downtempo, techno-tribal and other electro-propulsive music, to make 2021 the same bad memory as 2020. It's the 21st century already.
All programs (except December 31st, Echoes Downtempo New Years Eve) will be available to stations after Friday, December 17
th
and will also be fed as the regular Echoes programs the week of December 20. You local station may air these shows on different dates than indicated above.  
The New Years show will be broadcast as the regular Echoes program on New Years Eve, 12/31.
If you're a public radio station, you can go to our seasonal programming page on PRX.org for more information, or to order these programs for your station today.