Ulrich Schnauss & Jonas Munk-Eight Fragments of an Illusion: Echoes June 2021 CD of the Month
by John Diliberto 5/30/2021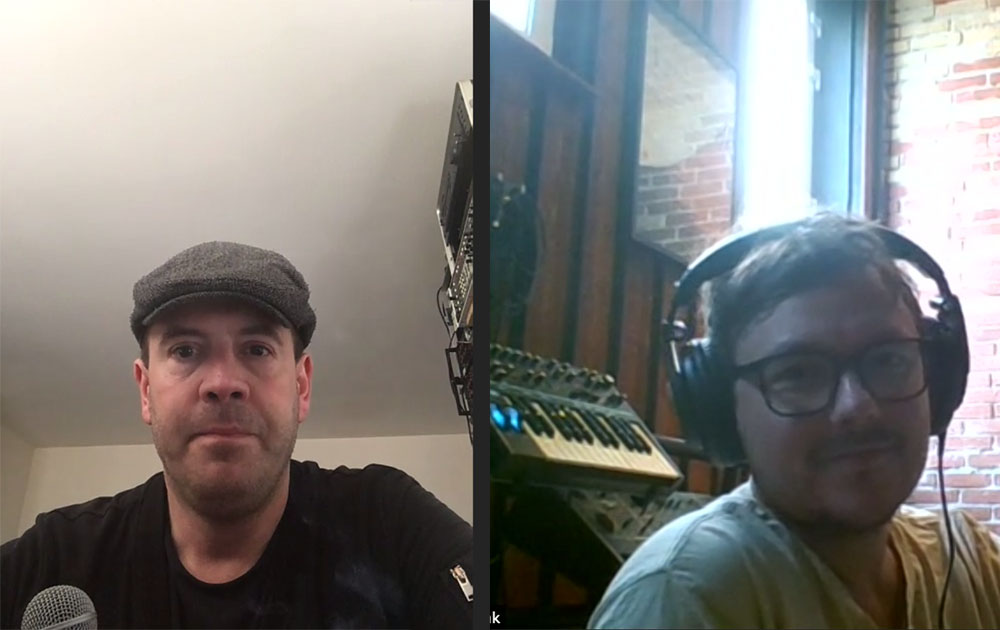 Ulrich Schnauss and Jonas Munk are musicians with long solo careers, and I mean purely solo. But they also collaborate, and in this instance, the two artists don't necessarily become the sum or greater than the sum of their parts, they become one mind, as they slip seamlessly into each other's worlds.
Both musicians should be familiar to Echoes listeners. Ulrich Schnauss released brilliant albums like Faraway Trains Passing By, A Strangely Isolated Place and A Long Way to Fall. Two of those were previous CD of the Month picks. He has also been a member of Tangerine Dream for the last five years and had a CD of the Month pick with the album he made with fellow Dreamer, Thorsten Quaeschning, Synthwaves.
Denmark's Jonas Munk is best known for his recordings under the guise of Manual, including his epic, melodically-refracted release, Azure Vista. He also records deep, drone zone ambiences as Billow Observatory and psychedelic rock with Causa Sui.
Shoegaze rock, a la Cocteau Twins and Slowdive, is part of their roots, as are the German electronic sounds of Tangerine Dream. They bring them all together on the melodically hypnotic spaces of Eight Fragments of an Illusion. It harkens back a bit to their earlier work more than recent outings. For instance, just as you don't hear much of Schnauss's distinctive sound in Tangerine Dream, there is little of the Dream that affects Schnauss & Munk, except in the subtlest way, such as occasional timbres on tracks like "Perpetual Motion," which also uses some of the rapid triplets that have been a Dream earmark.
For me this recalls the uplifting spirit of albums like A Strangely Isolated Place and Azure Vista, only it's a little darker and more introspective. That could be pandemic isolation calling. If the track "Along Deserted Streets" isn't a song inspired by lockdowns, then it should be. You can just imagine scanning city streets, as the song's ghost echoes leak around corners, and drones articulate long, unbroken shadows. Munk drops some gorgeous and spare slide guitar into this track.
"Solitary Falling" has a similar feel. It's a haunting track with a few slow, ringing arpeggios from Munk and then a bass sequencer roll with an inevitability that won't be stopped. Chromium electro-harpsichord melodies – another Tangerine Dream reference – accent Munk's spacious guitar theme as they move through space to some lost horizon.
"Return to Burlington" refers to Burlington, Vermont, where the two musicians had some good performance experiences. It opens with an 8-bit Pong melody before Munk starts dropping delayed guitar arpeggios that are echoed by Schnauss. Pong turns into a pulse, and off we go, as Schnauss sweeps it into a forward motion, uplifting mod,  with churning sequencers accentuated by Munk's reverb drenched guitar.
"Narkomfin" is named for a block of apartments in Moscow, known for its avant-garde design back in 1928, with long, linear lines and collective apartments. I don't know that I hear the influence of architecture on this song, but I do hear a bit of surf guitar influence on Munk's playing, although he got it secondhand through Italian spaghetti-western music.
Ulrich Schnauss has always made an electronic music that was full of dark textures and insistent grooves, but it always did one thing: it lifted you up and sent you into an ecstatic state. Munk, as Manual, does the same thing. Together, Eight Fragments of an Illusion does something that most electronic recordings don't. It makes you smile. There is a joy in seeing the wonders of the universe deployed in music like this.
See our list of Five Essential Ulrich Schnauss Albums.
Hear our interview with Ulrich Schnauss as the 20th Icon of Echoes.