Andreas Vollenweider's Quiet Places Echoes October CD of the Month
By John Diliberto
9/25/2020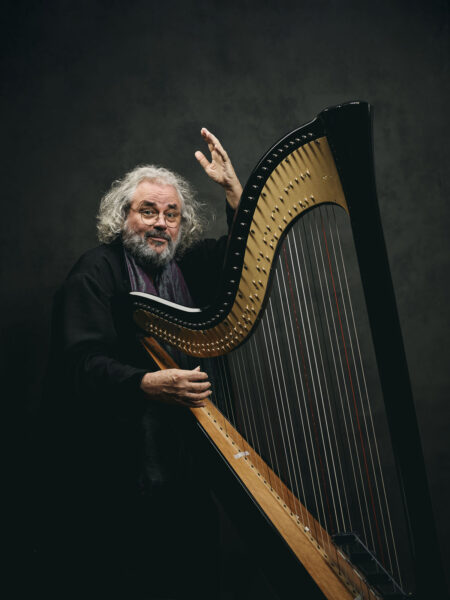 To hear Andreas Vollenweider in the 1980s and 90s was a magical experience. The Swiss artist wove harp melodies that ranged from playful to poignant, arranged in a opulent sound field of flutes, guitars, percussion and world music touches. With the nature sounds and whispered laughs that opened his 1981 album, Behind the Gardens. . . Behind the Wall. . .Under the Tree, Vollenweider took you into a world of mystery and wonder. Through several chart-topping albums, Grammy Awards, and sell-out concerts, he continued to do that into the first decade of this century.    
Then he disappeared. He released Air in 2009 and stopped dead. No concerts, no albums. Now he's returned, but it's not the same Vollenweider as before. He's even more introspective, returning to music to sift through the mysteries of life and existence. He's not engaging in the imposing conceptual statements of albums like Down to the Moon or Book of Roses. Instead, with Quiet Places, he's returning in a much more austere fashion, favoring the nuanced over the epic, intuitive interaction over majestic orchestrations. It's not the large ensembles of the past but mostly just harp and piano, joined by cellist Isabel Gehweiler and longtime drummer, Walter Keiser. This is a refined sound, one more along the lines of neo-classical music than his earlier jazz-inflected world fusion folk.
This new music is born from improvisation, but not jam sessions per se. Vollenweider calls it "thematic improvisation." These are works built around planned themes, which themselves grew from free improvisations. It is a subtle sound, one that highlights the brilliance of Vollenweider's musicianship.
Songs like "Pygmalion" and "Polyhymnia" feature Vollenweider's uniquely melodic touch on harp, but Gehweiler's cello takes them into a different, more refined space. And while these are built on improvisations, there is also overdubbing. On "Polyhymnia," lines of contrapuntal cello are layered against Vollenweider's reverberant harp melody.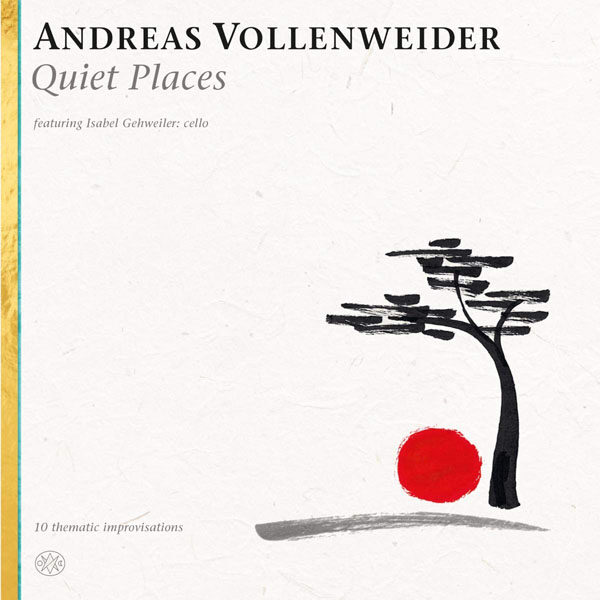 That's one of the reasons why, though they're built on improvisation, the tracks sound through-composed. Compositions like "Entangled" with Vollenweider on piano, could be neo-classical works, inspired by the likes of Arvo Pärt or Jóhann Jóhannsson. Even with a more pared-down sound palette, Vollenweider, employing his electric harp and keen production sensibilities, makes it sound more cinematic. "The Pyramidians," with its lush melody and the addition of Keiser on drums, could have been on an earlier Vollenweider recording. In fact, whenever Walter Keiser appears, it sounds that way. The track "Bella Smiling" has echoes of many previous Vollenweider productions. Vollenweider pulls out all the stops on "Sculpture" with both Gehweiler and Keiser playing, as he layers synthesizers and Asian flutes with perfectly-timed accents.
While Vollenweider hasn't been making music over the last decade, he has been writing his first novel, In The Mirror of Venus. Much of the music on Quiet Places is partly inspired by the novel, but it is not directly a soundtrack, although in the past, Vollenweider actually created storyboards for his music. I haven't read the novel, since it hasn't been translated into English yet, but you don't need that context to enjoy the darkly drawn lines of tracks like "Venus in the Mirror"
To hear Vollenweider tell it in his Echoes interview, which you can now hear in the Podcast, this music is born from the philosophical and spiritual trek that he's been on since he played flute duets with his organist father as a child. He's still on the journey, and Quiet Places is his latest stop. Hopefully it won't be 11 years until his next one.
The End
Hear Andreas Vollenweider in Echoes Podcast.